Apple iPhone 6s Plus vs Apple iPhone 7 Plus
Although Apple stuck to small smartphone screens for quite a while, we've started seeing bigger screens from them since the iPhone 6. The iPhone 6s Plus and the iPhone 7 Plus look very similar, but there are some noteworthy differences. In this article, we'll list the similarities and differences between both phones.
In short: similarities and differences
| | iPhone 7 Plus | iPhone 6s Plus |
| --- | --- | --- |
| Waterproof | Yes | No |
| Home button | Pressure-sensitive button | Physical button |
| Rear camera | Dual camera | Single camera |
| Storage capacity | 32, 128, or 256GB | 32 or 128GB |
Design
First of all, the design. Weighing in at 188g, the iPhone 7 Plus is slightly lighter than the iPhone 6s Plus, despite having a larger rear camera. To me, the dual camera is undoubtedly the big difference between these two devices, but more on that later. What else do I notice? The iPhone 7 Plus no longer comes in Space Gray. You can now choose either matte or glossy black. The antenna lines in the Phone 6s Plus run horizontal, while the iPhone 7 Plus antenna lines run on the top and bottom of the phone. A change that can't be seen is the fact that the iPhone 7 Plus is waterproof.
Storage capacity
I'm an active multimedia user. That means I need a phone with sufficient storage capacity. The iPhone 6s Plus offered me a choice between 16GB, 64GB, or 128GB. With the introduction of the iPhone 7, Apple has changed this to 32GB and 128GB. The iPhone 7 Plus is available with 3 different storage capacities; 32GB, 128GB, and 256GB. Keep in mind that the 32GB storage capacity version doesn't come in Jet Black.
Conclusion
I think the iPhone 7 Plus is a definite improvement compared to its predecessor, the iPhone 6s Plus. The introduction of the dual camera is one I welcome with open arms. After all, it changes a lot in terms of functions as well as photo quality. After a week of getting used to it, I found the new home button a good change too. Let's not forget the waterproof casing either. Now I can answer my phone when it's raining without worrying about water damage.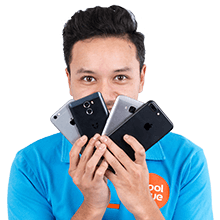 Article by: