Expert review Apple Watch Series 3
The Apple Watch Series 3. I've heard a lot about it, but now I can finally test it myself. The Apple Watch 3 is available in 2 models: one with GPS and 4G, and one with just GPS. The 4G Apple Watch works without my iPhone. The 4G model is not available in the Netherlands. Too bad, but I'm curious what Apple Watch 3 can do.
---
Apple Watch Series 3
Optical heart rate sensor
|
Measures distance, calories burned, heart rate, speed, steps, stairs, and swimming strokes
|
8GB storage
Thanks to the integrated speaker and microphone, I can make calls via my smartwatch.
Thanks to the GPS sensor, the smartwatch shows your speed, distance traveled, and route.
The smartwatch is waterproof, so you can also wear it while swimming.
To make calls with my smartwatch, I need to connect it to my iPhone.
There is no app available on the Apple Watch to monitor my sleep.
From the box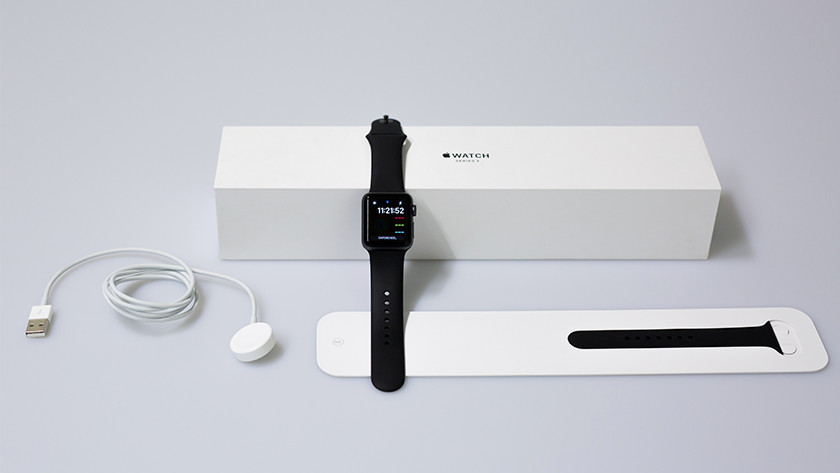 Oh look, a new email. "Your Apple Watch 3 is ready at the front desk". Let's go pick it up. They hand me a rectangular white box. Sleek and modern. That's what I expect from Apple. In the box, I also find a manual, charger, and extra wrist strap. I don't have to change the strap, because it fits perfectly. The silicone strap feels soft and supple, and the snap button closure is easy to fasten. I can't wait to test the watch, but first I have to charge it.
At the office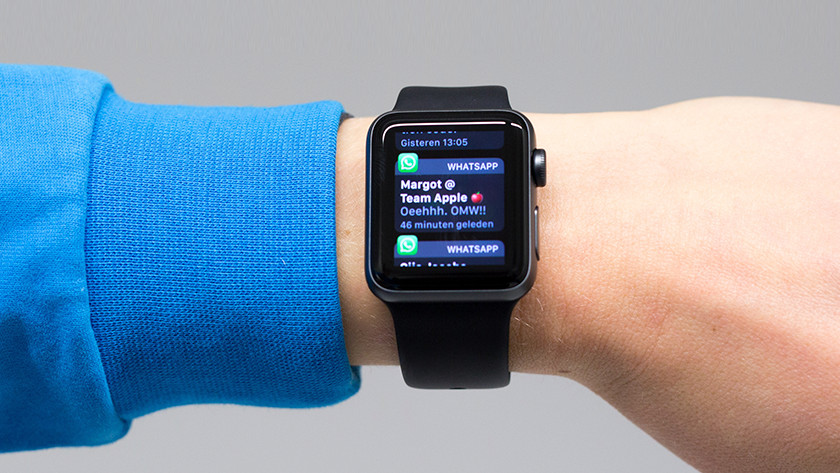 Within a few clicks, I synchronize the Apple Watch with my iPhone. I realize that I'm already 5 minutes late to a meeting, so it's time to run. During this meeting, after about fifteen minutes, I suddenly jump up when the Apple Watch vibrates. I've received a text. I realize the watch hardly weighs anything. I completely forgot that I had it on. Moments later, at my desk, the Apple Watch vibrates again. I've been sitting for too long, and the watch challenges me to stand for 1 minute. Let's do that then.
In the gym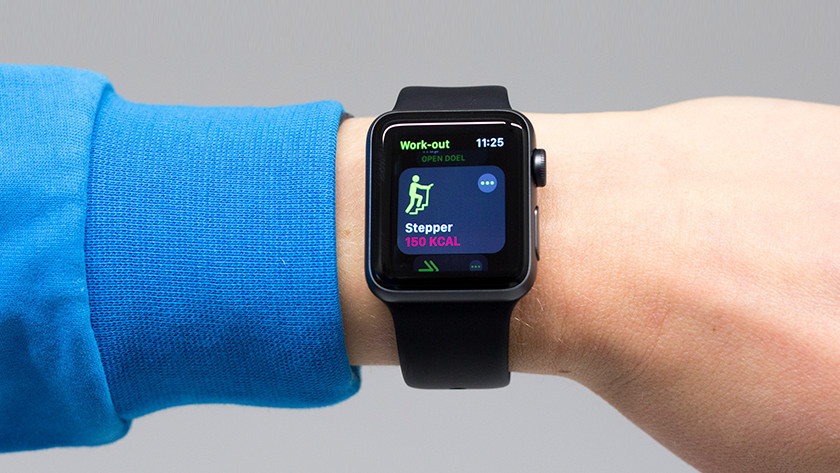 After work, I'm going to the gym. That's where the Apple Watch 3 really gets interesting for me. I enter that I'm going to do a steps workout and set how many calories I want to burn. 150 calories, that should be doable. Meanwhile, I connect my Bluetooth earbuds so I can pause or skip a song without using my iPhone via the mini player. In the middle of the steps workout, I want to see how far I am. As soon as I lift my wrist, the display automatically lights up. Useful! Once I reach 150 calories, I get a signal right away. On to the next exercise!
On your bike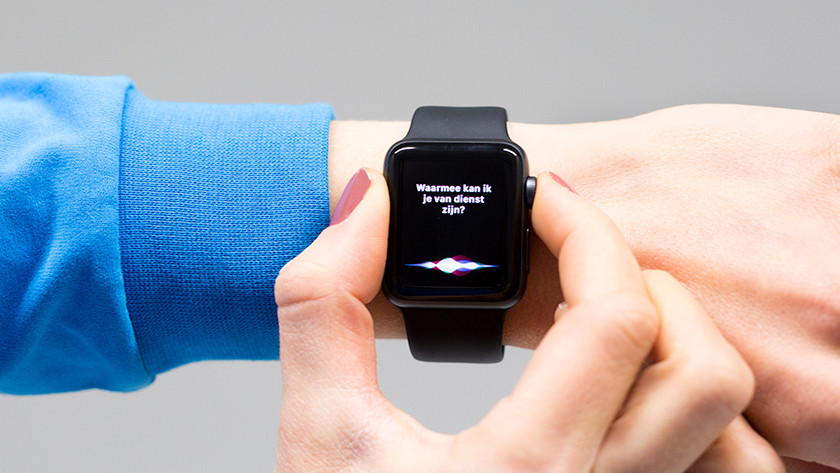 While I'm on my bike home, I feel the Apple Watch vibrate. Someone is calling me. When I pick up, I can clearly hear my mother. She can also hear me clearly, despite the fact that it is quite windy on my bike. I remember that the Apple Watch Series 3 communicates via Siri. I want to test that. Luckily, I have to call my boyfriend to ask what time he'll be home for dinner. I go to Siri and say "Call Gijs". It's ringing!
In bed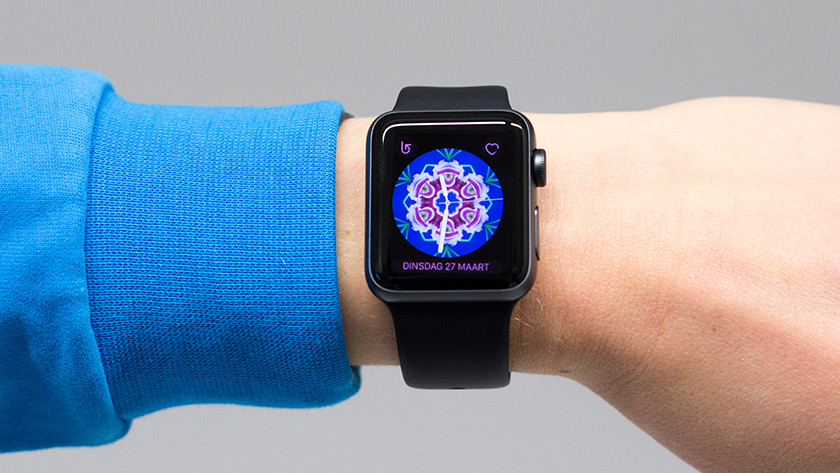 When I walk into my bedroom, I feel the watch vibrate again: "You've achieved your movement goal". I completely forgot that I set a target of 300 calories this morning. In bed, I change the watch interface a few times. I'm a little curious about how active I've been today. Let's see: 10,027 steps, 7,57km traveled, and 20 stairs. The Apple Watch 3 know how many stairs I climbed thanks to the barometric altimeter. Maybe take the stairs more tomorrow.
On the go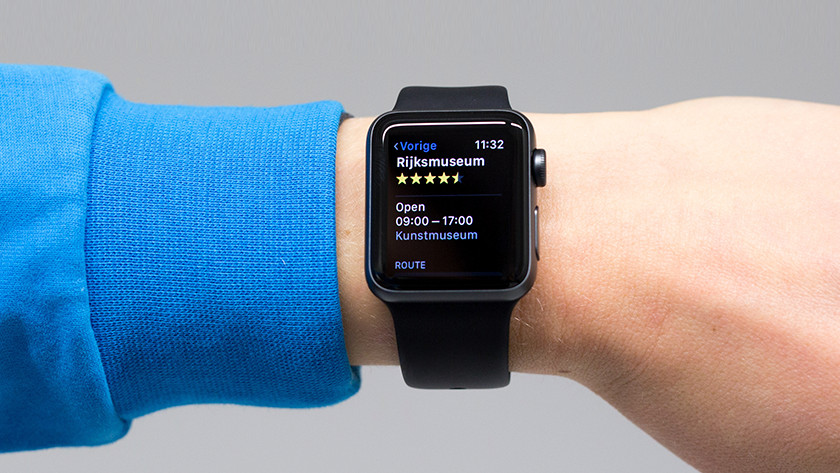 Today, I'm going to the Rijksmuseum. A great opportunity to test the GPS, because I'm not very familiar in Amsterdam. I plan my route via maps and start the navigation. The Apple Watch warns me when I have to turn left or right with small vibrations. It's -3 ℃ outside, and I forgot my gloves. Way too cold to hold my iPhone, but this works perfectly. Even when I feel some raindrops, I don't panic. The Apple Watch 3 is waterproof.
At the pool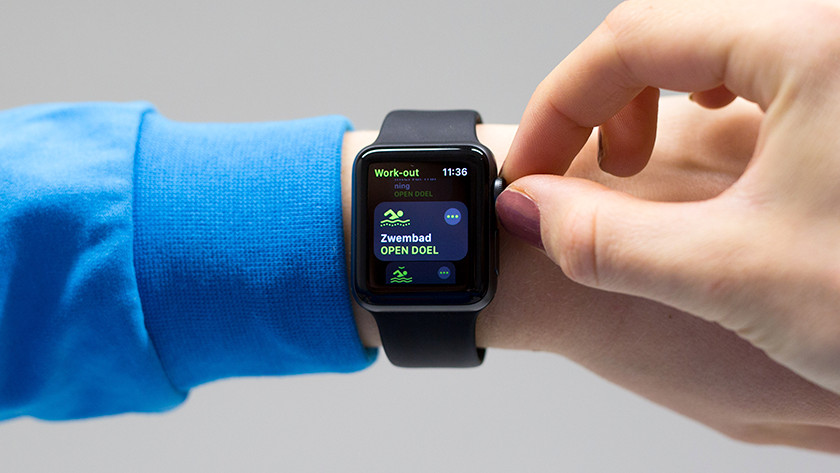 The Apple Watch Series 3 is waterproof up to 50 meters. If I want to test Apple Watch optimally, I need to swim a few laps. I'm going to do that today. I navigate to the nearest pool with the Apple Watch. Before I dive into the water, I open the workout app. I'm not a swimming enthusiast, so I plan an easy session. I set the length of the pool: 25 meters. Apple can then calculate how many lanes I swim. 500 meters total, that should be doable. I hope. I start the training and jump in the water.
In the water
As soon as the Apple Watch comes into contact with water, the display automatically locks. Alright, let's do some laps. When I'm halfway, I have a little break. I lean on the edge of the pool. The Apple Watch recognizes that I'm resting automatically, so I don't have to pause the watch. After swimming another 250 meters, I get out of the water. I dry the Apple Watch with my towel and turn the Digital Crown until the Apple Watch beeps. This removes the water from the speaker. I look at the statistics on the Apple Watch and I leave the pool feeling satisfied. I've earned a treat.
Conclusion
Despite the fact that the Apple Watch 3 with 4G isn't available in the Netherlands yet, the model without 4G also has some new features. The processor is faster, I can talk to Siri, and the watch is waterproof up to 50 meters. The Apple Watch 3 is a bit more convenient than my iPhone in some ways. Especially if I want more insight into my health, for example when measuring my heart rate. The watch is the ideal companion during workouts. What I think is the best thing about it? Being able to navigate without having to take my iPhone out of my pocket. In short: not very many new features compared to its predecessors, but it is the best one in its class.
Did this help you?