Help with choosing a baby monitor
As a new parent, you only want the best for your child. That's also true when choosing a baby monitor. You want a reliable baby monitor to know what's happening in the nursery. Which one will you choose, though? There are more and more baby monitors to choose from and they're getting more and more functions. Which functions do you need? Do you always want to be able to hear and see your baby, or will a basic model give you sufficient peace of mind? Our baby monitor experts will gladly share their practical experience to help you decide what baby monitor is best for you.
---
Help with choosing
There are many things to consider when choosing a baby monitor. Do you just want to hear your baby, or see him or her too? What will the have to be? Do you want to be able to expand the baby monitor with additional baby units in the future, in case another little brother or sister arrives?
Image baby monitor or smartphone baby monitor?
When you choose a baby monitor with camera functions, you have 2 options left. One is an image baby monitor with a limited range but stable connection. The other is a smartphone baby monitor. It has unlimited range, but you have to rely on the quality of your internet connection.
Can I expand my baby monitor?
Even when your little one isn't a baby anymore, a baby monitor is a pretty useful thing to have. Chances are you'll still be using it when baby number 2 is on its way. In that case, it's useful if your baby monitor can easily be expanded with a 2nd, 3rd, or 4th unit.
3 factors that influence your baby monitor's range
When buying a baby monitor, the range is one of the most important things to consider. You should also check if the maximum range applies in any situation, and what factors in your house influence the range.
Best baby monitors
Do you always look for the best of the best? Check out the top 10 baby monitor best sellers below. If you (like us) care a lot about the opinion of Coolblue customers, have a look at baby monitors that have been rated as excellent. You can also check out the best baby monitors on the 3 top 5 pages with best image baby monitors, best basic baby monitors, and best smartphone baby monitors.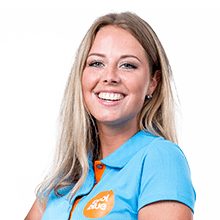 Article by:
Sanne
Baby Monitor Expert.