The Big Green Egg, From XS to XL grilling
Big Green Egg barbecues
The Big Green Egg is a kamado barbecue and is made of durable ceramics. This way the barbecue regulates the heat well and you have full control over the temperature. The preparation of various dishes is therefore a breeze for you. For safety reasons, always put the Big Green Egg barbecues on a stand or in a special table for Big Green Egg barbecues. Curious about the differences between the sizes of Big Green Egg barbecues from our assortment? Then read on.
Compare the different Big Green Egg models
| | Version | Mini | MiniMax | Small | Medium | Large | XLarge |
| --- | --- | --- | --- | --- | --- | --- | --- |
| | Diameter | 23cm | 33cm | 33cm | 38cm | 46cm | 61cm |
| | Height | 25cm | 49.5cm | 61cm | 72cm | 84cm | 78cm |
| | Weight | 15kg | 29kg | 35kg | 45kg | 70kg | 105kg |
| | Diners | 3 | 4 | 4 | 6 | 8 | 13 |
Big Green Egg Mini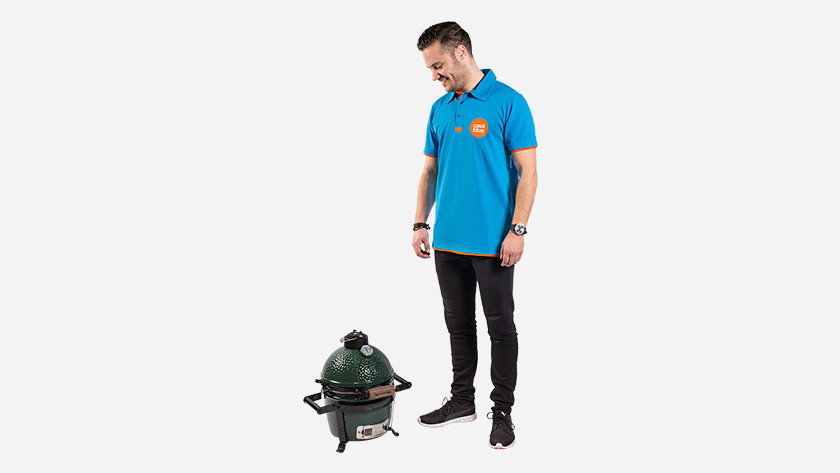 The Big Green Egg Mini is the smallest variant of the family. This makes it very handy and you can easily take it to the park, the campsite or the boat. You can use it even without problems under the hood. This so that you also serve a perfect chateaubriand of the grill on an ice-cold Christmas day. Please note that the Mini has a modest grill surface. You grill for about 3 people at once.
Big Green Egg MiniMax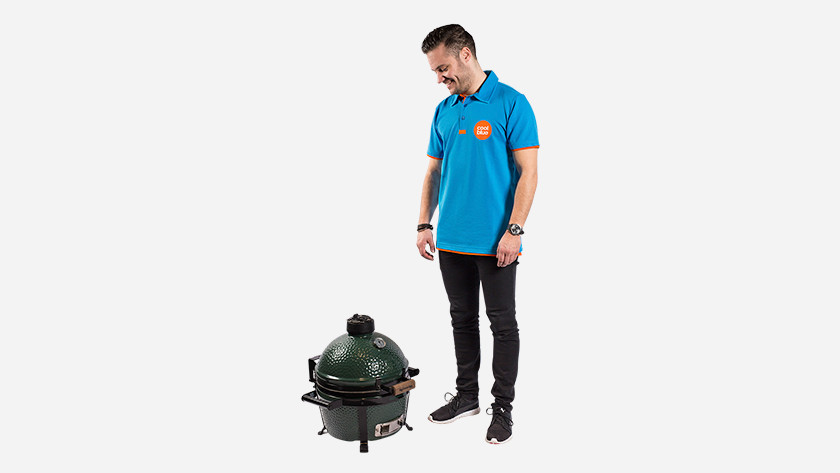 The Big Green Egg MiniMax has the compact and easy handling of the smaller version and the larger grill area of ​​the larger Big Green Egg barbecue. The barbecue also has a stand and handles as standard. That way you can easily transport it and you do not have to buy extra parts to put it on the table. You can grill people for 4 persons at once. The MiniMax too small for preparing chicken placed on a can of beer.
Big Green Egg Small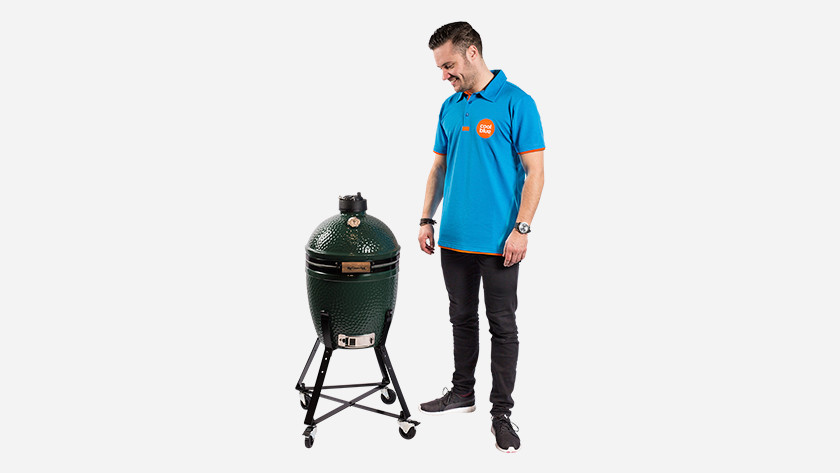 The Big Green Egg Small has the same grill surface as its little brother, but it's taller and slimmer. You can easily use it on a balcony or in a small garden. Due to its height, taller pieces of meat or upright chickens fit on this barbecue. Combine it with an underframe or robust wooden furniture if you have more space. Side tables can also be useful if you need a place to put your tools or marinade.
Big Green Egg Medium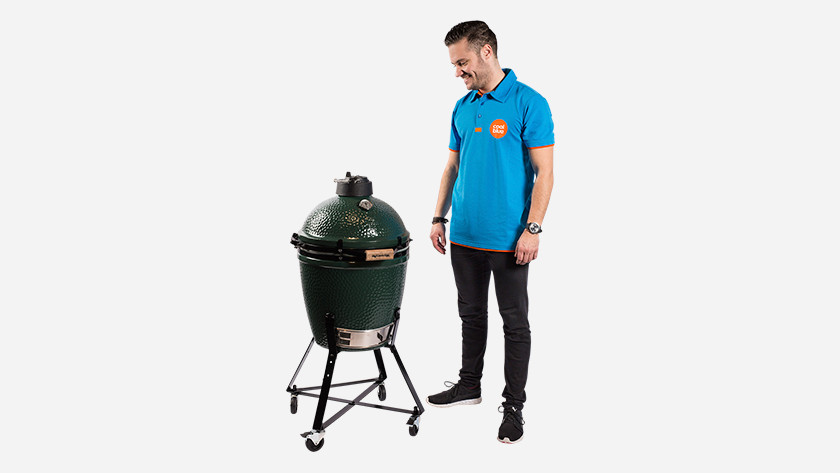 The Big Green Egg Medium is the most common size of the family. You can store around 4 to 6 kilograms of meat. So you can easily grill for 6 people. From this size, the majority of the accessories can be used. For example, you also make pizzas and pies. Combine the barbecue with a frame with wheels or a fixed piece of furniture, because moving from this size is difficult due to the weight.
Big Green Egg Large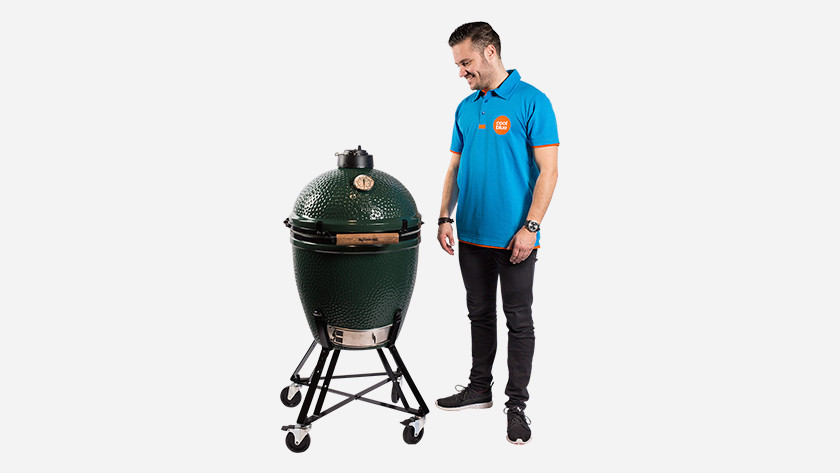 The Big Green Egg Large suits you when you cook professionally or often have large groups of family or friends. You can lose about 8 kilograms of meat on it. You have the space to play with all Big Green Egg accessories on this version. There is a spring in the hinge of the heavy lid, making it easy to lift. You can also combine this big green egg with a base or piece of furniture.
Big Green Egg XLarge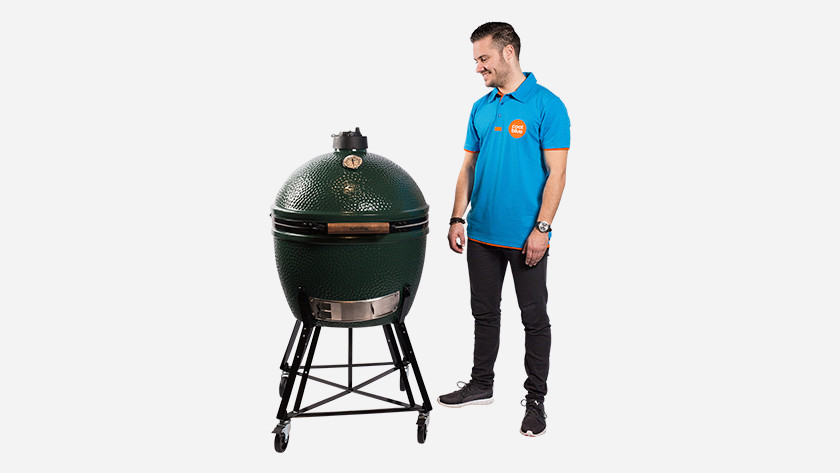 The Big Green Egg XLarge suits you if you cook professionally or often receive large groups. The barbecue is really too much of a good thing if you only barbecue for your family at times. This barbecue is big enough for the use of a number of oven trays and all Big Green Egg accessories, so you prepare several courses at the same time. You also use this whopper on a base or in a piece of furniture and logically he uses a lot of coal.
Big Green Egg accessories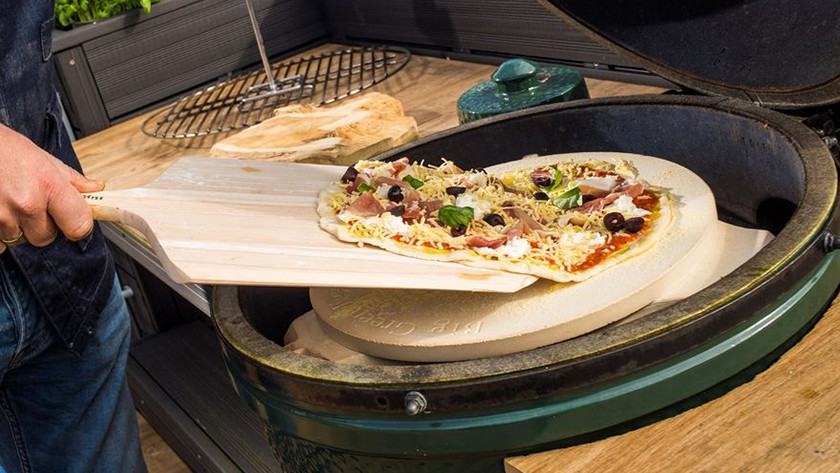 Your Big Green Egg won't be complete without the right accessories. Different accessories are available for each size size. Examples are cooking extensions like extra grill racks and pizza stones, but also special covers to keep your Big Green Egg looking good for a long time. The larger the Big Green Egg, the more accessories are available.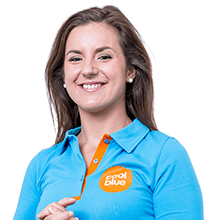 Article by:
Alexandra
Barbecue Expert.