How do you stay warm when camping in winter?
Camping in the winter is perhaps even more idyllic than camping in the summer. Landscapes look completely different and you enjoy the peace. The only drawback is that it is much colder than in the summer. In this article I give you some tips on how to keep yourself warm in your tent during winter camping.
Insulating groundsheet
Most of the cold comes from the ground. To keep out the cold you do well to opt for an insulating ground sheet under your tent. The ground sheet ensures that the cold does not rise. If you want to go one step further, opt for a ground sheet finished with a three-layer insulating carpet. This ground sheet consists of 3 layers of which the top layer is a fleece layer. The fleece layer ensures a comfortable and warm feeling.
Airbed or sleeping mat?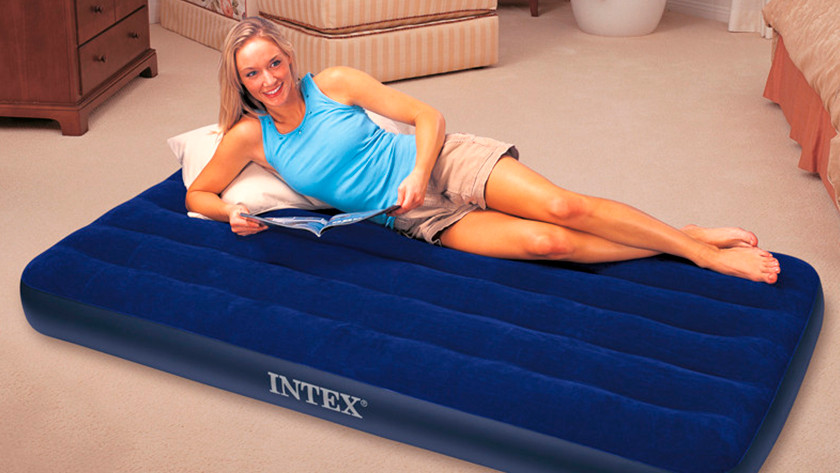 Air mattress
Using an air mattress during winter camping is not recommended. An air mattress is comfortable, but the disadvantage is that an air mattress does not isolate properly. The cold air penetrates easily through the textile. If you do take an air mattress and want to protect yourself against the cold, choose an insulating protective cover for your air mattress.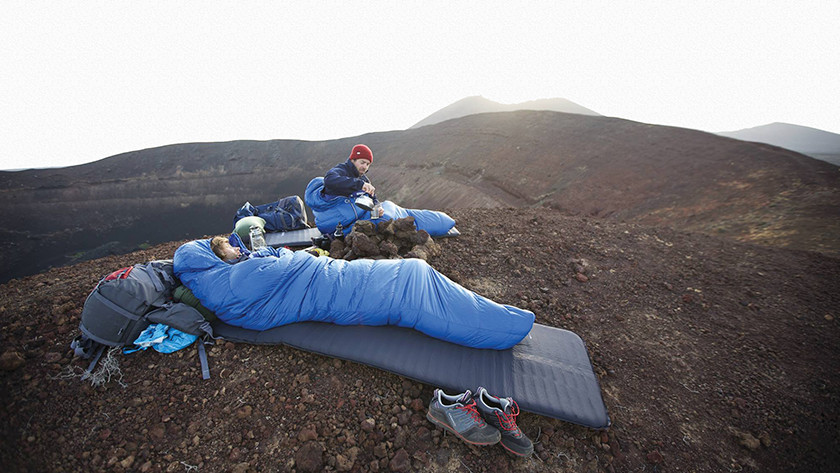 Sleeping mat
Maar welke slaapmat kan je dan het beste kiezen? Dit is volkomen afhankelijk van de plek waar je gaat kamperen en welke temperatuur het daar is. De isolatiewaarde van een slaapmat wordt uitgedrukt met een R-waarde. Deze waarde staat voor de warmteweerstand. Hoe hoger de R-waarde, des te beter de slaapmat bestand is tegen koude temperaturen. Bepaal dus goed in welke weersomstandigheden je de slaapmat gaat gebruiken. Hieronder zie welke R-waarde geschikt is in welke seizoenen.
Insulation value
| | Value | Season |
| --- | --- | --- |
| | 1-3 | Summer |
| | 3-5 | Spring, summer and autumn |
| | 5-8 | Winter |
Choose the right sleeping bag
With sleeping bags you have the choice of 2 models: a blanket model or a mummy model. The mummy model is suitable for colder temperatures. Because the model is closely connected to the body, the sleeping bag insulates well. The disadvantage of this is that you have less freedom of movement. In addition, mummy sleeping bags are provided with a hood so that you lose less heat through your head.
Is every mummy sleeping bag suitable? No, you can not just buy a sleeping bag and assume that it keeps you warm. The most important indicator for sleeping bags is the 'comfort temperature'. The comfort temperature indicates the lowest temperature at which a woman with a normal posture does not feel cold when she is normally lying in the sleeping bag. The comfort temperature for men is slightly lower than the standard comfort temperature. Determine on the basis of your trip and the corresponding average temperature which sleeping bag is suitable for you.
More useful tips to generate heat
Tea lights
The use of tea lights has two functions, namely lighting and heat. To use tea lights safely in your tent, put a tea light in your shoe or in a pan. You will feel warmth more quickly when you use multiple tea lights in a pan.
Jug
Place a warm jug in your sleeping bag. The advantage of a hot water bottle is that it gives off heat for a longer period of time, which you benefit from all night.
Clothing
Do not wear too much clothing when you crawl into your sleeping bag. Too much clothing limits the interaction between your body heat and the sleeping bag. Therefore, only put on some thermal underwear. In the beginning it will feel cold in your sleeping bag, but after a while you will notice that things get hotter.