Everything on Coolblue subscriptions
With a Coolblue subscription, you'll have a product that always works at a fixed price per month. And it's also very energy-efficient.
What are the advantages?
You'll always have a working product for a fixed price per month
Did your product break? We'll replace it within 48 hours.
Moving? We'll move your product with you for free.
Ordered before 23:59, delivered and connected for free tomorrow.
After 1 year, the subscription can be canceled free of charge every month
How does it work?
1. Check which subscription suits you best. Every subscription product is energy efficient and high quality. You can add the subscription to your shopping basket by clicking the blue button on the product page.
2. At checkout, you can choose a delivery day that suits you. You only have to pay the one-time fee. After placing your order, you'll receive a confirmation via email.
3. We'll deliver the product to your home on the agreed day and connect it right away. We'll take your old device back.
4. We'll automatically deduct the subscription costs from your account around the 29th of the month. You'll pay a month in advance. The first deposit will be higher, because you'll have to pay for the first and the next month.
5. Did your product break? Please email us via klantenservice@coolblue.be or call us on 038082700. We'll make sure you have a working product within 48 hours.
Did this help you?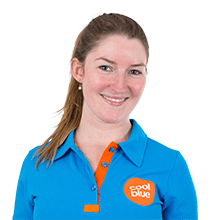 Article by:
Rowan
White Goods Expert.