Expert review of the Philips SpeedPro Max FC6823/01
Stick vacuums are becoming increasingly popular. But until now, this vacuum variant isn't a replacement for the "regular" vacuum. The Philips SpeedPro Max promises to have the suction power of a regular vacuum and extra tricks to make vacuuming as easy as possible. Is that right? I tested it for you.
---
Philips SpeedPro Max FC6823/01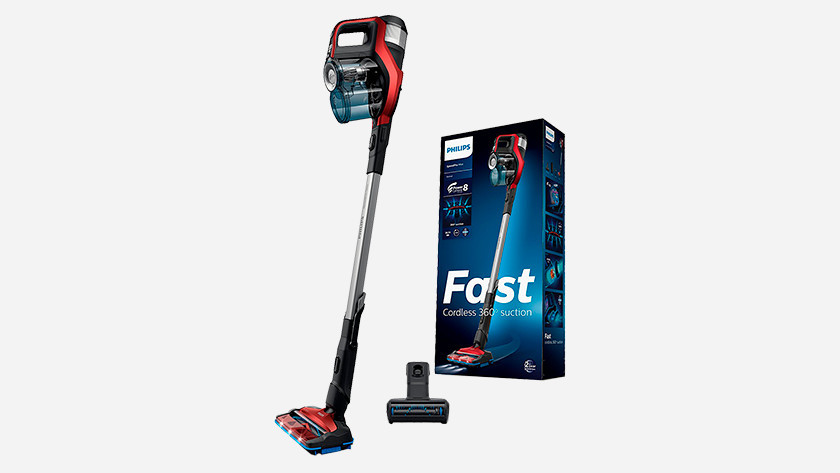 Battery life of 65 minutes in the lowest position
360-degree suction brush so you can suck up dirt when moving backward as well.
LED lighting on the suction brush so you can better see where dust and dirt are located.
The mini turbo brush keeps furniture dust and animal hair free.
Turbo position for stubborn dirt or coarse rugs.
Can't be placed in the middle of the room.
Can't be adjusted to a different length.
The soft dusting brush cannot be separately attached to the crumb vacuum cleaner.
Out of the box
It was certainly a challenge on the train home, but once at home, I unpacked the big box as a Christmas present. This contained the following:
Battery and dust bin
Suction hose with integrated brushes
Large 360-degree suction brush
Mini turbo brush
Magnetic charging dock
Wall mounting charging dock
You simply click the stick onto the battery. You don't need a manual to assemble the stick vacuum. The biggest advantage: the stick vacuum is delivered with a 50% battery life. This means you can get started straightaway!
Suction power per setting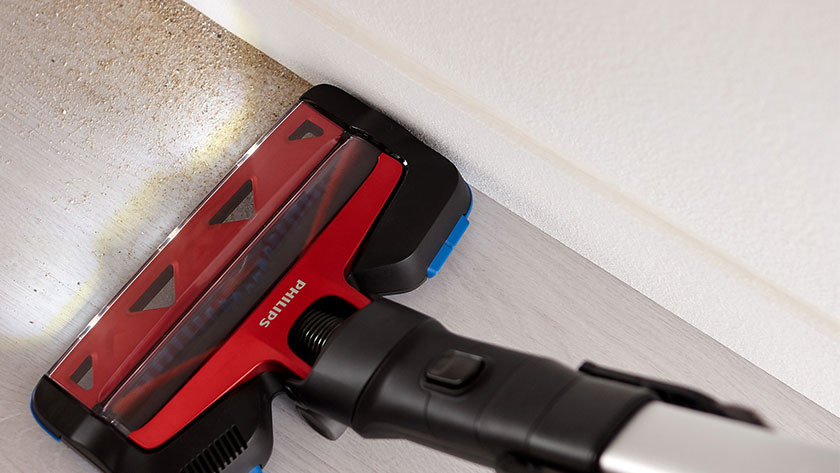 Lowest setting
I put the vacuum in the lowest setting and cleaned my laminate without any problems. I think I'll never need another setting. Hair, dust, oatmeal flakes, and sprinkles: everything disappears effortlessly in the dust collector. I also find the sound really not disturbing in this setting. It's perfectly possible to hear my friend talk 3 or 4 meters away from me.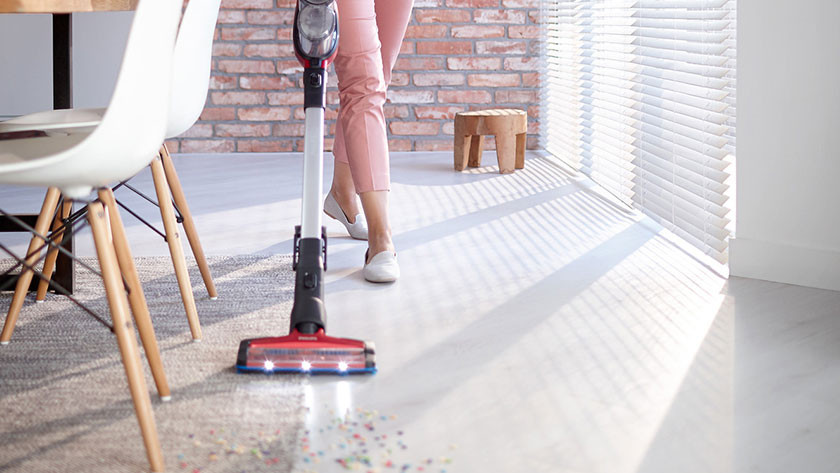 Middle setting
For the low pile carpet at my coffee table, I initially put the suction power on the medium setting. This made the sound also a lot louder, but I didn't find this annoying. My carpet is a bit loose and that makes vacuuming always quite difficult. The carpet regularly came up during vacuuming. The medium setting is apparently already very powerful.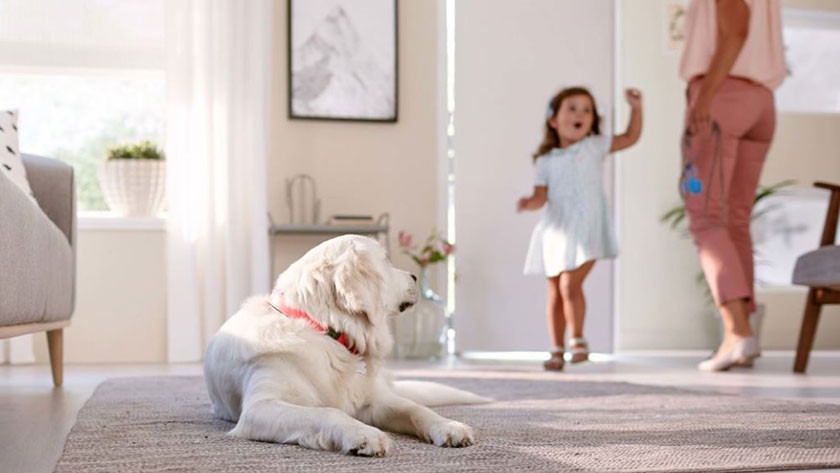 Turbo setting
Having a conversation is no longer possible when the turbo mode is switched on, but the suction power makes up for this. This setting isn't necessary for my laminate floor, but any carpeting can use some extra suction power. To test this, I went to the entrance of my apartment building, where we have carpeting. I immediately made some flatmates happy. The medium setting is enough for carpeting, but if you have pets, the turbo mode is nice.
360-degree nozzle
The box says that this stick vacuum is "revolutionary" because of the 360-degree LED suction brush. This means that it absorbs dust both forward and backward and on the sides. To test this, I threw a handful of oatmeal on the floor and especially in the corner near the baseboards. With the "regular" vacuum, I can't properly reach these. I can say that the oatmeal flakes were sucked in on all sides of the suction brush, so even that annoying corner near the baseboards became clean. In addition, the LED lighting enabled me to see much better how much dust and dirt is actually on the floor. Oops.
Battery life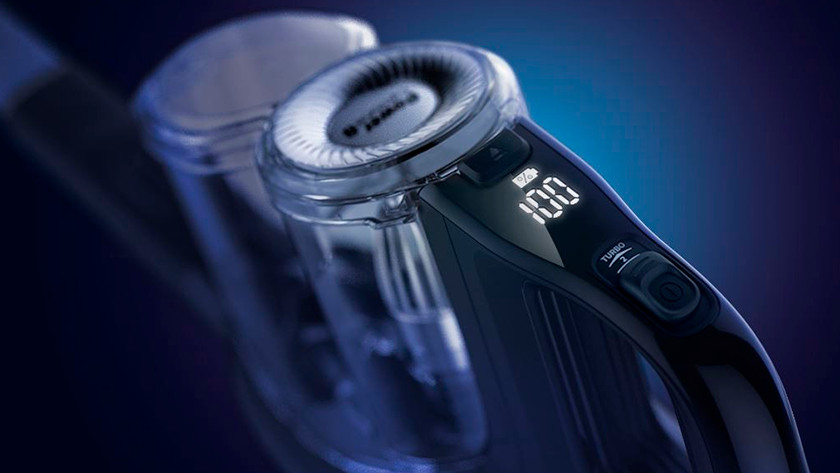 While vacuuming, you can see on the display what percentage of battery you have left. I find this very pleasant. Fully charged, I have vacuumed my entire apartment (80m2) at the lowest setting. After this, I still had 40% of the battery left. I do notice that when you increase the suction power, the battery runs out faster. Now, in my opinion, higher suction power isn't necessary for hard flooring, so in the lowest setting, you can easily vacuum an average-sized house.
Handheld vacuum and accessories
If you remove the regular suction brush, you have an extended handheld vacuum. In theory, you can vacuum baseboards with this or you can remove a spider web from the corner of the ceiling. I found this quite difficult. Because the stick is still attached, the weight was somewhat awkwardly distributed. Removing a spider web is indeed ideal, but I won't use it to clean the baseboards that often.
If you remove the stick, you only have the handheld vacuum. I think this is really ideal. I can use it to remove chips and crumbs from the couch, for example. With the mini turbo brush attached, I vacuumed the car. This went perfectly. Grass and hair came off the mats effortlessly. Sometimes, I couldn't reach all places quite well. A flexible nozzle or 1 with soft brushes would come in handy here. I hope Philips is taking notes.
Dust reservoir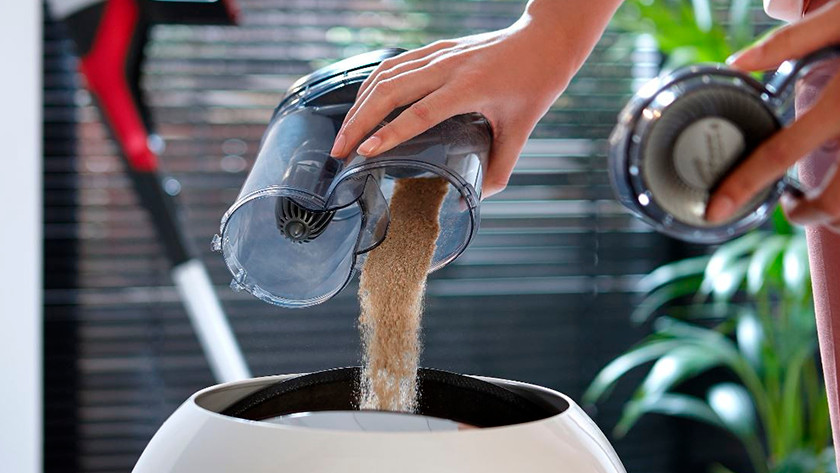 The dust collector isn't very large, just like with other stick vacuums, so you have to empty it regularly. I didn't find this a nasty job to do. I do think that emptying alone isn't always enough. After 2 weeks of intensive use, I cleaned it with a damp cloth on the inside. In addition, you must clean the filter well. It wasn't immediately clear to me how to do this, but it's explained well in the manual.
Conclusion
Do you vacuum regularly, do you have hard flooring, and are you fed up with the plug and all of its hassle? If so, the Philips SpeedPro Max stick vacuum is perfect for you. You can easily grab it and in the lowest setting, you have more than enough battery to vacuum the entire house. But if you have a dog and 2 cats, you have to empty the dust collector very often, and a vacuum cleaner with bag might be better for you.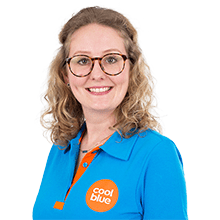 Article by: