Advice on heaters for your garage, home office, or basement
It is a rainy day, a nice day to dive into the garage and to tinker with your car or do some other chores. You walk into the garage, but that 'nice tinkering' what you had in mind, is suddenly not as good as you feel the chilly temperature in the garage. It would be a lot nicer to do a job in your garage without feeling like your hands are freezing. And that is possible! With a mobile heater in your garage, workplace, or basement, your room is quickly at a pleasant temperature. Even if only for a small job.
---
What should a garage, basement or workplace heater do?
To heat your garage you can of course buy the first and best workshop heater that you come across. But whether you are very happy here is a second. There are some things that you have to pay attention to when buying a garage heater.
Insulated spaces
The average workshop isn't very well-insulated. As a result, your space quickly gets colder. Choose a heater with direct heat radiation, such as infrared radiation. This radiation heats objects and people, instead of the air. This means that the heat won't be blown away when there's a draft.
Isolated spaces
For less well-insulated rooms, we recommend a heater with direct heat radiation. But what if your shed or garage is well-insulated? In that case, you can use an electric heater without direct heat radiation.
Properties of a workshop stove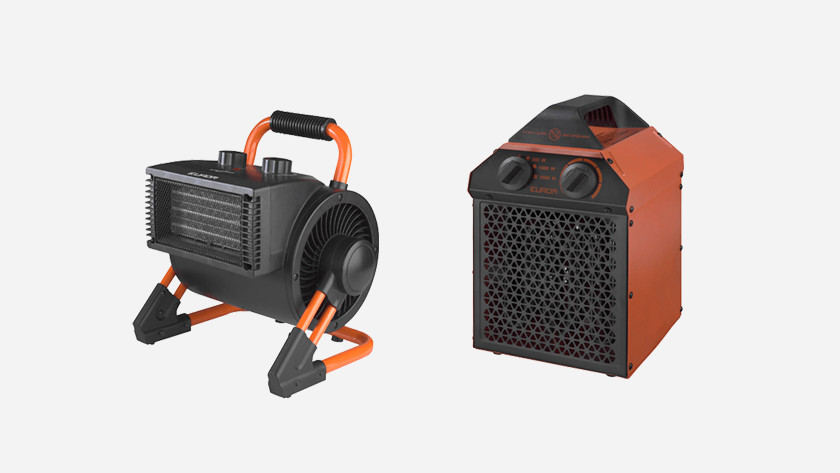 A heater with a fast start-up time is so handy because you often want warmth in your garage. It is annoying to wait half an hour until your garage finally feels a little pleasant. Especially for times when you have a small job to do. In addition, choose a sturdy and stable model that can take a beating. Very nice between all that big tool. And safety above all, of course, so also think about an overheating and fall protection. This way the garage heater switches itself off immediately when it falls over or gets too hot.
Size of your workplace
Depending on your space, you choose the wattage. Is your garage small? Then do not opt ​​for a workshop heater of 3000 watts. Do you want to quickly calculate how much watt you need for a certain space? That is almost children's work. You remove 2 zeros from the wattage and you end up at the recommended floor surface. We assume a ceiling height between 2 and 3 meters. Generally, your workshop or garage is not a space that you want to be completely heated. You often only want to heat the place where you are at work. That is why you do not need such a high power. Should it be that you want to heat a larger part of your garage, then it is useful to opt for a heater with ventilation or oscillation function. Such a function spreads the warmth in your room faster and evenly.
Workbench
If you do not want to heat your entire garage, but only your workbench where you are doing the job, then you need specific heat. A patio heater is ideal for this. You mount it on your wall and you focus the heat on the spot you want. Thanks to the fast start-up time, you can warm up even within a matter of seconds, even during your tiniest chores.