Sony A6000 Black + PZ 16-50mm OSS + case + screen protector
---
Product information
Pros and cons
According to our system camera expert
This camera has 7 buttons you ca assign a function to.

The 16-50mm lens is suitable for street, nature, and architecture photos.

With the fast autofocus, you can focus accurately in various light conditions.

There is no touchscreen to operate the camera quickly and easily.

A memory card isn't included.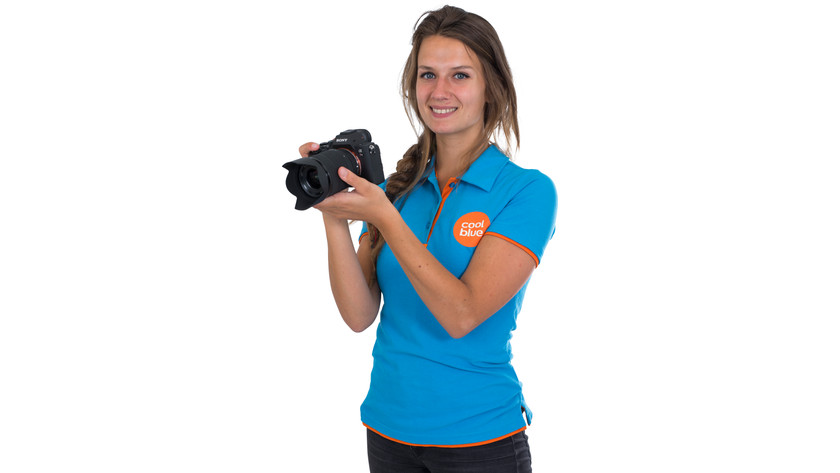 ---
Product description
Note: we recommend an extra battery for a longer operating time.
The Sony Alpha A6000 + 16-50mm OSS is a fast, versatile mirrorless camera. It has 7 buttons you can assign functions to. This means you'll have the functions you use most within reach. With the 16-50mm lens, you can take street, nature, and architecture photos. The autofocus system has 179 focus points that allow you to focus easily in different light conditions. By holding the shutter button, you can capture up to 11 images per second with the A6000, even when you're tracking a moving subject. Frame your composition effortlessly with the electronic viewfinder, or use one of the helpful tools, such as focus peaking. This function shows which parts of your photo are sharp and which aren't. Use the bag to take the camera everywhere. Place the included screen protector on your screen to protect it from scratches.
Included by default
Sony LCS-U11 Carrying Case
Shoulder strap
Warranty card
Sony Alpha A6000 Black + PZ 16-50mm OSS
Manual

(33.04 MB)

Battery
Battery charger
Body cap
USB cable
Shoulder strap
Tips for using this product
Read our tips and find out all about how to set up your product and use it the right way.

---
Reviews
Rating
| | | | |
| --- | --- | --- | --- |
| 5 stars | | | |
| 4 stars | | | |
| 3 stars | | | |
| 2 stars | | | |
| 1 star | | | |
Rating per section
Picture quality
8,0
Design
9,0
Options
9,0
Most helpful reviews
Excellent value for money
Take multiple photos in no time

Quality photos

Great kit lens

Operation could be a little easier
Bought this camera as a replacement for an old Olympus Pen E-PL1, mainly to have some more megapixels.
So far very satisfied with it. Even the photos shot through an airplane window look impressive. Nice all-round camera that is easy to carry with many options for both beginners and advanced users.
Robin
18 July 2017
In the version: Body + Lens for portrait and landscape
Automatically translated from Dutch
Beautiful camera (what a beast)
compact

great camera

point and shoot

no charger
I owned a compact camera - actually I've already tried several. Small and versatile so they can take them into the mountains. After every holiday I was annoyed again by the poor quality of the photos. That had to change. After a lot of research on the internet, reading reviews and consulting experienced colleagues, my choice came up - the Sony A6000 that was yet to be released at that time. I've had this camera for a few weeks now and it lives up to its expectations. What a beast! Easy to operate, the standard button for normal work and the (easy to operate) positions for the 'special cases'. The photos look really perfect. The problems with contrast (as often occurs in the mountains) become a lot less with the (auto detect) HDR mode. Autofocus functions as promised and it is also nice that a timelapse app can be downloaded for free from the Android Store. The built-in viewfinder is (unexpectedly) a big plus - especially in situations where the display is difficult to read. This is a camera that I really enjoy.

After purchasing I immediately bought a very fast memory card that can keep up with the speed of this camera. I also found a small bag with which the camera can be worn on the belt.

The points for improvement? Personally, I find it a lack that there is no charger (in the camera, this takes a long time and is not really useful). The manual can be called brief and could be a bit more extensive if you want to use all the possibilities of this camera. The lens also feels a bit sloppy. NFC is on it, but that's about it. The only thing NFC does is set up a WiFi connection - otherwise all communication runs via WiFi - that could have been a bit better. And indeed GPS is missing on this device. Personally, I don't think this is a loss - my previous camera had built-in GPS and I have never used it - in practice I always have a (walking) GPS device with me with which the photos can easily be synchronized.
Rene van hees
15 April 2014
In the version: Body + Lens for portrait and landscape
Automatically translated from Dutch
wonderful for video
I make nightclub videos myself. Many EDM parties and also events etc. For me it is therefore important that the camera has a good ISO performance. I wouldn't say you could compare this to a full frame ISO performance, but it's enough for me. With the f3.5 it is already enough for a pub or to record bands. I would even say that an f4 is enough. That's why I'm going to take the PZ 18-105 with this camera. It's the perfect lens for docu style videos with a constant aperture of f4.

Furthermore, the camera has high versatility and very good usability. Everything is easy to find and it also has as many options as you can think of. Now you can do an update and you will be able to record XAVC-S. This means you have a lot more infarm per second of recording. This means that you can have more color detail in the image, for example, making color correction easier and better. Also, XAVC-S can withstand more artifacts in the image. Just think of walking in the forest and there are many trees with many small leaves. You would lose the detail with AVCHD.

The kit lens itself is a top performer. I immediately wanted to buy an 18-105 with my α6000. But the kit lens is so small and convenient to carry everywhere. It makes the A6000 feel like a point and shoot king. It's also sharp enough for most things. If you wanted a sharper lens you should get a prime lens like the 35mm f1.8.

If you're worried that the 6000 doesn't have a mic input, I'd say that Sony has a very good mic that can go on the smart hotshoe. A bit of a shame if you have a red mic or something or use a rig where something else has to be on the hotshoe. If you want much better audio you can always buy a Zoom H4n or something and your problem is solved.

The viewfinder is fine. I personally like it better than an optical viewfinder on all DSLR cameras. I'd rather look at how the image will come out than what I can already see with my eyes. It is also very useful in the dark. With the optical viewfinder I always had to struggle to see something. And now no more.

The focus on this camera is incredibly fast and accurate. When I did videos with my DSLR I would never have filmed with a Continuos autofocus setting. But with my α6000 I hardly ever go out AF-C. It can focus even better than me. And if you want to shoot moving subjects, it can handle it all.

And now the things I don't like.

Maybe it's my model or something but my a6000 gets too hot after 15min of constant 1080p 50p XAVC-S recording. He then has to rest for about 5 minutes, but then it is good to record another 15 minutes. So if you want to record for longer, you can do AVCHD in 25p. I've had no problems with that.

The camera is taking way too long to start up. Before you know it, the moment will be over and you'll have lost your photo.

The camera also does not feel very good in the hands. It's too small for my hands. But on the other hand, very light, so I would take it with me sooner than my nikon DSLR.

The last downside is the battery runs out very quickly. The % counts down almost like a second counter. Fortunately, I have always been able to record and photograph everything with 1 battery. Coolblue gave me an extra free battery and I also bought one myself, so I now have 3 batteries. So I'm sure I could record 2 hours of 1080p 50p XAVC-S with it. And hundreds of photos, even with flash.

In conclusion I would say that if you are looking for this camera for professional photos, it is definitely recommended, it does almost everything a Full frame would do and focuses better anyway.

If you're looking for the camera for videos like me, there are other options around this model. I wouldn't trade mine because it's good enough for what I do. But if you would like to make long recordings or need a mic input and don't want to spend extra money on a Sony microphone, look at the α7 or the VG30 or even the Samsung NX500 (4K, better ISO performance, codec h.265).
Felipe
8 July 2015
In the version: Body + Lens for portrait and landscape
Automatically translated from Dutch
---
Bundelvoordeel

Wij hebben als Coolblue deze bundel zelf samengesteld en bieden een korting aan op...
Wij hebben als Coolblue deze bundel zelf samengesteld en bieden een korting aan op dit product. Deze korting is verwerkt in de prijs, hier hoef je niets voor te doen.
Specifications
Product
Product number

822250
Manufacturer code

PCKLM17.SYH
Brand

Sony
Warranty

2 years
Processing of your defect

Via Coolblue
Properties
Made for brand

Sony
Type of screen protector

Clear
Screen protector model

Front
Number of screen protectors

1
Suitable for screen size

3 inches
Suitable for model

Sony Alpha 6000
Screen protector material

Plastic
Level of protection - screen protectors

Basic
Screen reflection

Glossy
Screen size

3 inches
Product
Product number

789357
Manufacturer code

LCSU11B.SYH
Brand

Sony
Warranty

2 years
Processing of your defect

Via Coolblue
Properties
Compatible with product type

Camcorders, Mirrorless cameras
Model bag

Shoulder bag
Integrated tripod strap
Tablet compartment
Laptop compartment
Shoulder strap
Double shoulder straps
Adjustable shoulder straps
Padded shoulder straps
Extra compartments

Accessory compartment, Card slot
Depth

9 cm
Height

12 cm
Width

15 cm
Interior dimensions: height

12 cm
Interior dimensions: width

15 cm
Weight

223 g
Color

Black
Plastic type

Nylon
Material

Plastic
Accent color

Black
Water resistance

Splash proof
Water-repellent coating
Water-resistant
Rain cover included
Waterproofness certification

Not certified
Product
Product number

433038
Manufacturer code

ILCE6000LB.CEC
Brand

Sony
Warranty

2 years
Processing of your defect

Via Coolblue
General properties
Camera type

Mirrorless camera
Suitable for photographer type

Beginner
Camera usage situation

At home for family & friends, Vacation
Type of photography

Architecture and interior, Landscape, Nature photography, Portrait, Product, Traveling
Menu language

Dutch, English, Finnish, French, German, Italian, Multilingual, Norwegian, Polish, Russian, Spanish, Swedish
Size camera

Small
Lens
Lens included
Lens mount

Sony E mount
Zoom or prime lens

Zoom lens
Maximum focal length

50 mm
Minimum focal length

16 mm
Wide-angle
Aperture

3,5 - 36
Compatible with lens filter
Filter size

40,5 mm
Autofocus
Type of autofocus

Contrast detection, Phase detection autofocus
Autofocus included lens
Image stabilization included lens
Lens type

Standard
Sensor
Type of image sensor

APS-C
Crop factor

1,5
Effective number of megapixels

24,3 MP
ISO sensitivity

100 - 25600
Shutter speed

0,00025 - 30 second
Image processor
Image processor type

BIONZ X
Photo file format

JPEG, RAW
Video file format

MPEG-4 AVCHD (H.264)
Audio file format

Linear PCM
Exact image display

100 %
Type of image definition support

Full HD (1080p), HD ready (720p), VGA
Full HD (1080p), frames per second

24p, 30p, 60p
Maximum number of photos per second

11 fps
Image stabilization
Location of image stabilization

In the lens
Image stabilization type

Optical Image Stabilization
Number of focus points

179
Memory and storage
Memory card

SD
SD memory card version

SD, SDHC, SDXC UHS
Expandable storage capacity up to

64 GB
Minimum requirements storage system

Class 4
Lighting
Internal flash
Exposure compensation

-3 - 3
Guide number

6
Wireless flash control
Camera screen
Screen size

3 inches
Tiltable
Touchscreen
Number of pixels

1440000 pixels
Viewfinder
Viewfinder
Viewfinder type

Electronic
Viewfinder size

0,4 inch
Diopter adjustment

-4 - 3 dpt