Sonos Move Duo Pack Black
Version
: Black
|
2 speakers
|
None
---
Product information
Pros and cons
According to our WiFi speaker expert
Thanks to Bluetooth and the internal battery, you can also use this set outdoors.

When you get home, you can connect the Move to your Sonos audio system and stream your music via WiFi.

The integrated Google Assistant allows you to control the speaker via voice commands.

The Google Assistant only works when you're connected to WiFi.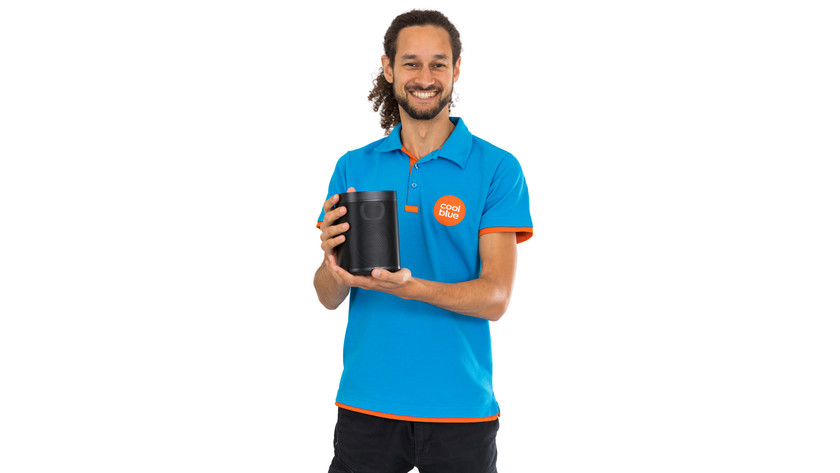 ---
Product description
With the Sonos Move Duo Pack, you'll enjoy stereo sound at home and outdoors. Thanks to the battery and Bluetooth connection, you can take the Move anywhere. The IP56 certification means the speakers are resistant to dust and splashing water, so you can take them to the beach or park without problems. At home, you connect the speakers to the power grid and connect them to your WiFi network. You transform the set into a stereo pair or a multi-room setup that way. When you create a multi-room system, you place one speaker in your bedroom and the other in your living room or kitchen. This allows you to enjoy music everywhere in the house. If the battery is fully charged, the speakers last up to 10 hours. You'll get two charging stations so you can charge both speakers at the same time.
Note: Sonos products don't work via the 5GHz network. Make sure your WiFi is set up on the 2.4GHz network before you purchase a Sonos product.
Tips for using this product
Read our tips and find out all about how to set up your product and use it the right way.

---
Reviews
| | | | |
| --- | --- | --- | --- |
| 5 stars | | | |
| 4 stars | | | |
| 3 stars | | | |
| 2 stars | | | |
| 1 star | | | |
Most helpful reviews
Versatile speaker!

Matthijs | 27 September 2019 | In the version: Black | 1 speaker | None | Automatically translated from Dutch

bluetooth and wifi cannot be combined.

Wonderful product, finally a Sonos in your home that you can place just anywhere. Also outside.

If the WiFi disappears, you still have Bluetooth, even on the go. Very good sound quality, you won't be blown away but it is certainly very good.

The weight does not bother me, it just indicates that it is a very robust product, which also does not just fall over.

What I find a pity is that it is either a bluetooth speaker or a WiFi speaker. I had hoped to be able to "piggyback" with my other Sonos speakers on the bluetooth of the move (as is the case with Airplay), but that is not possible.

The price is certainly justifiable, but it is still hefty.

Matthijs | 27 September 2019 | In the version: Black | 1 speaker | None | Automatically translated from Dutch

Solid, versatile speaker with great sound

Sebastian Groeneveld | 2 October 2019 | In the version: Black | 1 speaker | None | Automatically translated from Dutch

Easy installation via app

Charging station without the hassle of cables

Google Assistant still has some problems and limitations

Bluetooth streaming stutters with HD audio

Last year I doubted for a long time whether I would buy the Sonos One when it came out, but I was sorry that it could not be used as a bluetooth speaker, and also found the fixed power cable too restrictive.

How happy I was when the Sonos Move was announced that had exactly those missing features: a battery-powered bluetooth-enabled speaker with the quality and ease of installation that we know from Sonos.

You have to swallow the price, especially if you compare it with other bluetooth speakers. But it's bigger than expected, very solidly built with a subtle rubber foot, and linked to your existing system via the Sonos app within a minute.

Control is simple and creative with e.g. swipe over the touch buttons for next/previous song, and if you want to take over the sound from the other 'room', you can do that with a long touch on the play button so that the speaker is in the same room. group arrives.

Sound is fine, with good low tones. The high tones are only slightly dependent on the direction in which the speaker is placed. But the sound would also automatically tune itself via the microphone, although I haven't been able to test that properly yet.

Google Assistant was easy to activate, but unfortunately could not turn music on or off via my own Google account. This worked through another Google account, although it is sometimes difficult to use the right wording before he understands what you mean.

Net a good purchase, and I expect to discover new applications and possibilities on a regular basis.

Sebastian Groeneveld | 2 October 2019 | In the version: Black | 1 speaker | None | Automatically translated from Dutch

Really a topper

Gerrit Vega | 16 April 2020 | In the version: Black | 1 speaker | None | Automatically translated from Dutch

Handy on both WiFi and BT

Gerrit Vega | 16 April 2020 | In the version: Black | 1 speaker | None | Automatically translated from Dutch

great product

the switch from bluetooth to wifi

The Sonos Move Connects well with the Sonos 5. Having both speakers play at the same time works fine. Via the button with which you can switch from WiFi to Bluetooth, you can also easily listen to radio programs via the apps on your smartphone.

Arie Gelderblom | 20 November 2019 | In the version: Black | 1 speaker | None | Automatically translated from Dutch

An investment in quality, convenience and pleasure for the e

Rich and full sound, superb quality

Ease of use, easy to operate and very quickly recognizable in the WiFi network

Outdoors, the sound is significantly better than competing speakers

Sometimes the speaker needs a short time to adapt to the environment

The charger does not fit in the supplied cover