Ezviz C2C Mini O Plus Duo Pack
Be the first to know when this product is in stock
---
Product information
Pros and cons
According to our IP camera expert
Thanks to its horizontal 110-degree viewing angle, this camera will keep an eye on a larger part of the room than comparable cameras.

Thanks to the speakers, you can remotely talk to people or animals in your home.

These IP cameras offer plug and play: you simply install it with help of the app.

You need a good WiFi signal where you're installing the camera. You can create a strong WiFi network near your camera with a WiFi extender.

You can't connect this camera to a NAS to store images.

The SD card to store footage isn't included by default.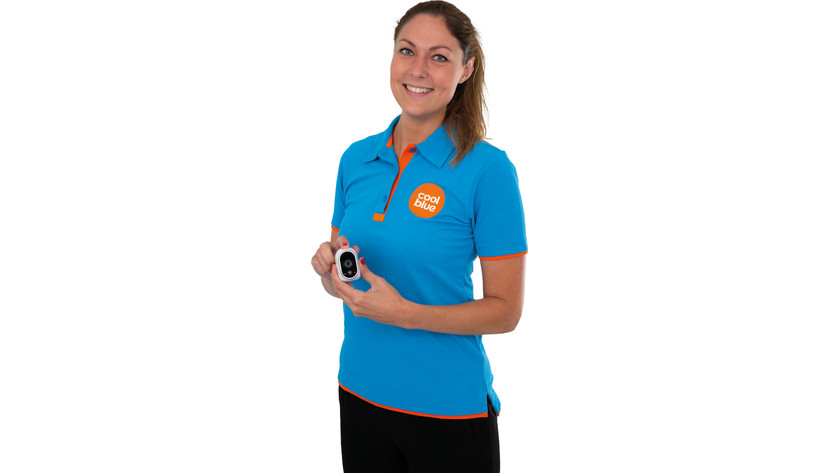 ---
Product description
This IP camera package contains 2 Ezviz C2C Full HD cameras, They're very compact indoor IP cameras. Place the camera in your living room or at the office and monitor the room day and night. You could also place it in the children's room, so the camera can functions as a baby monitor which also captures images. With the clear app, you can see exactly what's happening within a 110-degree a viewing angle when you're not at home. Thanks to infrared lighting, you can do this up to 7,5 meters in the dark. If an unwanted visitor enters your home or if your child stirs, you immediately receive an alert in Ezviz's app. You can zoom in up to 8 times, and the two-way audio allows you to talk to people or pets in your home. Thanks to the microphone you can also hear them. You can install the camera via the clear Ezviz app.
De Ezviz Mini O Plus is compatible with Google Assistant.
Included by default
Manual

(4.03 MB)

Mounting material
AC adapter
Tips for using this product
Read our tips and find out all about how to set up your product and use it the right way.

---
Highlighted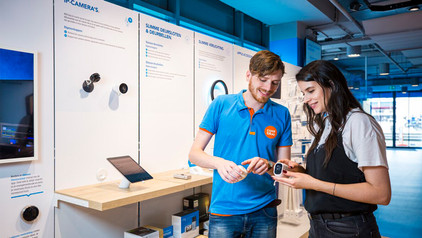 ---
Reviews
| | | | |
| --- | --- | --- | --- |
| 5 stars | | | |
| 4 stars | | | |
| 3 stars | | | |
| 2 stars | | | |
| 1 star | | | |
Most helpful reviews
Great to use as a baby monitor.

Simon | 2 September 2019 | In the version: Plus | Automatically translated from Dutch

Easy to install

Great picture and sound

encryption

Audio noise on iPad

App unclear

Camera and Ezviz app is easy to get up and running. First install the ezviz app on your smartphone and create an Ezviz account. We use the camera as a baby monitor. This camera is perfectly suited for that. There is a slight delay in the image, but that is not a problem.

For a baby monitor, the viewing angle of 135 degrees is a bit exaggerated. You can see almost the entire bedroom. The camera does not make beautiful images, but fine for the function. Night vision also works fine. The sound is also fine. The sound does disturb when we use the app on our iPad. There is an annoying ticking sound. We don't have that problem on our smartphones.

The motion detection works well. He gives a push notification including a screenshot. By default, the camera makes a beep as soon as it detects movement, but that can be turned off. You can adjust the sensitivity and indicate in a grid which part of the image should be used. However, we have turned off motion detection completely, as our child is quite mobile while sleeping.

If we are not using the camera, we pull the plug from the socket and the camera turns off completely. As soon as we plug it back into the socket, it takes quite a while before the camera is online again.

The app is not very well-arranged, which means that the digitally inclined among us regularly have problems getting a live image. It also remains to be seen to what extent the app and the firmware will receive new versions and will be supported in the future.

The app works fine without a paid cloud service, but it is a shame that with this piece of hardware you are immediately tied to an app and a web service from a Chinese company. It is a nice idea that the images are encrypted with a password that you set yourself.

After installation, the camera is linked to an ezviz account. The images can also be shared with another ezviz account, but that person cannot manage the settings. We now use it with 1 ezviz account. Multiple devices can simultaneously log in to 1 account and view the images.

The camera can also be accessed from the computer by logging into a page of ezviz over the internet. However, login is not possible with chrome and the login page is rather difficult to find. Login was successful with firefox and safari. To view live images a plugin is required and it is not possible to install the plugin.

I do have a wish list:
- LAN-only mode (camera can be found locally with the app, but that option is well hidden in the app)
- Control panel via web browser on local IP address (like routers have)
- View images with other apps

Simon | 2 September 2019 | In the version: Plus | Automatically translated from Dutch

Recommended if you want to keep an eye on a space

Sammy Eeckhout | 11 June 2019 | In the version: Plus | Automatically translated from Dutch

night vision

Live image no delay

Low price for good product

Listening to audio is a little less

Could also be in black

Think it's great for what it cost. Pretty much got in return. So recommended :)

Sammy Eeckhout | 11 June 2019 | In the version: Plus | Automatically translated from Dutch

Good camera for a good price

Richard | 16 June 2019 | In the version: Plus | Automatically translated from Dutch

Excellent image quality

Easy to install

No monthly cloud costs with memory card

Can go to night mode a little earlier

The camera is easy to install with the strong magnet that you mount on the wall. Installing via the app is user-friendly. Image quality is fine, better than I expected. The camera could switch to night mode a little earlier to maintain a sharp image.

Richard | 16 June 2019 | In the version: Plus | Automatically translated from Dutch

a setback due to many false alarms

Easy installation

Image quality is fine

Even on the lowest sensitivity setting, you get a lot of false alarms

Simple installation and excellent image quality, but you will also receive many false alarms at the lowest sensitivity setting.

Peter Lubbers | 10 July 2020 | In the version: Plus | Automatically translated from Dutch

Price/quality a good camera for indoors.

Price quality

Ideal for indoors

Wide field of view

Storage option with sdcard

Very good experience. No direct negatives for me. Now use it behind the window to guard the backyard while waiting for a good outdoor camera. Cannot be used only at night because of the reflection in the window. Ideal for indoors at night.

Maebe Marjo | 26 February 2020 | In the version: Plus | Automatically translated from Dutch

Perfect price and quality product

Ease of use

Image quality

No

Super easy and for the price a super image

Hans Faber | 22 May 2020 | In the version: Plus | Automatically translated from Dutch

Good value for money

Value for money

Free app

Small size

Power supply required

Cannot rotate automatically

A great IP camera for this price. Due to the small size, the camera is not noticeable. In addition, the camera has a magnetic base, so that it can be placed on a metal surface.
A disadvantage is that there must be a power supply and therefore a socket nearby. You also have to hide the cable.
The camera cannot be rotated automatically, so the angle can only be changed manually.

M Jansen | 13 June 2019 | In the version: Plus | Automatically translated from Dutch

Installation super simple.

Installed in 2 minutes

Image quality

Good price quality ratio

No

Great image, easy to use.

Marco de Vries | 16 March 2019 | In the version: Plus | Automatically translated from Dutch

Good price/quality ratio

Good picture/sound

Easy installation

App works well

None yet

Very nice picture and sound for a camera of this price range. During the day, evening and night. The app also works well!

Peter | 5 June 2019 | In the version: Plus | Automatically translated from Dutch

Camera with super image and easy to use.

Very easy to install

Good clear picture

Very bright

Wide viewing angle

Useful software

Very bright green light on the adapter

The camera has a beautiful image, with a very wide viewing angle. Colors are lively, and do not need infrared to provide a good (color) image, for example under a street lamp. The app is super clear and history is very easy to find.

The only downside is a very bright green LED on the USB adapter, which almost immediately illuminates a bedroom.

Bart Heuvel | 3 February 2019 | In the version: Plus | Automatically translated from Dutch
Specifications
Product
Product number

822308
Manufacturer code

EZ001
Brand

Ezviz
Warranty

2 years
Processing of your defect

Via Coolblue
Image properties
Video resolution width

1920 pixels
Video resolution height

1080 pixels
Type of image definition support

Full HD (1080p)
Image quality according to customers

Good
Pan
Tilt
ePTZ
Zoom (IPcam)
Digital zoom

4
Vertical viewing angle

135 °
Horizontal viewing angle

135 °
Fisheye
Frames per second

25 fps
Lens diameter

0,4 mm
Camera options
Number of cameras

1
IP camera type

HD camera, Indoor camera, Mini camera, Night camera, WiFi camera
Usage location

Indoor
Alarm system needed for use
Subscription needed for full use
Motion detection sensor
Infrared lighting
Infrared light range

7,5 m
Infrared motion sensor
Suitable for placement behind glass
Dynamic DNS client
Talkback function
Integrated microphone
Review happening
Number of seconds to review happening

0 s
Streaming
Other properties
Power supply type

Grid current
Battery (power source)
Storage options

SD card
SD card slot
Type of SD card

microSD
Installation ease according to customers

Simple
Integrated WiFi
PoE support
UPnP AV support
ONVIF certified
PSIA certified
Compatible with operating system

Android, Windows, iOS
Physical properties
Width

5,8 cm
Depth

5,8 cm
Height

12,8 cm
Color

Black, White
Weight

120 g
Mounting possible
Water-resistant
Power supply type

Grid current
Smart Home options
Controlled via app
Controlled via Android app
Controlled via Apple app
Controlled via Windows app
Compatible with smartphone / apps
Smart home platform

Homey
Privacy and security properties
Internet connection required
Manufacturer account required
Multi-factor authentication
Log in with fingerprint on your phone
Log in with Face ID on your phone
Usage possible without cloud environment manufacturer
Support for future updates
Personal information required