Adam A7X Duo Pack
Sold out online
Available for pickup
Be the first to know when this product is in stock
---
Product information
Pros and cons
According to our studio speaker expert
This combination is cheaper than buying these products separately.

Extremely suitable for music producers.

Has a rich, accurate sound reproduction.

If you also want to hear the lowest frequencies, you need a subwoofer.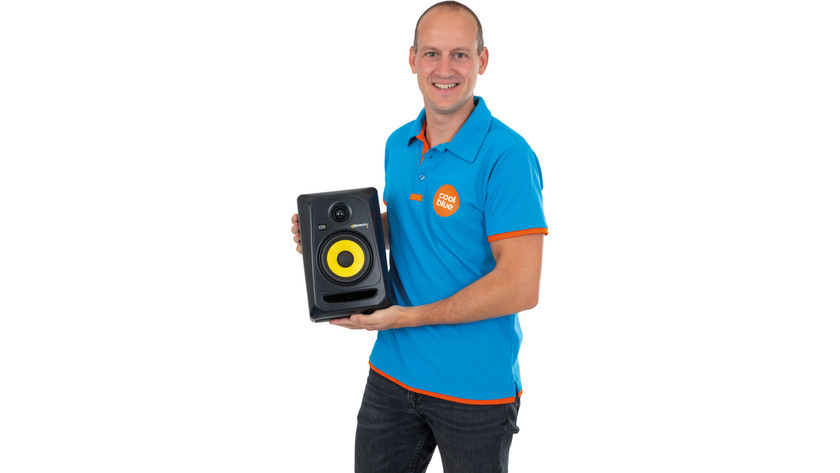 ---
Product description
The Adam A7X is the successor of the most famous Adam speaker: the A7. This set of high-quality 2-way studio monitors clearly reproduce sound and have been specifically designed by Adam for use in home studios. With the X-ART tweeters developed by Adam, the Adam A7X reproduces high tones clearly and nuanced. The 7-inch Midwoofer produces sounds below 2.5kHz. The speakers have separate internal amplifiers for the woofer and tweeter, so a separate amplifier isn't required. Despite the light material, this woofer provides an unparalleled sound in its class. The power button and volume button are located on the front of the speaker and the XLR and RCA connectors are on the back.
---
Reviews
| | | | |
| --- | --- | --- | --- |
| 5 stars | | | |
| 4 stars | | | |
| 3 stars | | | |
| 2 stars | | | |
| 1 star | | | |
Most helpful reviews
Nice sound for producers

TechnoTycho | 13 April 2018 | In the composition: ADAM A7X | Automatically translated from Dutch

Can continue producing for hours without my ears getting tired

Enough bass to produce techno

Remains a somewhat pricey investment, but is well worth the 3

Produced on low entry level speakers for years. But now I consider myself a beginner. So time for the next step. Heard different speakers from friends. This is one that has stayed with me. They can howl, but it is also very pleasant to listen to at low volume.

TechnoTycho | 13 April 2018 | In the composition: ADAM A7X | Automatically translated from Dutch

Good value for money

Teus van Laar | 2 March 2021 | In the composition: ADAM A7X | Automatically translated from Dutch

clear direct sound with a lot of detail

good price

slightly less good reproduction of very low frequencies

Meets the needs

Teus van Laar | 2 March 2021 | In the composition: ADAM A7X | Automatically translated from Dutch

A real recommendation

hans Zuidervliet | 29 June 2021 | In the composition: ADAM A7X | Automatically translated from Dutch

Very clean sound

Beautiful design

Really Perfect for keyboard use

Pricey but definitely worth the money

The reason I bought these speakers is because they give a very nice clean and deep sound without compromising the total spectrum.

hans Zuidervliet | 29 June 2021 | In the composition: ADAM A7X | Automatically translated from Dutch

Great product!

Very pure and above all "honest" sound.

Pure low frequencies

Perfect speakers for a smaller studio.
Great sound.

Maik | 23 June 2020 | In the composition: ADAM A7X | Automatically translated from Dutch

Worth the cost every penny really

Not cheapest, but worth the cost

Great sound, detail, bass

front bass port great for placement

front buttons is great too

Very good detailed construction, tactile surfaces, ribbon twitter frame is black anodized cnc aluminum

not the cheapest

bass ports can eventually sound if very loud

great bass, really great, still needs a sub for perfect full range

all great basically, great CoolBlue service as always I have to say. Other shops you have problems with them. This people work great, so I keep ordering here. Very good b stock price, perfect condition. great deal.

Manu T. R. | 14 February 2021 | In the composition: ADAM A7X | Automatically translated from Dutch

perfect instrument for the serious sound professional

huge dynamics

clear reproduction of higher frequencies

stands firmly on a tripod, not too light

appearance is professional

gives excellent insight into my composing work

no

For someone who has the talent to make music with the computer, this is the ideal monitor, because of the complete sound image, the non-tiring highs, the great dynamics of the built-in amplifier, which can blow you away.
This puts you a level above the average of what the market is offering. Takes you a step further in your musical development.

Gé BARTMAN | 13 April 2021 | In the composition: ADAM A7X | Automatically translated from Dutch

great monitor and you save two monoblocks with it

sound quality

purchase price

placeability

female-friendly size

no front cloth or protection

Very good sound quality for little money

Ruud Boelen | 6 November 2017 | In the composition: ADAM A7X | Automatically translated from Dutch

Don't hesitate, order right away!

Very good and an honest sound

You get value for money

Fast delivery even in corona time lockdown everything going on

Have had speakers several times but these remain the best on the market!

Luke | 3 February 2021 | In the composition: ADAM A7X | Automatically translated from Dutch
Specifications
Product
Product number

407666
Manufacturer code

A7X
Brand

ADAM Audio
Warranty

2 years
Processing of your defect

Via Coolblue
Composition
Number of speakers

1
Speaker composition

1 speaker
General
Active speaker
Speaker drivers

7 inches
Speaker audio crossover

2-way
Aantal ingebouwde versterkers

2
Number speaker units (per speaker)

2
Continuous/nominal total output capacity (RMS)

150 W
Bass reflex port
Placement of bass reflex port

Front
Usage
Volume control speaker(s)
Volume controls location

Front
Equalizer
Equalizer
Number of equalizer presets

0
Number of equalizer bands

2
Connectors
Headphone jack
Number of stereo RCA line inputs

1
USB port
Physical properties
Depth

33,7 cm
Width

20,1 cm
Height

28 cm
Weight

9,2 kg
Material

Plastic, Wood
---
This is the one