Philips Performer Silent Cat & Dog FC8784/09 + Veripart vacuum cleaner bags for Philips
In the version
With lifetime pack of vacuum cleaner bags (28 units)
Available for pickup even sooner
---
Product information
Pros and cons
According to our vacuum expert
This vacuum includes a supply of vacuum cleaner bags for 7 years, which is equal to the lifespan of your vacuum.

Thanks to the anti-allergy filter, it's very suitable for people with a dust allergy.

With the mini turbo brush, you can easily remove pet hairs or other coarse dirt from furniture or stairs.

The vacuum doesn't have a storage compartment for small accessories.

With a weight of 5.4 kilograms, this vacuum is relatively heavy.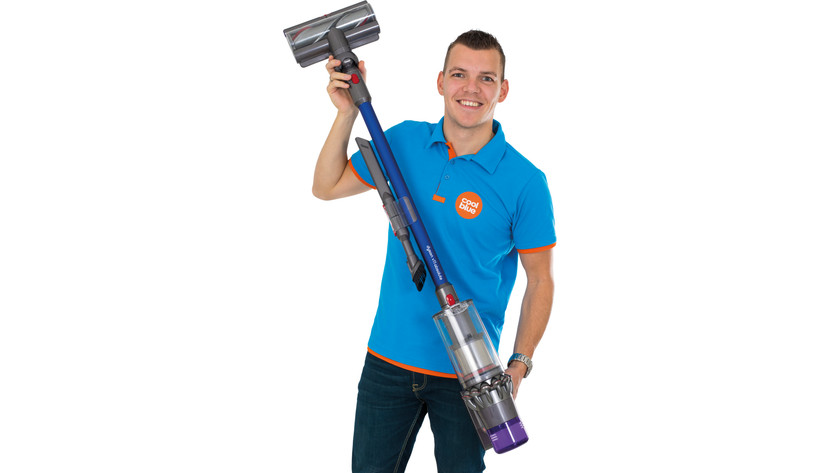 ---
Product description
With the Philips Performer Silent Cat & Dog FC8784/09 + Veripart vacuum cleaner bags for Philips (28 units), you get a vacuum and a lifetime supply of vacuum cleaner bags. With this Philips, you can also vacuum your furniture in addition to hard flooring, wood flooring, or low-pile carpet. You'll receive a powerful multi-surface brush, a parquet brush, and a mini turbo brush. With this, you can easily vacuum stairs, furniture, and the back seat of the car, for example. You'll receive small accessories for the other vacuuming jobs. You can use the crevice tool for baseboards, for example, and dust the lampshades with the soft dusting brush. If your dog or cat regularly lies on the furniture or you sometimes bring your pet in the car, this vacuum is a good choice for you.
Included by default
Philips Performer Silent Cat & Dog FC8784 / 09
Manual

(2.09 MB)

TriActive Pro combi brush
Parquet brush
Mini turbo brush
Crevice nozzle
Furniture suction mouth
Soft dust brush
Veripart Vacuum Cleaner Bags for AEG and Philips (28 units)
Vacuum cleaner bags (28x)
Filter (7x)
Tips for using this product
Read our tips and find out all about how to set up your product and use it the right way.

---
Reviews
Rating
| | | | |
| --- | --- | --- | --- |
| 5 stars | | | |
| 4 stars | | | |
| 3 stars | | | |
| 2 stars | | | |
| 1 star | | | |
Rating per section
Cleaning performance
10,0
Sound level
10,0
Price-quality ratio
8,5
Maneuverability
8,0
Cord length
10,0
Most helpful reviews
Silent vacuum cleaner with nice long cord
Very quiet

Long cord

Good suction power

How big
We have had several Philips vacuum cleaners to our satisfaction and so this time we went for a Philips again and specifically chose this model because we have two children and two cats in the house. That means a lot of dust, sand, crumbs and hair in the house every day.

The first thing I noticed when unpacking was that it was a bit bigger than our previous Philips. A positive point is that the power wire is a lot longer than we were used to. This used to be a problem with our old one.

Then the sound. You can set the vacuum cleaner in different positions in terms of suction power. At the most, it does make a bit of noise, but still a lot less than other vacuum cleaners we've had. We often set it a little less than the max anyway and it becomes a lot quieter. The suction power is still very good on a lower setting.

The squeegee works very well. Place it against the plinth or cupboard and it will remove hair or crumbs from under it. There are many attachments included, but we rarely use them. The basics are sufficient for us in most cases. The handle is easy to click loose and at the top there is a brush that you can slide on and more. Handy if you want to vacuum something that is easily scratched.

Our house consists mainly of laminate. I can't say much about how this vacuum performs on carpet. We have two doormats and he also cleans them well. The only drawback is that it sometimes sucks a little too strongly, even if the opening in the handle opens. In that case, we have to set the vacuum cleaner to a lower setting.

Finally, there is an anti-allergy filter in it. My wife is slightly bothered by house dust mites and I am also sensitive to dust and hair, so this seemed like a nice option.

All in all a nice vacuum cleaner. Slightly on the large side but otherwise user-friendly, very quiet, nice long cord and good suction power!
Stijn
22 April 2020
In the version: Starter model
Automatically translated from Dutch
Fantastic vacuum cleaner
Long cord, can go all around my floor

Handy to carry thanks to handle

Not as noisy than other vacuum cleaners

No
So far the best vacuum cleaner ever in my house, already used 6 of them. I use it daily sometimes 2 times a day. Indispensable for me, so definitely recommended.
Bea
17 June 2019
In the version: Starter model
Automatically translated from Dutch
Quiet vacuum cleaner that does not last long.
makes little noise

light in weight

cord short
Within a few months, the stem of the snake falls, hear that from other users. No response from Philips.
Walter van look
3 September 2020
In the version: Starter model
Automatically translated from Dutch
---
Visit one of our stores, also by appointment
Get advice from an expert

We have stores in Brussels, Ghent, Hasselt, Kuurne, Wilrijk, and Zaventem
Specifications
Product
Product number

819142
Manufacturer code

FC8784/09
Brand

Philips
Warranty

2 years
Processing of your defect

Via Coolblue
Qualitative properties
Build quality

Mid-range
Suction quality on carpet

High-end
Suction quality on hard flooring

Mid-range
Agility according to customers

Very good
Cleaning performance according to customers

Very good