Google Nest WiFi White 4-pack Multi-room WiFi
---
Product information
Pros and cons
According to our Router expert
Protect your children from harmful websites with parental controls.

The multi-room system supports MU-MIMO, which ensures a more stable wireless connection.

Thanks to the integrated voice assistant in the expansion, you can control your smart home devices with your voice.

To achieve the highest available speed of this router, connected devices must support 5GHz.

The expansion has a lower WiFi speed than the main station, which lowers your maximum speed.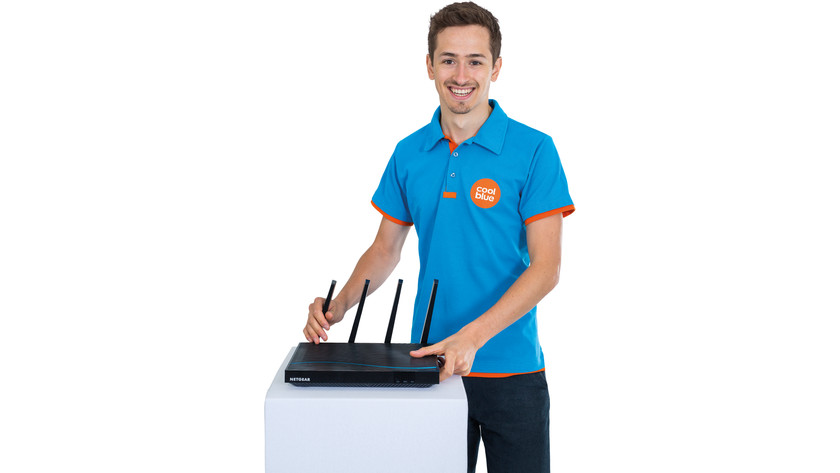 ---
Product description
With the Google Nest WiFi White 4-pack, you provide a large house with multiple floors or a larger apartment with WiFi. This multi-room WiFi system is smart as well. It doesn't just provide a super fast WiFi connection, but it also has Google Assistant built into every station. Connect smart devices to this system and control them with your voice. For example, you can turn your smart lights on or turn up the smart thermostat by talking to your router. Thanks to the high maximum speed, the system is suitable for the fastest internet connections. Streaming series in 4K or playing games isn't a problem. Even when a lot of devices are connected to your wireless network. Is the coverage not enough? You can expand the Google Nest WiFi up to 6 stations.
Tips for using this product
Read our tips and find out all about how to set up your product and use it the right way.

---
Reviews
| | | | |
| --- | --- | --- | --- |
| 5 stars | | | |
| 4 stars | | | |
| 3 stars | | | |
| 2 stars | | | |
| 1 star | | | |
Most helpful reviews
Great device for all your wifi problems!

martijn van neerven van neerven | 12 May 2020 | In the version: AC2200 | 2 | Automatically translated from Dutch

No LAN port on extra point

Let's start with my current Platinum 7840 router that I got from the provider is not performing well in terms of range. Downstairs neat, but as soon as I'm upstairs it collapses and I don't even get 10Mbit. (Package 250/250Mbit).
Because my whole house is (smart) with a Nest doorbell, Nest thermostat, Nest Hub + number of Nest minis, my choice was quickly made to go for Nest wifi + 1 point.

This was mainly the choice because installation (for all products) is very easy.

Picked up the Nest Wifi today at Coolblue in Tilburg.
Very friendly and the store is very well prepared for the corona virus (class). Service a 10!..

Contents box ;
1x Nest Wi-Fi router
1x Nest Wi-Fi point
1 x Ethernet cable
2x power supply
Manual (not used).

Roadmap ;
Connect plug.
Ethernet cable into the Nest router and to your current modem/router port.
Start the Google home application and click on + and let it search in your network.
Router was found immediately and step-by-step plan follows.
Choose your SSID (wifi name) and your password.
After this you will be given a choice to place a WiFi point, which I placed in the bedroom (1st floor).
Here is also a short step-by-step plan to, for example, use the Google assistant and configure your voice.

Because I already own Nest/Google products, I didn't have to do this again.

Finally, an update was found and installed.
This took 2/3 minutes total installation was less than 10 minutes.

Finally speed ;

Router is in the living room and the point in the bedroom. You can run the test in Google home application.

1 test living room ; 247Mbit / 200Mbit
2 test bedroom ; 247Mbit / 204Mbit
3 test attic. ; 245Mbit / 193Mbit

As you can see, range remains the same throughout the house!
Where I used to get no higher than 10Mbit upstairs in the bedroom.

Are there any negative points?

Yes, I miss an extra lan connection on the point.
To connect a device via wire.

Unfortunately no Wifi 6 support, but I don't have any devices that support it yet.

Last disadvantage ; Price

If in doubt, I say don't do it!
If convenience, speed and range are important to you, then this product is the right choice.

If you are a Tweaker and want to adjust many settings in the router, then I advise against the product.

martijn van neerven van neerven | 12 May 2020 | In the version: AC2200 | 2 | Automatically translated from Dutch

Highly recommended for a stable home network

Bart | 21 November 2020 | Automatically translated from Dutch

It forms a stable home network, easy to install and manage.

Bart | 21 November 2020 | Automatically translated from Dutch

Top product, should have bought sooner!

Darren Heath | 3 April 2021 | In the version: AC2200 | 2 | Automatically translated from Dutch

Google speaker, good sound

Reach the top in the attic with a wi-if point on the 1st floor

No ethernet connection on the wi-if point

Reach garden a little less, extra wi-fi point needed

Installation really well thought out, fast and stable connection, many useful features (Family Wi-Fi), Google speaker, much faster wi-fi above due to access point

Darren Heath | 3 April 2021 | In the version: AC2200 | 2 | Automatically translated from Dutch

Good product!

Easy installation, Telenet used to be standard WiFi not available everywhere. If I had wifi (10m from router) it was max 100 mbps. Now I'm around the 300mbps I pay for... So do you have bad wifi with low speed? Then buy the Google Nest WiFi! Recommended!
Easy to activate guest network!

brandon debels | 10 May 2020 | In the version: AC2200 | 2 | Automatically translated from Dutch

asset

Installation is very easy until Google assistant didn't work. Then you discover that the manual is minimalistic. Finally google assistant worked after 3 days. Cause?

JosH | 13 June 2020 | In the version: AC2200 | 2 | Automatically translated from Dutch

Simple installation, good range, built-in speaker. Fine!

The installation is indeed very simple, just scan the QR code and answer some questions the app asks. You can ask the app what the quality/speed of the connections is. The combination of the router point and the built-in speaker is very pleasant.

Nico Dijkhuizen | 22 May 2020 | In the version: AC2200 | 2 | Automatically translated from Dutch

It just works

Easy installation and in a short time

Plenty of setting options

Sound is great with music too

Stream audio multiple extensions works well

On expansion no connection for network cable for PC

Ease of use and stability

Menno Klein Gunnewiek | 14 May 2020 | In the version: AC2200 | 2 | Automatically translated from Dutch

An excellent WiFi system for stable internet anywhere in the

Stable and good range WIFI

Installation is easy as well as connecting equipment

Design, lean & mean, looks neat and can therefore be placed anywhere

Network use WIFI and equipment can be seen again

Google Home and Google Wifi not yet 100% user-friendly to use

Google's "Google Home" and "Google Wifi" eco-system could use some improvements. Not everything is constructed logically (intuitively). Certain connected hardware does not have all the essential functionalities under Google Home, so you still fall back on the OEM applications. Assignment of designations to equipment is not applied consistently. Both apps continue to work well and hopefully they will be further developed for the benefit of the user. The equipment works fine and the WIFI is stable and the mesh covers the whole house.

Paul Bohte | 13 May 2020 | In the version: AC2200 | 2 | Automatically translated from Dutch

solid device: you won't regret it

Very reliable, once set up you don't have to worry about it anymore

Treur | 5 December 2020 | Automatically translated from Dutch

Works great and installed quickly

Small, simple, with speaker

Richard | 25 August 2020 | Automatically translated from Dutch
Specifications
Product
Product number

861566
Manufacturer code

GA00822-FR
Brand

Nest
Warranty

2 years
Warranty type

Carry-in warranty
Router options
Type router

Multi-room mesh WiFi system
Speed class

Mid-range
Number of stations

2
Can be expanded with extra stations
Parental controls
Mounting possible
USB port
Guest network
VPN server
VPN client
VPN passthrough
Installation on location
Can connect to nodes
Port forwarding
Quality of Service (QoS)
Dynamic DNS client
Beamforming
Seamless roaming
Maximum number of stations

6
UPnP AV support
LACP Link aggregation
Zero-wait dynamic frequency selection
Multiple communication
Professional use
Wireless properties
Integrated WiFi
WiFi standards

Wireless AC (WiFi 5), Wireless G (WiFi 3), Wireless N (WiFi 4)
WLAN security

WPA2, WPA2-PSK
WiFi on/off switch
Signal transmission

Omnidirectional
WiFi speed

AC2200
Frequency bands

Simultaneous dual-band
2.4Ghz band speed

400 Mbit/s
5Ghz band speed

1733 Mbit/s
External antennas
Number of WiFi antennas

6
Antenna connection type

Without connector
Firewall
Firewall type

NAT Firewall, SPI Firewall
MIMO
MU-MIMMO
Mobile data connection

None
Automatically switches to 3G/4G
SIM card slot
Wired options
Number of ethernet ports

1
Ethernet speed

Gigabit Ethernet (1000Mbps)
WAN ports

1
Network connector
PoE support
Physical properties
Width

11 cm
Height

9 cm
Depth

9 cm
Weight

0,38 kg
Color

White
Material

Plastic
Power supply
Power source
Battery level indicator
Product
Product number

861567
Manufacturer code

GA00667-FR
Brand

Nest
Warranty

2 years
Warranty type

Carry-in warranty
Power supply
Power source
Battery level indicator
Physical properties
Height

9 cm
Depth

9 cm
Width

11 cm
Weight

0,38 kg
Color

White
Material

Plastic
Properties
Integrated WiFi
WiFi on/off switch
Signal transmission

Omnidirectional
WiFi standards

Wireless AC, Wireless G, Wireless N, [Wireless AC Wave 2]
WLAN security

WPA2, WPA2-PSK
Number of WiFi antennas

6
Antenna connection type

Without connector
MIMO
MU-MIMMO
5Ghz band speed

1733 Mbit/s
External antennas
2.4Ghz band speed

400 Mbit/s
Frequency bands

Simultaneous dual-band
WiFi speed

AC2200
Firewall type

NAT Firewall, SPI Firewall
Firewall
Mobile data connection

None
Automatically switches to 3G/4G
SIM card slot
WAN ports

1
Network connector
PoE support
ADSL modem
Ethernet speed

Gigabit Ethernet (1000Mbps)
Number of ethernet ports

1
Can connect to nodes
Model router

Mesh router
Port forwarding
Dynamic DNS client
VPN client
VPN passthrough
Quality of Service (QoS)
UPnP AV support
Guest network
USB port
LACP Link aggregation
Mounting possible
Parental controls
VPN server
Zero-wait dynamic frequency selection
Beamforming
Seamless roaming
Can be expanded with extra stations
Professional use
Multiple communication
Maximum number of stations

6
Speed class

High-end
Memory card reader
Power source
Battery level indicator
Height

9 cm
Depth

9 cm
Width

11 cm
Weight

0,38 kg
Color

White
Material

Plastic
---
This is the one