Netgear Orbi RBK753 Multi-room WiFi 5-pack
Version
: Orbi
|
AX4200
|
5
---
Product information
Pros and cons
According to our Router expert
Multi-room WiFi allows you to create 1 large WiFi network with a strong signal throughout your house.

This router supports WiFi 6, so you can set up a faster connection and have better coverage.

With a simultaneous tri-band router, you can set up 3 wireless networks at the same time.

You'll need suitable devices if you want to all the benefits of WiFi 6, otherwise you won't get a higher speed.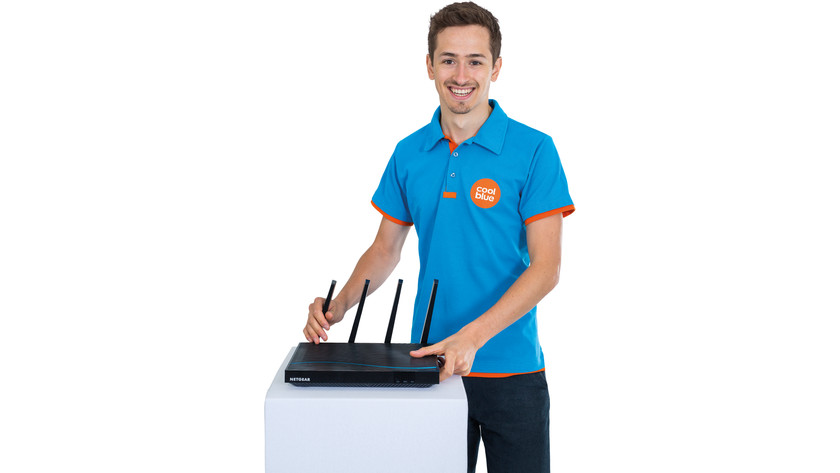 ---
Product description
The Netgear Orbi RBK753 5-pack WiFi 6 multi-room WiFi system provides your entire house with wireless internet. Even houses of more than 130m². This way, you get a good connection from your living room to the attic and from the pantry to the bedroom. This set supports WiFi 6, so you can set up faster connections that with a standard multi-room WiFi system. With 5 stations, the set offers enough coverage for a house of over 130m² and hard walls. The system has enough capacity to handle up to 8 streams simultaneously. In addition, you can connect dozens of devices to the internet at the same time. Easily switch on parental controls, so your children can go online safely. Or connect it to Google Assistant and operate the WiFi network with voice commands.
Included by default
Netgear Orbi RBK753 Multi-room WiFi 3-Pack
Manual
Network cable (1x)
AC adapter (3x)
Netgear Orbi RBS750 Multi-room WiFi Expansion
Manual

(1.29 MB)

Power adapter
Tips for using this product
Read our tips and find out all about how to set up your product and use it the right way.

---
Reviews
| | | | |
| --- | --- | --- | --- |
| 5 stars | | | |
| 4 stars | | | |
| 3 stars | | | |
| 2 stars | | | |
| 1 star | | | |
Most helpful reviews
Bear with the setup and have wifi everywhere!

Patrice van de Walle | 26 June 2021 | In the version: Orbi | AX4200 | 3

Good design, works well, WIFI throughout big house.

Support group at Netgear top notch.

Speed of product is tops.

Set up for a non technical person is a bit confusing.

I may have to buy one more satellite to configure whole house.

The set-up for a non-technical person was a bit complicated. In retrospect it makes sense.

Patrice van de Walle | 26 June 2021 | In the version: Orbi | AX4200 | 3

Prima wifi - voor de berperkte tijd dat het wil werken.

EVD365 | 19 March 2021 | In the version: Orbi | AX4200 | 3

Deze ORBI RBK gekocht voor een toch serieuze prijs in de veronderstelling; kwaliteit kost geld. Verzending ging vlotjes; 's avonds besteld en 's morgens geleverd. Dat is bij coolblu ook al anders geweest.
Installatie van deze kit is een fluitje van een cent. Instructies volgen, app installeren, inpluggen, configureren; klaar. (En ik ben geen netwerk specialist)
Al gauw bleek dat toestellen niet automatisch verbinden met de dichtsbijzijnde satelliet. Dus; netwerk weg en manueel terug verbinden. Lastig voor mobiele apparaten. (Tablet en GSM moet je toch al gauw een 10-tal keren per dag manueel verbinden)
Verder is het netwerk ook niet stabiel. Meerdere malen per dag valt alles weg en moet je ofwel rebooten, ofwel veel geduld hebben. Zeer lastig tijdens onliine meetings want je kan telkens weer inbellen.

EVD365 | 19 March 2021 | In the version: Orbi | AX4200 | 3

I don't know why I waited to switch to mesh

Robb Albright | 4 October 2021 | In the version: Orbi | AX4200 | 3

So fast, no lights, covers upstairs and downstairs

Robb Albright | 4 October 2021 | In the version: Orbi | AX4200 | 3

Reliable wifi and ease of use

price high, but worth it for reliable wifi

Reliable wifi and ease of use

Theo | 31 January 2021 | In the version: Orbi | AX6000 | 3
Specifications
Product
Product number

864758
Manufacturer code

RBK753-100EUS
Brand

Netgear
Warranty

2 years
Warranty type

Immediate exchange guarantee
Router options
Type router

Multi-room mesh WiFi system
Speed class

High-end
Number of stations

3
Can be expanded with extra stations
Parental controls
Mounting possible
USB port
Guest network
VPN server
VPN client
VPN passthrough
Installation on location
Can connect to nodes
Port forwarding
Quality of Service (QoS)
Dynamic DNS client
Beamforming
Seamless roaming
Maximum number of stations

5
UPnP AV support
LACP Link aggregation
Zero-wait dynamic frequency selection
Multiple communication
Professional use
Wireless properties
Integrated WiFi
WiFi standards

Wireless AC (WiFi 5), Wireless AX (WiFi 6), Wireless G (WiFi 3), Wireless N (WiFi 4)
WLAN security

802.1X, WEP, WPA, WPA-PSK, WPA2, WPA2-PSK
WiFi on/off switch
Signal transmission

Omnidirectional
WiFi speed

AX4200
Frequency bands

Simultaneous tri-band
2.4Ghz band speed

600 Mbit/s
5Ghz band speed

2400 Mbit/s
External antennas
Number of WiFi antennas

6
Antenna connection type

Without connector
Firewall
Firewall type

DoS, NAT Firewall, SPI Firewall
MIMO
MU-MIMMO
Mobile data connection

None
Automatically switches to 3G/4G
SIM card slot
Wired options
Number of ethernet ports

6
Ethernet speed

Gigabit Ethernet (1000Mbps)
WAN ports

2
Network connector
PoE support
Physical properties
Width

18,29 cm
Height

23,11 cm
Depth

7,11 cm
Weight

861 g
Color

White
Material

Plastic
Power supply
Power source
Power supply type

Grid current
Product
Product number

864759
Manufacturer code

RBS750-100EUS
Brand

Netgear
Warranty

2 years
Warranty type

Immediate exchange guarantee
Power supply
Power source
Power supply type

Grid current
Physical properties
Height

23,11 cm
Depth

7,11 cm
Width

18,29 cm
Weight

861 g
Color

White
Material

Plastic
Properties
Integrated WiFi
WiFi on/off switch
Signal transmission

Omnidirectional
WiFi standards

Wireless A (WiFi 2), Wireless AC (WiFi 5), Wireless AX (WiFi 6), Wireless B (WiFi 1), Wireless G (WiFi 3), Wireless N (WiFi 4)
WLAN security

802.1X, WEP, WPA, WPA-PSK, WPA2, WPA2-PSK
Number of WiFi antennas

6
Antenna connection type

Without connector
MIMO
MU-MIMMO
5Ghz band speed

2400 Mbit/s
External antennas
2.4Ghz band speed

600 Mbit/s
Frequency bands

Simultaneous tri-band
WiFi speed

AX4200
Firewall type

DoS, NAT Firewall, SPI Firewall
Firewall
Mobile data connection

None
Automatically switches to 3G/4G
SIM card slot
WAN ports

0
Network connector
PoE support
ADSL modem
Ethernet speed

Gigabit Ethernet (1000Mbps)
Number of ethernet ports

2
Can connect to nodes
Model router

Mesh router, Multiroom WiFi
Port forwarding
Dynamic DNS client
VPN client
VPN passthrough
Quality of Service (QoS)
UPnP AV support
Guest network
USB port
LACP Link aggregation
Mounting possible
Parental controls
VPN server
Zero-wait dynamic frequency selection
Beamforming
Seamless roaming
Can be expanded with extra stations
Professional use
Multiple communication
Maximum number of stations

5
Speed class

High-end
Memory card reader
Power source
Power supply type

Grid current
Height

23,11 cm
Depth

7,11 cm
Width

18,29 cm
Weight

861 g
Color

White
Material

Plastic
---
This is the one