Sony PlayStation 4 Slim 500GB + Marvel's Spider-Man Miles Morales PS4
Be the first to know when this product is in stock
---
Product information
Pros and cons
According to our console expert
The PS4 Slim is smaller and more silent than both the classic PS4 and the PS4 Pro, so it doesn't claim as much space in your living room.

Thanks to the further developed design, the PS4 Slim uses about 35% less power than the classic PS4.

The extensive storyline of Spider-Man provides the player with hours of gameplay.

Your console needs to be connected to the internet to download updates for these games.

The PS4 Slim doesn't have an optical connector for high end gaming headsets or surround-sound systems.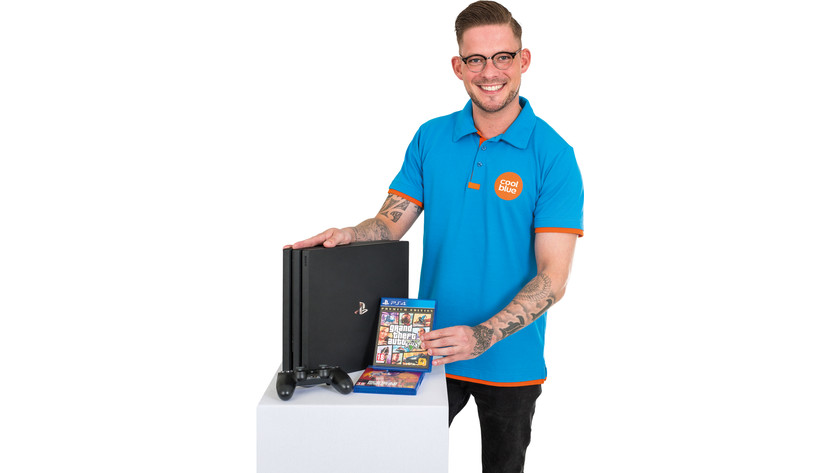 ---
Product description
Whether you're playing in the living room or in your bedroom, you can okay Marvel's Spider-Man Miles Morales with this bundle and the compact PlayStation 4 Slim. The stylish PS4 Slim is smaller, thinner, and more energy-efficient than a PS4 Pro. So it blends in easily with your interior. Game, watch Blu-ray movies, or stream Spotify, you can do it all via 1 device with the PS4 Slim. In addition, Marvel's Spider-Man Miles Morales offers the gamer many fun hours of gaming thanks to the elaborate narrative.
Unlike the bigger Pro brother, the Slim doesn't have an optical connection for high-end gaming headsets. This means that you can connect headsets via USB or via the 3.5mm connector on the controller.
Put on the Spider-Man suit and be a hero in Marvel's Spider-Man: Miles Morales for the PlayStation 4. In this game, you have incredible powers and fight evil in the open world game. You can play this game with 1 person at most.
Free PS5 upgrade
You can also play this game on the PS5. Simply place the CD of this game in the PS5 console and install the game. When it's installed, you can play this game on the PlayStation 5. Keep in mind that the disc of the game has to be in the console in order to play.
Bigger than you
Step into the world of Miles Morales, a completely new Spider-Man with incredible, explosive powers.
Marvel adventure
In the latest adventure from the universe of Marvel's Spider-Man, the teenager Miles Morales has to get used to his new home. In addition, he'll follow in the footsteps of his mentor Peter Parker to become the new Spider-Man.
Red New York
A destructive power threatens his new home, which forces our new hero to quickly realize that great power comes with great responsibility. To save New York from Marvel, Miles has to perfect his new skills as Spider-Man super fast.
Miles Morales, a new hero
Miles Morales discovers that he has explosive powers that set him apart from his mentor Peter Parker. He's very acrobatic, has gadgets and skills, but also bio-electric Venom attacks and camouflage.
A battle for power
An evil energy company and a gang of criminals with high-tech weapons battle for power in the New York from Marvel. Miles' new home is the main battleground. He learns that as a hero, he has to make sacrifices for the greater good sometimes.
A new, lively environment
Explore the snow-covered streets of a lively neighborhood in which Miles is trying to find his way. When the boundary between his personal life and his life as a crimefighter becomes less clear, he discovers who he can trust and what it's like to feel at home.
Included by default
Sony PlayStation 4 Slim 500GB
New PS4 DualShock Controller
Power cable
HDMI cable
Micro USB cable (controller)
PS4 earbuds (1x)
Quick start guide
Tips for using this product
Read our tips and find out all about how to set up your product and use it the right way.

---
Reviews
Rating
| | | | |
| --- | --- | --- | --- |
| 5 stars | | | |
| 4 stars | | | |
| 3 stars | | | |
| 2 stars | | | |
| 1 star | | | |
Rating per section
Entertainment
9,6
Graphics
8,4
User friendliness
9,0
Design
9,2
Options
8,8
Most helpful reviews
Fantastic game console that you certainly won't regret
Years of fun

Enough games

Price quality ratio is excellent

Compromising with your girlfriend
Super device, fast to connect, nice interface, lots of games and fast internet. Guaranteed fun!
Jochem thijssen
29 January 2017
In the version: PS4 Slim
Automatically translated from Dutch
Good purchase
Faster internet

Doesn't make that much noise

Looks better than the normal PS4

no
The slim has a better WiFi connection, makes less noise and just looks better.
Alissa van van der bij
6 October 2016
In the version: PS4 Slim
Automatically translated from Dutch
for hours of fun
pretty

small

economical

expensive
After long research, this version really appears to be the best choice
Lovely klijn
23 February 2017
In the version: PS4 Slim
Automatically translated from Dutch
Specifications
Product
Product number

737956
Manufacturer code

9407577
Brand

Sony
Warranty

2 years
Processing of your defect

Via Coolblue
Console properties
Computer platform

PlayStation 4
(In-game) beeldresolutie

1080p
recommended for Virtual reality
Storage capacity
Total storage capacity

500 GB
Expandable memory
Replace or add memory

Replace and add
Connectivity
Number of HDMI ports

1
Ethernet speed

Gigabit Ethernet (1000Mbps)
Bluetooth
Bluetooth version

4.0
Playable media
Plays CDs
Plays DVDs
Plays Blu-ray discs
Included accessories
Number of included HDMI cables

1
Number of included USB cables

1
Included by default

HDMI cable, Manual, Power cord, USB cable
Physical properties
Color

Black
Weight

2,1 kg
Product
Product number

871323
Manufacturer code

9817321
Brand

Sony
Warranty

2 years
Processing of your defect

Via Coolblue
Platform compatibility
Computer platform

PlayStation 4
recommended for Virtual reality
Game properties
Game genre

Action
Data carrier

Blu-ray
Limited edition
Developer

Insomniac Games
Publisher

Sony Computer Entertainment
Number of players
Offline mode

1
Offline co-op mode

1
Online
Language
Menu language

Dutch, English, French
Spoken language

Dutch, English, French
PEGI
PEGI (age)

16+
PEGI (content)

violence
---
Related products
Related products
This is the one