Makita DHP485RFJ + 31-piece Screwdriver Bit Set
Our choice for an 18V impact drill for professionals
In the version
2x 3.0Ah battery + 31-piece screwdriver bit set
---
Product information
Coolblue's Choice
This product is our choice for an 18V impact drill for professionals.
---
Pros and cons
According to our drill expert
This version includes a 31-piece screwdriver bit set.

With a drill capacity of up to 38mm in wood, it's suitable for making large drill holes.

You can also use the included Makita LXT battery on other power tools of the same brand and with the same battery platform.

Drill bits aren't included.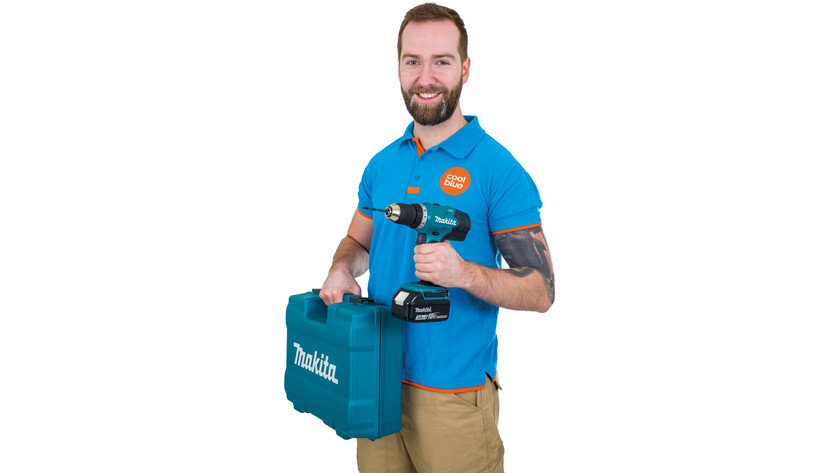 ---
Product description
With the Makita DHP485RFJ + 31-piece Screwdriver Bit Set, you have the right tool for any job. The included bit set contains a bit holder, quick switch, and different types of bits. This is useful when you have to do a wide range of jobs as a professional. With the impact drill, you can drill up to 38mm deep in wood and easily make large holes. In addition, you can also use the machine to drill in plaster, metal, stone, and tiles. You can set the speed very precisely via the switch. That way, you're in total control of the screw. Along with the bit set, you also get 2 batteries. These are part of the Makita battery platform and are interchangeable with other 18V Makita tools.
Included by default
Makita DHP485RFJ
Manual

(16.94 MB)

Makita LXT 18-volt 3.0Ah Li-ion battery (2x)
Battery charger
Carrying handle
Protective cover Li-ion battery
Screwdriver bit
Mbox number 2
Makita Screwdriver Bit Set B-68317 31-piece
PH0
PH1
PH2 (4x)
PH3
PZ0
PZ1
PZ2 (4x)
PZ3
T10
T15
T20 (2x)
T25 (2x)
T27
T30
T40
H3
H4
H5
H6
SL4.5
SL5.5
SL6.5
Bit holder
Tips for using this product
Read our tips and find out all about how to set up your product and use it the right way.

---
Reviews
| | | | |
| --- | --- | --- | --- |
| 5 stars | | | |
| 4 stars | | | |
| 3 stars | | | |
| 2 stars | | | |
| 1 star | | | |
Most helpful reviews
Perfect

Tom Degroote | 7 February 2020 | In the version: With impact function | 2x 3.0Ah battery | Automatically translated from Dutch

Meets all expectations

Extremely fast delivery

No

Perfectly meets the expectations I want to use it for

Tom Degroote | 7 February 2020 | In the version: With impact function | 2x 3.0Ah battery | Automatically translated from Dutch

Good purchase

Anoniem | 29 November 2020 | In the version: With impact function | 2x 3.0Ah battery | Automatically translated from Dutch

brushless motor

fast charging

Relief

Powerful

The box

He does what he has to do. Having two batteries is super handy and a battery is charged in 30 minutes. Those batteries also fit in other Makita tools. The box is clumsy. When you put it upright, everything falls out of the holder. You can solve it by adding some extras, so that everything is tight (a drill set for example).

Anoniem | 29 November 2020 | In the version: With impact function | 2x 3.0Ah battery | Automatically translated from Dutch

Makita quality!

Wout Van Hecke | 10 October 2020 | In the version: Without battery | Automatically translated from Dutch

Compact

Not heavy

Long battery life (by BL-DC)

Handy case with click system

Top product like most Makita products.
Battery charge lasts a long time compared to my previous machine that was still with carbon brushes, the brushless motor runs very smoothly and gives a lot of torque at both low and high revs.

Wout Van Hecke | 10 October 2020 | In the version: Without battery | Automatically translated from Dutch

top machine

Is a professional device

Werner De Jaegher | 5 October 2020 | In the version: Without battery | Automatically translated from Dutch

Highly recommended

Strong, and feels good in the hand

theoraaymakers | 14 June 2020 | In the version: With impact function | 2x 3.0Ah battery | Automatically translated from Dutch

Don't think, just buy!

value for money

reliable and safe

hardly any maintenance, just keep it tidy

stable and low vibration

excellent centering drill/bit holder

Have had a whole collection of Makita tools for years without any problems, I trust them

R.M. Nieuweboer | 29 July 2021 | In the version: 2x 3.0Ah battery | Automatically translated from Dutch

Incredibly good machine!

Powerful battery 5Ah, even 2 pcs, which lasts a long time

Work surface lighting

Wide choice of uses

Very handy and easy to handle

The Ferrari of the battery-powered drill driver!

Luc De Hertogh | 21 February 2021 | In the version: 2x 5.0Ah battery | Automatically translated from Dutch

Nice top tool

Very light

Powerful for many tasks

Batteries charge quickly

I like the product and it really improves on its predecessor

Gerrit Bosma | 17 February 2020 | In the version: 2x 3.0Ah battery | Automatically translated from Dutch

Nice device for the experienced handyman.

Ease

power

Compactness

None found yet

Unprecedented battery life, power and ease of use.

T. Moors | 29 April 2020 | In the version: With impact function | 2x 3.0Ah battery | Automatically translated from Dutch

Does what I bought it for!

Drill the holes neatly

Battery lasts a long time

Fits well in the hand

No negative points

Does what I bought it for!

Janus Delahaye | 31 August 2021 | In the version: With impact function | 2x 3.0Ah battery | Automatically translated from Dutch