Optoma HD146X + Projection Screen + HDMI Cable
---
Product information
Pros and cons
According to our projector expert
You get more out of the image quality of your projector with this combination of a projector and a projection screen, since the screen improves the brightness.

Thanks to the Full HD resolution, details are clearly visible.

The included BlueBuilt HDMI cable allows you to easily connect the projector to a laptop, so you can play your favorite content.

You have to place the projector 3.2 to 3.6m from the screen to fit the whole screen.

The projector doesn't have smart functions, so you can't stream content wirelessly.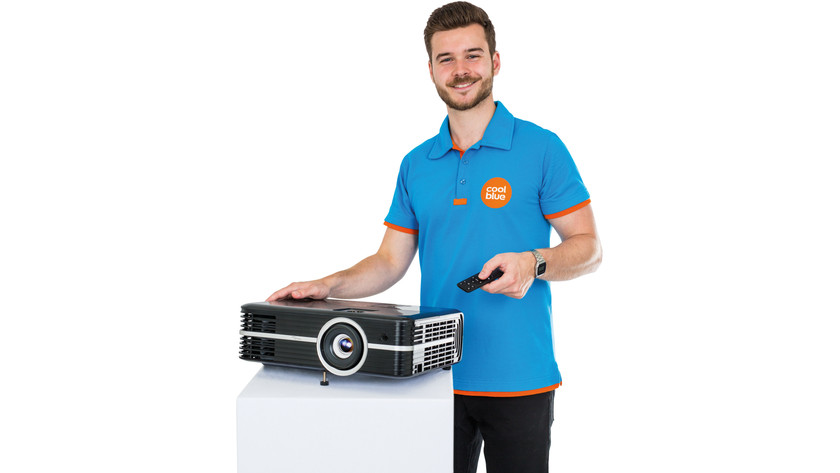 ---
Product description
Thanks to the Optoma HD146X + Projection Screen + HDMI Cable, you can always enjoy clear projections when watching your favorite sports matches, movies, and videos. Thanks to the Full HD resolution, you can enjoy sharp images. This displays details properly. The projector makes bright projection thanks to the 3800 ANSI lumen, which represents the brightness of the projector light. The 1.1 gain value of the projection screen ensures that the screen doesn't 'consume' the brightness of the projector. This way, the images remain bright and you don't need to darken a room to show a projection clearly. So you're friend won't trip when getting a beer in the dark anymore.
You have flexibility in placing the projector and the projection screen. The projector has a 1.47 - 1.62:1 projection ratio, so you can place it 3.2 to 3.6m from the screen to fill the whole projection screen. Does the shape differ from the projection after installing it? Vertically correct the image up to 40 degrees with the keystone correction until the projection becomes rectangular again. Thanks to the included Blue Built HDMI cable, you can place the laptop up to 2m from the projector. You can connect it to the projector to play content.
Note: the projection screen is placed on a stand and can't be hung.
Tips for using this product
Read our tips and find out all about how to set up your product and use it the right way.

---
Reviews
| | | | |
| --- | --- | --- | --- |
| 5 stars | | | |
| 4 stars | | | |
| 3 stars | | | |
| 2 stars | | | |
| 1 star | | | |
Most helpful reviews
Nice picture, annoying ventilator

Pepijn van der Veen | 6 March 2021 | With or without screen: Without projection screen | Automatically translated from Dutch

The image of the beamer is nice and clear, but it should not be close to the viewer, because the fan makes a lot of noise.

Pepijn van der Veen | 6 March 2021 | With or without screen: Without projection screen | Automatically translated from Dutch

Perfect projector. Super bright and sharp.

Jelle | 22 March 2021 | With or without screen: Without projection screen | Automatically translated from Dutch

Perfect projector. Super bright and sharp.

Jelle | 22 March 2021 | With or without screen: Without projection screen | Automatically translated from Dutch

Perfect outdoor cinema in combination with a chromecast

Roy DJ | 19 May 2021 | With or without screen: Without projection screen | Automatically translated from Dutch

Simple design and small size

In eco mode (which is fine with movies) little fan noise

Definitely worth the money

Great as an outdoor cinema

USB connection for power; perfect for a chromecast

Only 1 HDMI (I only needed 1 luckily)

Sound is reasonable (you can't expect more for that money)

I bought it as an outdoor cinema. Connected to the chromecast ultra 2 (Google TV) that you can connect to that one HDMI. He then draws the power from the USB (there is only 1 of them).

Sound from the speakers is not great so I connected a separate sound box.

Screen sail hung and a perfect outdoor cinema for little money.

Let the EC begin :)

ps. With the chromecast Google TV and remote control, it is also a great alternative for an indoor TV.

Roy DJ | 19 May 2021 | With or without screen: Without projection screen | Automatically translated from Dutch

Very good for the price

Useful with a lot of light

Remote control must be close to work

The good image quality makes it nice to look at, and is exactly what I needed. Shame about the remote control which has to be within 1m to use.

Loek de Kleijn | 2 March 2021 | With or without screen: Without projection screen | Automatically translated from Dutch

Neat

Makes some noise with cooling

A beautiful, user-friendly Beamer. Excellent image quality even under high light conditions.
Makes some noise while cooling. heats up quickly

Michael Bitter | 1 March 2021 | With or without screen: Without projection screen | Automatically translated from Dutch

Very good projector

Honor good beamer

Dirk Hoebers | 4 April 2021 | With or without screen: Without projection screen | Automatically translated from Dutch

Good quality for a good price.

Very good for watching movies or netflix, but this projector is also good for gaming.
Feel free to have more connections for HDMI and the like.

Lesly Lehane | 14 March 2021 | With or without screen: Without projection screen | Automatically translated from Dutch

Great to see your movies in good quality on such a big bee

It's fantastic to see your films in good quality on such a large screen.

Ludovic Schweitzer | 29 June 2021 | With or without screen: Without projection screen | Automatically translated from Dutch

Quality for a good price, clear and sharp.

Sharp image even at low light intervals

Light weight makes it easy to move

No lens shift, when placed horizontally the image points upwards.

Poor internal audio, external audio is necessary

I like the product very much! I use it for the wellness house in the garden. The image is clear and large at a distance of 4 meters from the projection screen.

Michael Miedema | 29 May 2021 | With or without screen: Without projection screen | Automatically translated from Dutch

Perfect beamer for home cinema / gaming for a competitive pr

Strong price-quality ratio

Bright light, even in bright rooms

Very suitable as home theater and for gaming

Perfect beamer for home cinema / gaming for a competitive price

Christiaan Pottjewijd | 30 June 2021 | With or without screen: Without projection screen | Automatically translated from Dutch
Specifications
Product
Product number

875859
Manufacturer code

E1P0A3PBE1Z2
Brand

Optoma
Warranty

2 years
Warranty type

Carry-in warranty
Important properties
Sharpness

Full HD (1080p)
Brightness

3600 ANSI lumen
Contrast ratio

25000
Projection ratio

1,47 - 1,62 m
Recommended for use

Business use, Home cinema
Recommended for type of room

Conference room, Living room
Smart function properties
Size projector

Normal
Image properties
Sharpness

Full HD (1080p)
Contrast ratio

25000
HDR support
Input lag

16 ms
Minimum image size (diagonal)

28 inches
Maximum image size (diagonal)

302 inches
Aspect ratio projection

16:9
Alternative aspect ratio

4:3
Projector technology

DLP
3D
3D technology

Active