Max Pro Evolution Black + BioSilk Silk Therapy
In the version
Protects your hair from heat damage
Available for pickup even sooner
---
Product information
Pros and cons
According to our stijltang expert
With this combination, you can create straight or curly hair and care for it at the same time.

Full titanium plates can take a beating and retain the moisture in your hair.

The display shows you exactly which temperature setting the straightener is set to.

The hair straightener doesn't have a memory function, so you have to select the temperature setting every time.

Due to the standard width of the plates, the straightener isn't as suitable for thick hair.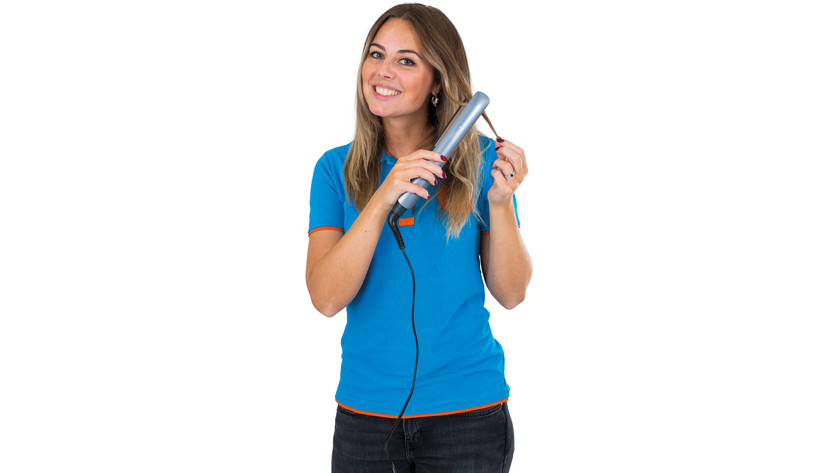 ---
Product description
You can style your hair without damaging your hair with the Max Pro Evolution Black + BioSilk Silk Therapy. Before you start styling, spread the BioSilk serum over your hair. This gives your hair a nice shine and you protect it from the heat of the hair straightener. The plates of the hair straightener are made of 100% titanium. This material can take a beating. That's useful, especially if you sometimes drop the straightener or often take it with you on the go. The titanium plates also retain the moisture in your hair. In addition, the plates don't close completely, so the hair straightener glides smoothly through your hair. Thanks to the ionic technology, you leave the house with a shiny, frizz-free, and static-free hairstyle.
Tips for using this product
Read our tips and find out all about how to set up your product and use it the right way.

---
Reviews
Most helpful reviews
fantastic! it's worth the price!!
fast

result lasts a long time

hair looks very healthy
I wanted to use the pliers for a while before writing a review. I've had it for 4 weeks now and use it often.

Before I bought this one, I first compared all prices and reviews of all hair straighteners on this site...

I myself have quite thick, dull, fluffy, blond hair that looks broken and dry. This is my first straightener and I love it! 130 degrees is enough for me. My hair got a nice shine and looked like I just came from the hairdresser, it was really soft and looked much healthier! Really like that shampoo commercial hair.

The tongs glide easily through the hair. I haven't accidentally pressed the buttons once, so you really shouldn't worry about that. The result stays with me all day, and the shine, and softness stayed until I washed it again (obviously it's not quite as straight as the day before but really still a big difference from normal).

Curls: I've never owned a hair straightener so it took some searching... but it was easy. Hold the curl in your hand for a while, let it cool and you're done! They were beautiful and lasted a long time but I still prefer straight hair on me.

There's really nothing that annoys me about this straightener.
The tongs are very light, heat up quickly, the hair is no longer static after use, handy that the cord turns, it goes quickly, do not find it uncomfortable to hold for a long time.

Here is a picture of the result. My hair can be straighter, but difficult because my hair was cut in layers months ago... I mainly style it so that it looks healthy and not poofy.

Anyway, I'm really happy with it!
Josephine
30 May 2015
In the version: Max Pro Evolution Black
Automatically translated from Dutch
Good fast hair straightener
Warms up very quickly (180 degrees after approx. 30 seconds)

Light weight

Hair does not fluff after use

Due to the flat shape, a little less pleasant to hold for a longer period of time
I get up very early every day for work and every minute I can save is a bonus. This straightener is ideal if you want to quickly tidy your hair in 5 to 10 minutes. I have fairly thick hair myself, but I can handle the standard temperature (180 degrees Celsius) just fine. I don't put it much higher than 190 degrees Celsius, because otherwise I would burn my hands on my hair. So the straightener gets very hot!
I myself had no experience with titanium straighteners. I must honestly say that the shine of my hair after use is slightly less than with my previous straightener with full ceramic plates. BUT, my hair still shines beautifully, doesn't frizz and stays in place for hours thanks to this super-fast straightener. The straightener heats up to 180 degrees Celsius in about 30 seconds.
The only downside to this straightener is the shape. It is fairly flat, which makes it nice and light and easy to store. But this also ensures that it is slightly less comfortable in the hand. My previous straightener was just a little more rounded, so your hand was clamped around the straightener in a more natural way. However, this straightener works so well that for the 5 - 15 minutes that I use it at a time, this is not so annoying. If you want to create curls with this straightener, it may be less pleasant to use. However, I only use it to straighten my hair.
The buttons of the straightener are also slightly recessed into the device so that you cannot accidentally press the buttons while styling, ideal! FYI: the + and - buttons increase/decrease the temperature setting by 10 degrees Celsius.

In short, a super fast hair straightener that just does what may be expected of it. I would therefore recommend this straightener if you do not spend more than 15 minutes styling your hair (for example if you want to tidy the hair). If you want to use this straightener for curls or something similar, the shape of this straightener will probably irritate you. You then have to hold it in a somewhat uncomfortable position for a longer period of time.
M. lensen
7 October 2014
In the version: Max Pro Evolution Black
Automatically translated from Dutch
super tongs
full titanium

movable plates

lightweight

no
Much cheaper than a Chi Tang and much better in the bargain.
It glides through your hair better, is lighter and therefore much more convenient.
Kris steel
21 March 2014
In the version: Max Pro Evolution Black
Automatically translated from Dutch
Specifications
Product
Product number

369341
Manufacturer code

Evolution Black
Brand

Max Pro
Warranty

2 years
Processing of your defect

Via Coolblue
General
Stijlborstel
Steaming function
Ionic technology
Geschikt voor beschadigd haar
Suitable for type of styling

Create stroke, Curling hair, Steep her
Styling plates
Type styling platen

Titanium
Grootte platen

Standard
Afgeronde platen
Flexibele platen
Plaatvergrendeling
Temperature functionalities
Warm-up time

8 seconds
Minimale temperatuur

130 °C
Maximum temperature

230 °C
Adjustable temperature
Number of settings

21
Temperature boost
Automatic temperature control
User-friendliness
Memory function
Keypad lock
Auto shut-off
Auto shut-off after

60 min
Swivel cord
Ingebouwde borstel
Accessories
Included by default

Nothing included
Power supply
Power supply type

Grid current
Wireless
Universal voltage
Cable length

2,5 m
Product
Product number

822310
Manufacturer code

BSST2-2
Brand

Biosilk
Warranty

2 years