Help after purchase
Your product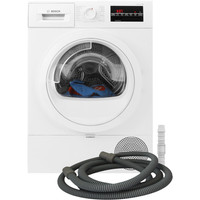 With the Bosch WTR85TC0FG + BlueBuilt Condensation Drain Hose, emptying the condenser reservoir is a thing of the past. The 1.5m hose transports the water from the dryer into the drain quickly. With an 8kg load capacity, this appliance is suitable for a household of 3 to 4 people. Your laundry will last longer thanks to the SensitiveDrying system. The Bosch dryer uses mild, warm air and gently sloshes your clothes about. A cycle will never last too long thanks to the AutoDry technique. The sensors measure the humidity and temperature of the laundry, which ensures the dryer cycle stops at the right time. This prevents your favorite T-shirt from shrinking due to temperatures that are too high.
---
---
Didn't find your answer?
Find an answer to your question quickly and easily via our Customer Service.