How do I reset my Netgear router?
Forgot the password for your Netgear router or did the router stop working properly? Resetting allows you to set up the router again. Below, you'll read how to go through the reset procedure for a Netgear router.
---
What do you need?
A Netgear router (make sure it's on)
A paper clip (for method 1)
A laptop or desktop that's connected to the same network as the router, in order to reinstall the router.
Method 2: using the configuration page
Open your Netgear router's web interface in an internet browser. Make sure the computer you're using is connected to the same network as the network to which the router is connected.
At the top of the page, select 'Advanced'.
In the menu on the left, choose the 'Maintenance' option.
A new menu will appear below your choice. Select 'Backup settings'.
At the right of the screen, under the heading 'Revert to factory default settings', click 'Erase'.
The reset procedure has now been initiated. Note that the login and network settings have also been reverted to their factory settings. That means you'll need to log in using the router's default credentials.
Set up the router again
Want to set up the router again? Follow the instructions on our setup page:
How do I set up my Netgear router?
Is it not working?
We'll gladly help you reset your Netgear router. Can't get the installation of your router to work? Please contact our customer service.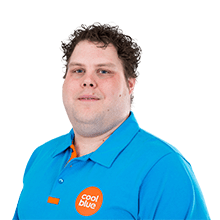 Article by: