How do I choose an airfryer?
Airfryers are available in different sizes. With a large airfryer you bake a larger quantity of ingredients at once. Each brand uses a different frying technology for crispy snacks and fries. What kind of dishes you make depends on the expansion possibilities that the airfryer offers. In this article we help you choose a suitable airfryer for your kitchen.
---
The size of the airfyer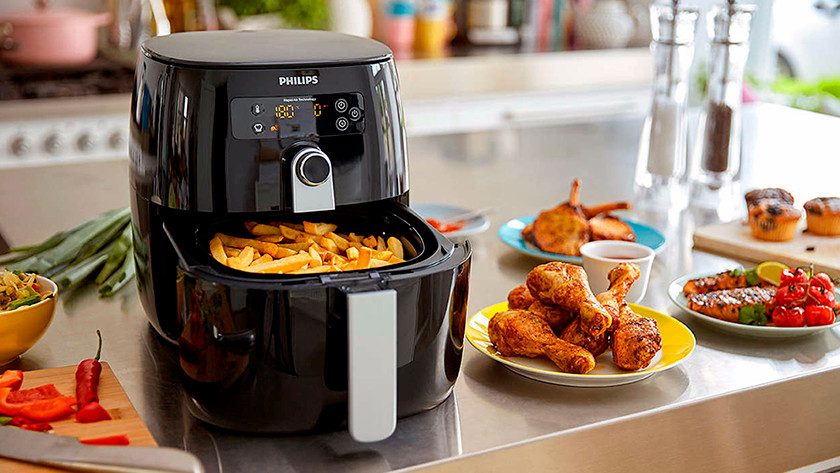 0.6 to 1 kg load capacity
Do you have a small household with a composition of about 2 to 3 people? Then a small airfryer with a payload of 0.6 to 1 kilogram is enough. Are you with 4 people? Then you bake only a modest portion of fries with an airfryer of 1 kg. Do you also want to bake snacks for your fries for everyone? That will have to be done in a subsequent round of cooking.
Takes up less space on your countertop.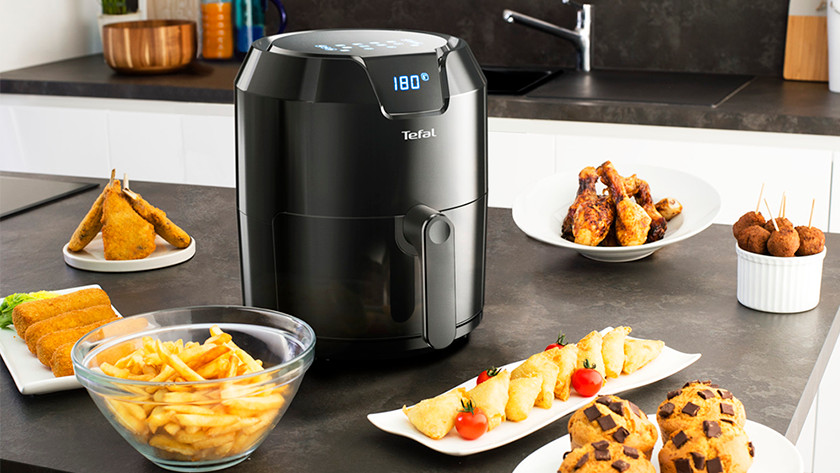 1 to 1.5 kg load capacity
Do you want to bake a large amount of fries and snacks at once, for about 4 to 6 people? Then you quickly arrive at an airfryer with a load capacity of 1 to 1.5 kg load capacity. You can also make a full meal easier with a large airfryer, such as a piece of fish, vegetables and potatoes. A larger airfryer is also suitable for baking a cake.
For full meals and large quantities
Suitable for larger baking
Frying technology
The different brands of airfryers use their own frying technology. What they have in common is that there is always deep-fried with hot air. With some technologies, preheating is no longer necessary. The one way of deep-frying is healthier, because less oil is needed or because the fat is even better drained. Below we explain the 3 most famous airfryer technologies.
3 known airfryer technologies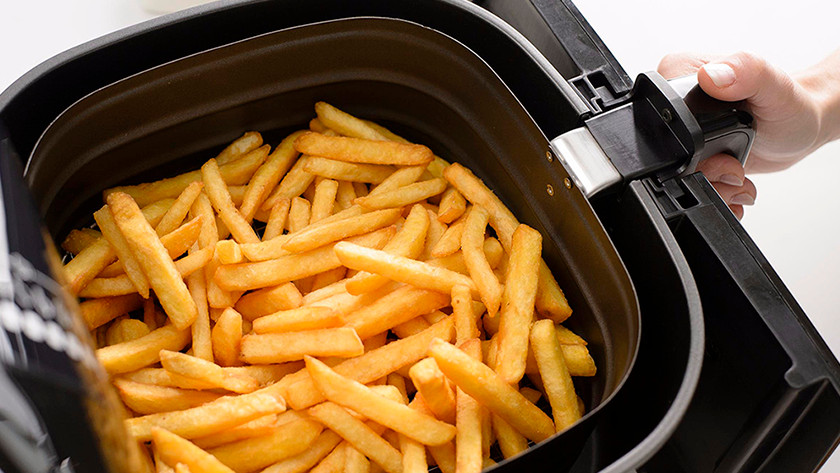 3D Air Pulse technology
Tefal uses 3D Air Pulse technology. Here too, the addition of 1 tablespoon of oil is sufficient to fry your snacks. After a short warm-up time the airfryer is ready for use. The heating element at the top of the pan together with a hot air flow ensures that your dish cooks quickly and evenly.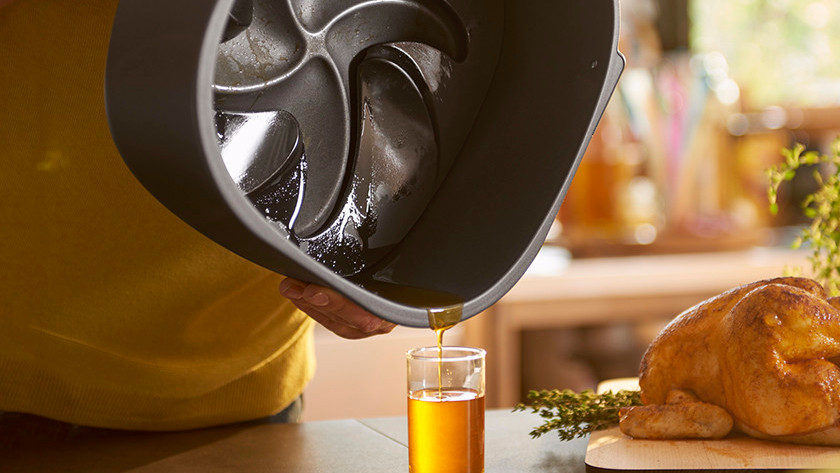 RapidAir technology
Some Philips Airfryers use RapidAir technology. With this technology, only 1 tablespoon of vegetable oil is needed to fry snacks in a healthy way. The hot air is blown into the pan from above. The propeller at the top pushes the air through the double wall of the pan to the bottom. The star-shaped element on the bottom of the pan then distributes the air evenly through the pan. This allows the dish to cook evenly and fry fries around golden brown. So you do not get weak fries.
Snacks are crispy all around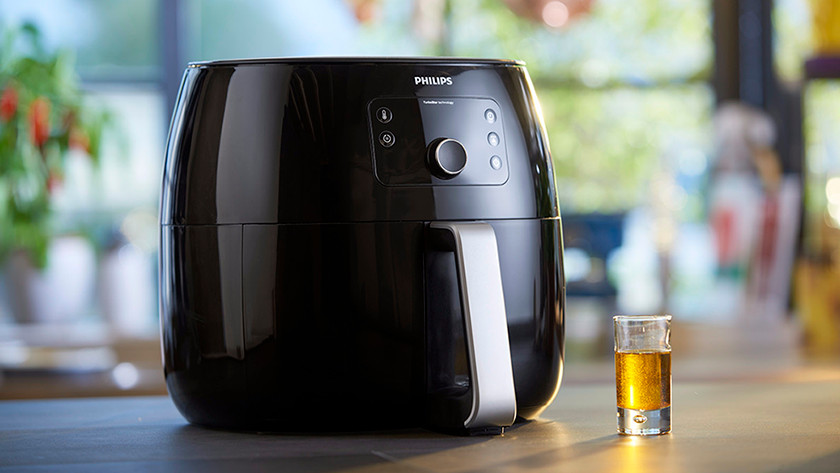 TurboStar technology
Philips takes it one step further with the TurboStar technology. All the fat that is released during frying or grilling is immediately discharged and ends up at the bottom of the airfryer. This way you snack even healthier. With the Turbostar technology, preheating is not necessary and the hot air is rapidly distributed through the pan. This is because the heating element and the motor contain more power. As with the RapidAir technology, the hot air circulates through the pan for an even cooking and a crispy result.
Crispy snacks that contain even less fat
Preheating is not necessary
Automatic baking programs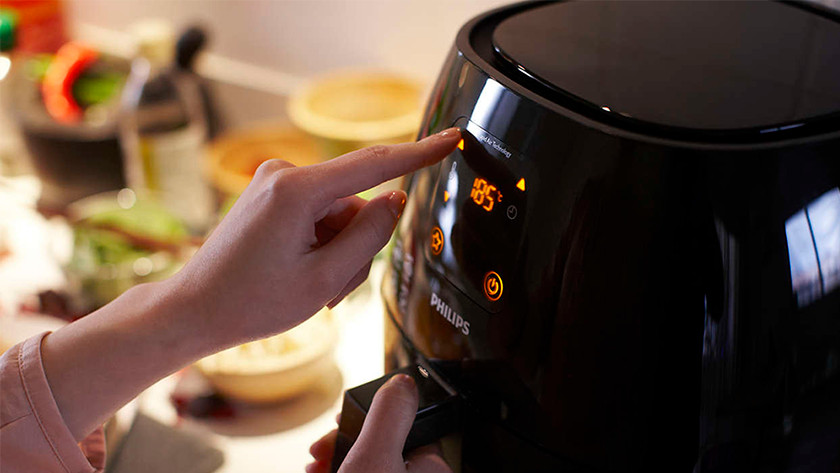 Set temperature and time yourself
With some aifryers it is only possible to set the temperature and baking time yourself. In this case you have to see for yourself at what temperature and for how long your dish needs to be cooked.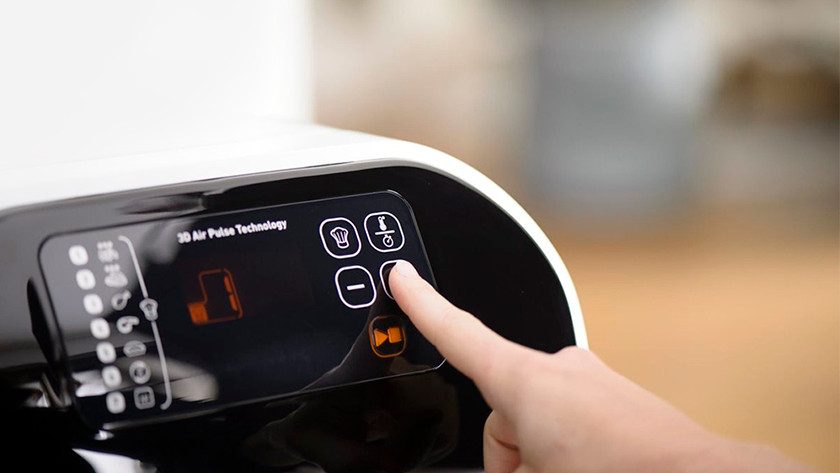 Select automatic baking programs
Does the airfryer have baking programs? Then adjust with 1 press of the button an accurately adjusted temperature and baking time for grilling chicken or fish, or for example for baking bread.
Pre-set cooking time and temperature
Preparation methods
Do you like to make various dishes with your airfryer? Then you need the right accessories for this. Think of baking molds for pies and muffins. Or a cooking grid with which you create a double layer in the pan. This is how you cook meat and potatoes at the same time.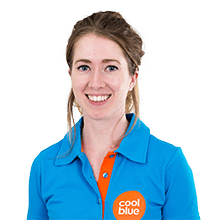 Article by: