The best cameras for beginners
You are ready to buy your first camera, but you do not know which one suits you. That is why I made a selection of 6 beginner cameras. This list contains user-friendly SLR, mirrorless and compact cameras that help you on your way to finding a suitable camera.
Choose the camera that suits you
Do you want a professional camera that feels great in the hand with a firm grip? If so, opt for a Canon or Nikon SLR camera. Do you prefer a professional camera with a lighter weight? Choose one of the Olympus or Sony mirrorless cameras. Do you want a user-friendly camera that you can easily take with you everywhere? If so, the compact cameras from Canon and Panasonic are the most suitable.
1. SLR camera - Canon EOS 2000D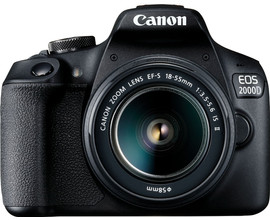 24,1 megapixels, filmt in Full HD 1080p
Met wifi en NFC, zonder bluetooth
Inclusief 18-55mm lens
I recommend this beginner-friendly camera to every hobby photographer. Thanks to the function guide, you get to know the camera settings quickly. With the simple dial for the recording mode, you can choose between different creative modes. This makes the Canon EOS 2000D very easy to use. Thanks to the interchangeable lenses, you can use the camera for all kinds of photography, from landscape to macro photography. You can send your first images directly to your friends via WiFi.
2. SLR camera - Nikon D3500
24.2 megapixels, filming in Full HD 1080p
With bluetooth, without wifi and NFC
Includes 18-55mm lens
Are you looking for more creativity in your photos? If so, the Nikon D3500 is a great camera for the starting photographer. Nikon offers a handy help guide that explains the most important shooting functions. This gives you a quick grasp of the camera. The sensor is light sensitive, so you take detailed photos in dark locations. Finally, the deep grip ensures that your camera is always comfortably in the hand.
3. Mirrorless camera - Olympus PEN E-PL9 Kit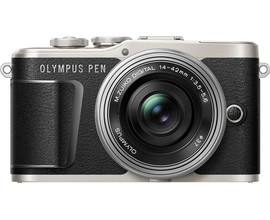 16.1 megapixels, records in 4K
With WiFi and Bluetooth
Camerabody with 14-42mm lens
This retro camera with modern functions is a great first-time camera for both photographers, bloggers, and vloggers. You can easily take the Olympus PEN E-PL9 on the road with its stylish and compact design. The tilting screen with touchscreen is useful if you make selfies or vlogs. This also makes it easier to adjust the settings. In addition to the standard functions, this camera can also film in 4K image quality and has image stabilization. This way, you can create detailed and razor sharp images.
4. Mirrorless camera - Sony Alpha A5100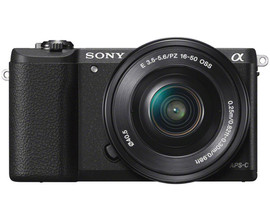 24.3 megapixels, records Full HD 1080p video
With WiFi and NFC, without Bluetooth
Includes a 16-50mm lens
The good quality and extensive functions make the Sony Alpha A5100 the suitable mirrorless camera for the beginner who wants to grow. You program your favorite settings on the 7 customizable buttons. Capturing moving subjects is no problem thanks to the fast autofocus that captures 6 images per second. Vlogging and controlling the camera is easy with the tilting screen with touchscreen. It is a versatile beginner camera that you use for street, portrait, architecture and landscape photography.
5. Compact camera - Canon Powershot SX620 HS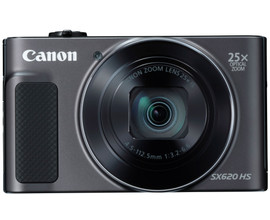 21.1-megapixel CMOS sensor
25x optical zoom
WiFi and NFC
As a starting photographer, you can easily take this small Canon compact camera on the road. The extensive options of the camera give you enough freedom to experiment. Via the menu, you can add filters to your photos and make Full HD videos. You do not have to worry about motion blur thanks to the image stabilization. You can share your creative images directly with friends via WiFi.
6. Compact camera - Panasonic Lumix DC-FZ82
The Panasonic Lumix DC-FZ82 is an all-in-one camera for beginners. This user-friendly camera has advanced functions at the same time. Did you accidentally focus on the wrong point while shooting? With the Post Focus function you move the focus point after shooting. Use the 4K Photo Function to save 1 video image as a photo. Thanks to the built-in super zoom lens with 60x optical zoom, you never have to take extra lenses with you.