What projector should I choose
Projectors all look similar and have complicated specs. That makes it hard to make the right decision. No worries. On this page, I'll explain which projector suits your room or usage situation.
---
Home cinema: Full HD, high contrast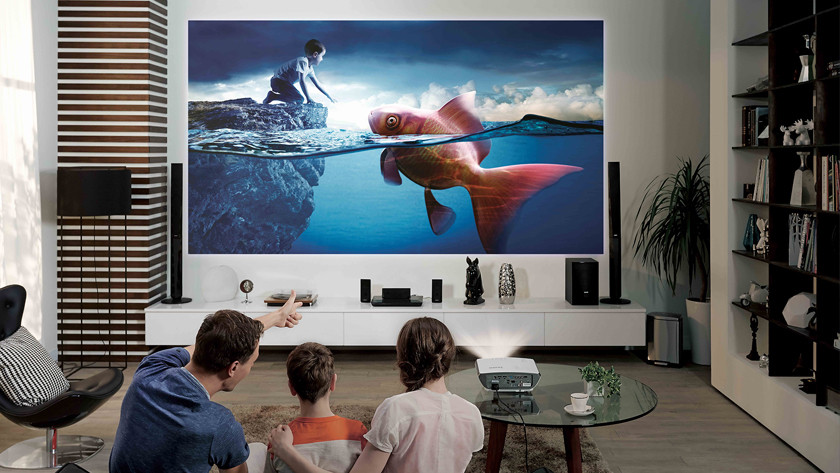 If you want a realistic movie experience, it's important for the projector to project sharp images. That's why you should choose a projector that supports at least Full HD resolution. You can be sure every movie or series is clearly visible. Another important factor is the contrast ratio. The higher the ratio, the bigger the difference between dark and light images. If the contrast ratio is at least 20,000:1, the colors and the black levels look deep and lifelike.
Normal use: at least HD ready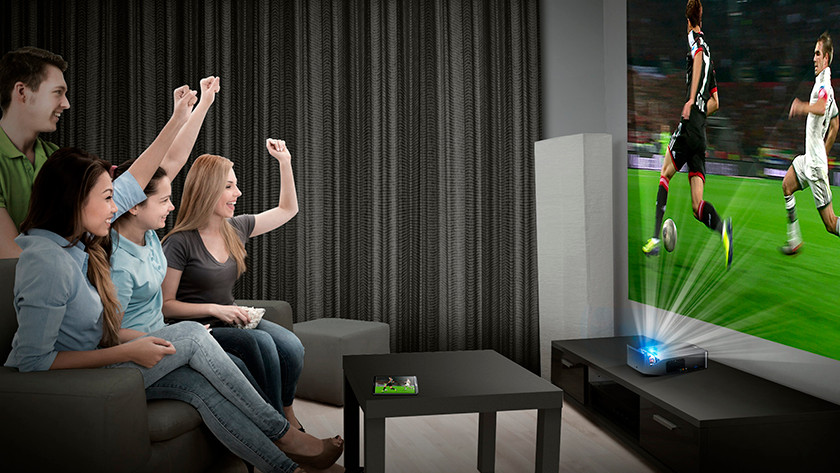 Don't want to create a home cinema, but rather want to watch sports or a movie? You won't have to choose a projector with a high resolution or contrast ratio. A projector that supports HD Ready resolution will do the job. These appliances have an average image quality and are cheaper than home cinema projectors. Make sure the projector has an HDMI connector to connect a Blu-ray player or digital decoder.
Large rooms: at least 4,000 ANSI lumen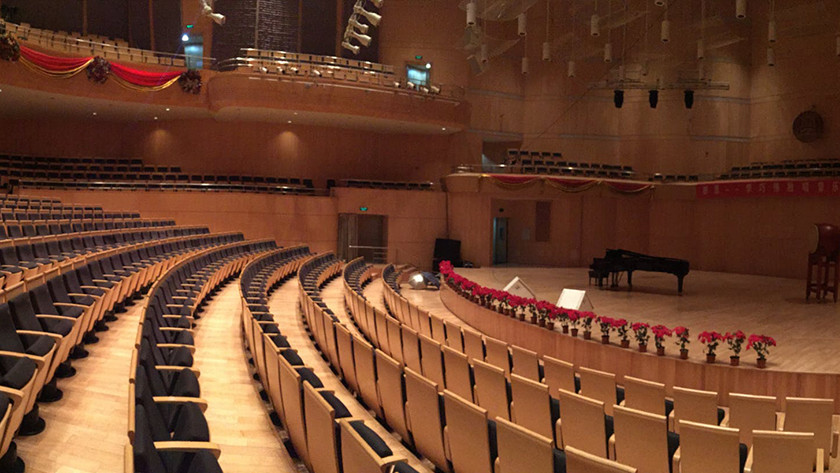 A projector with a high luminous efficacy projects clear images. That's why presentations are clearly visible in a clear room. The light of the lens is spread across the whole projection surface. That means that images get less bright on a bigger screen. Especially in brightly-lit conference or lecture halls, you need a projector with a high luminous efficacy. Choose a projector that produces at least 4,000 ANSI lumen.
Meeting room: at least 2,000 ANSI lumen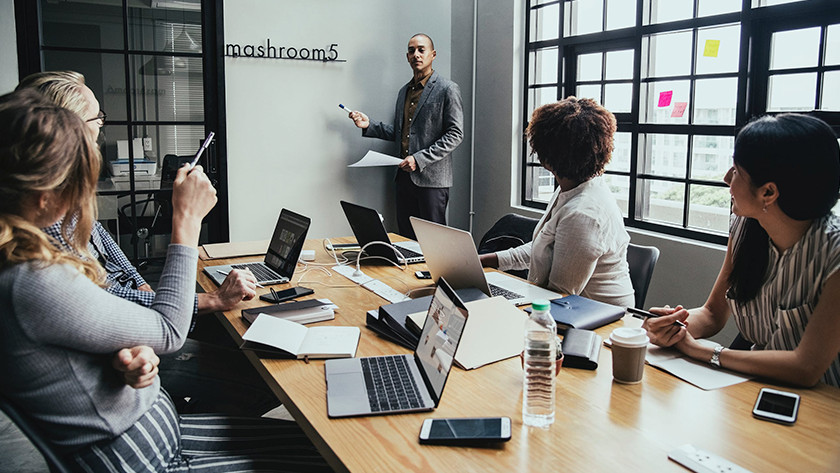 In a meeting room, you need a lower luminous efficacy than in larger rooms. A projector that produces at least 2,000 ANSI lumen is enough. It's useful if the device has a VGA or HDMI port for your computer or laptop. If you want to play video's as well, keep in mind that not every meeting room has an external speaker system. A projector with integrated speakers makes sure you're never without sound.
Portable: max 2 kilos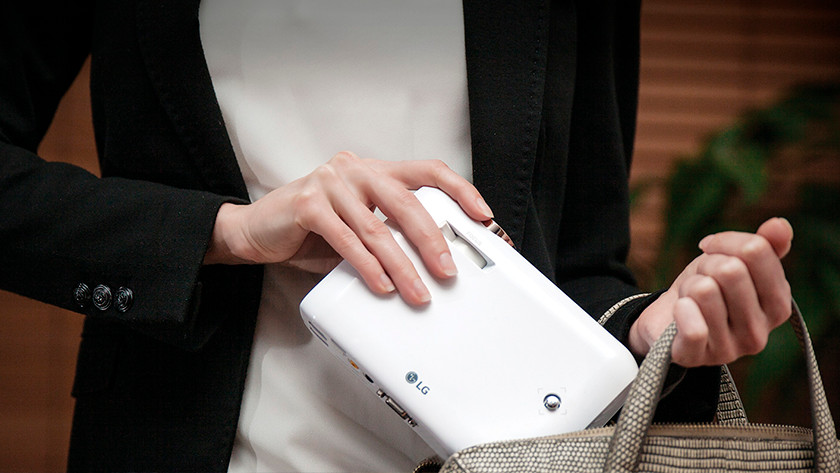 Do you present in different locations regularly? Choose a projector that's under 2 kilos. You don't want to take a big, heavy projector with you when you're on the train. Most portable projectors come with a bag. If yours doesn't, I recommend purchasing one separately. The bag ensures extra carrying comfort and limits damage.
Education: at least 2,000 ANSI lumen short throw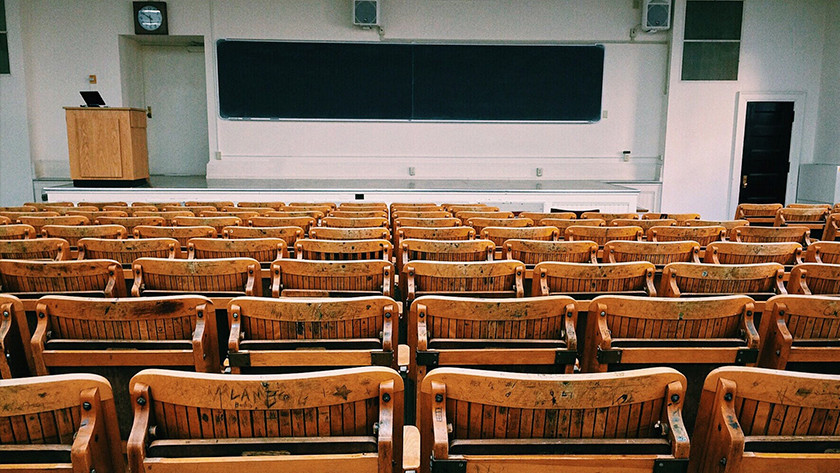 It's not useful if you have to close the curtains in a classroom every time. Choose a projector that produces at least 2,000 ANSI lumen. That way, the projection is clearly visible in a well-lit room. If you don't have a lot of space to put the projector at a suitable distance, choose a short throw projector. Most short throw projectors can be placed 1 meter from the wall. You can also get ultra short throw projectors, which can be put even closer.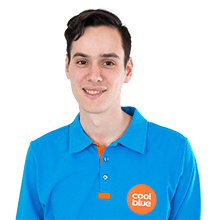 Article by:
Laurence
Projector Expert.