How do you choose a smart light?
Choosing a light seems simple, but there are a lot of things to keep in mind. Where will the lamp hang, for example? And what kind of light do you want? In this article, we'll explain what you should pay attention to when choosing a smart light.
---
Choosing a smart light
When choosing a smart light, there are many things that you should keep in mind. In this article, we'll discuss these topics.* Do you want to start with smart lights?* Do you want to add one or more lights?* Do you want a light including fixture?* Do you want smart outdoor lighting?* Do you want mood lighting or functional light?* What brightness do you need?* What additional options do you want to use?
Do you want to start using smart lights?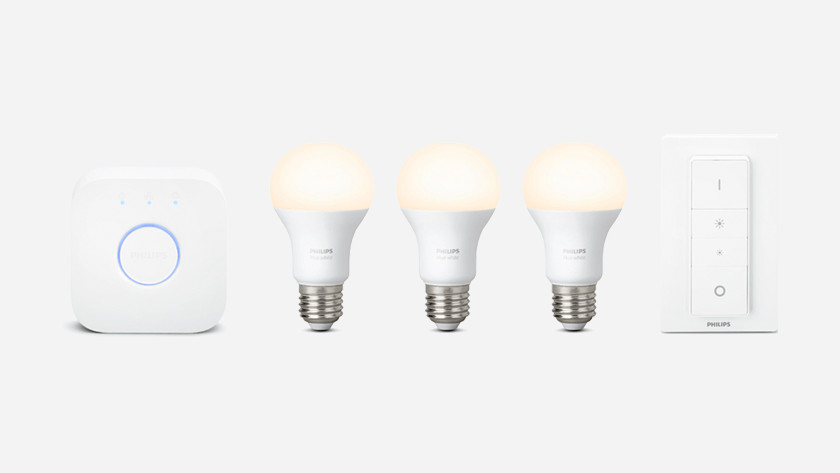 Why would you choose a starter package instead of separate lamps? Simple. With 1 purchase you have everything you need to control your smart lights via the app. For example, with a starter package, think of at least 2 smart lights and a bridge. Have you ever purchased a starter kit? Then you can of course extend this with separate lamps to provide your entire home with smart lighting. Only expand your collection with lamps of the same brand. You can not combine different brands.
Do you want to add a lamp?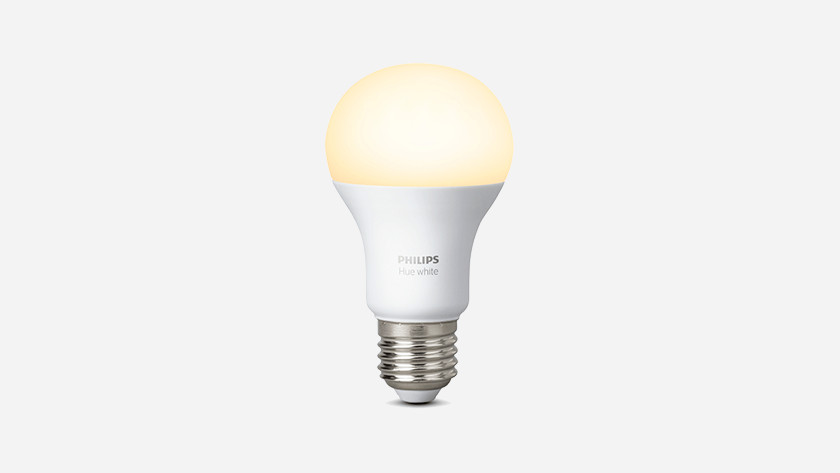 You only buy a separate smart lamp if you already have a bridge in your home. It is important that the light source you choose is suitable for your luminaire. Take a good look at the fitting. We also sell separate luminaires, with which you extend a starter package or current collection of smart lamps. When you only buy separate lamps, you have to purchase a bridge yourself to control your lighting remotely. Provided you have a fixture or light source that can be used immediately without the need for a bridge. We also have that.
Do you want a lamp including holder?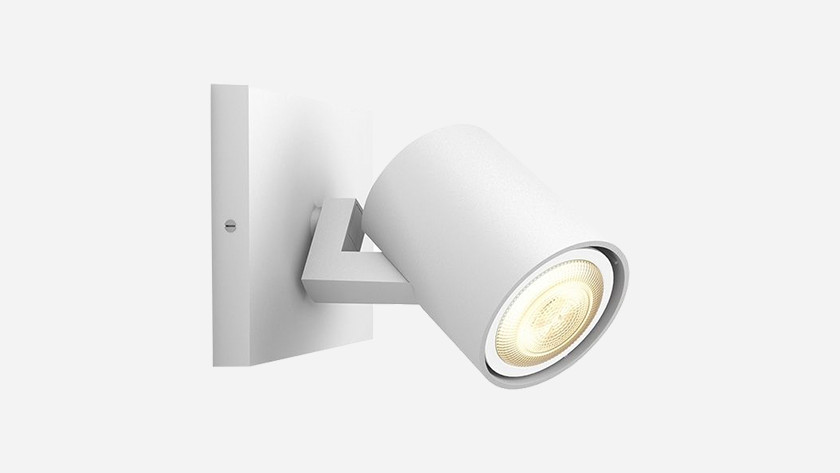 A luminaire is the housing of a lamp in combination with a holder for the light source (fitting) and shielding. With a light source alone you can not do that much. There is a suitable design for everyone. A fixture becomes part of your interior. You do not always have to search for a light source for your fixture. We also have fixtures with built-in light sources. These are not replaceable, but the integrated LEDs last up to 25 years on average.
Do you want smart lighting for outside?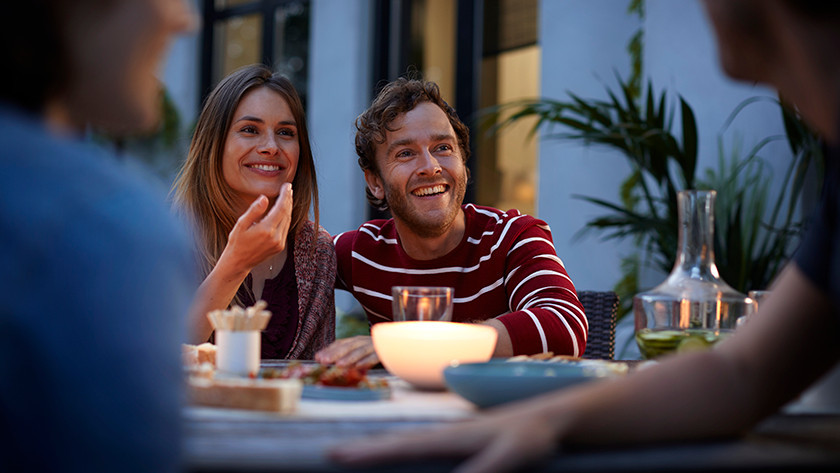 Do you also want smart lights on your patio? Choose smart outdoor lighting. Outdoor fixtures are custom-made wall lamps or lanterns for the garden. The integrated lighting provides light in 16 million colors or in several shades of white. This way, you can also ensure the right color outside. Do you want to make your existing outdoor lights smart? Choose a separate smart light that fits in your outdoor lamp.
What kind of light does the room need?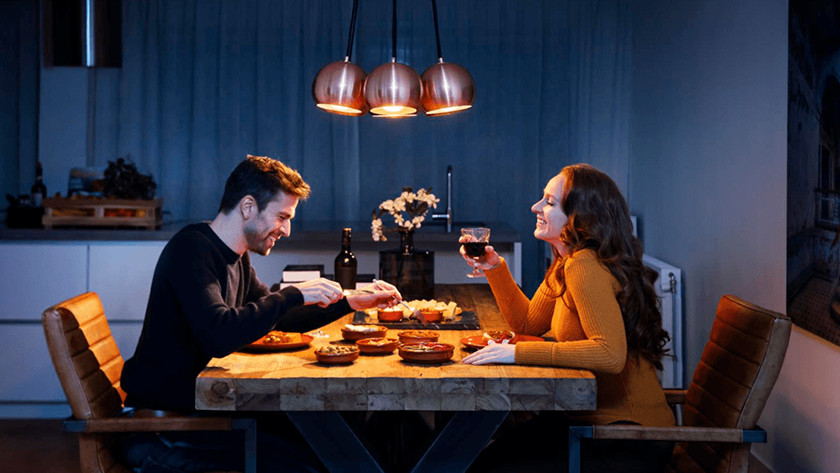 Mood lighting
Lighting can make or break the atmosphere in your room. Fluorescent lighting in your living room is not the most cozy light. You'd prefer a darker and warm light color there. That looks a lot nicer. Ambient lighting is mainly seen in rooms where you relax, such as your living room or bedroom or above the dining table.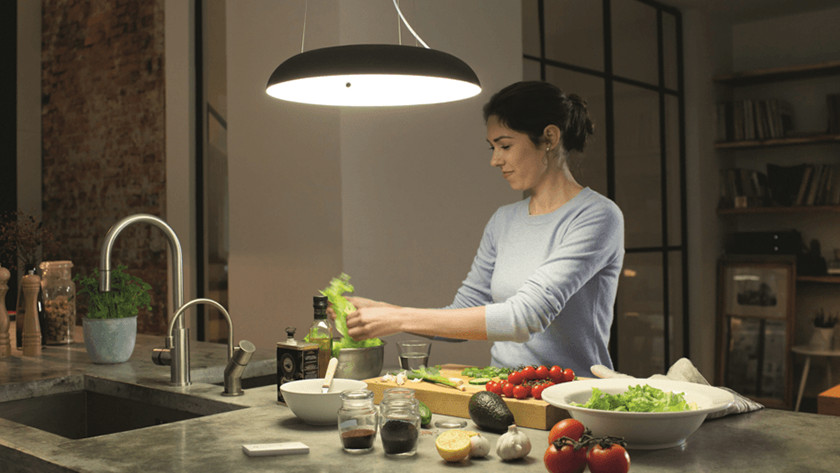 Functional light
Lighting is not only determining the atmosphere, but light can also help or hinder when carrying out certain tasks. Warm light is atmospheric, but not practical in your kitchen. In your kitchen you have more functional lighting, such as bright spots above your worksheet. So at least you see what you are doing.
What light intensity do you need?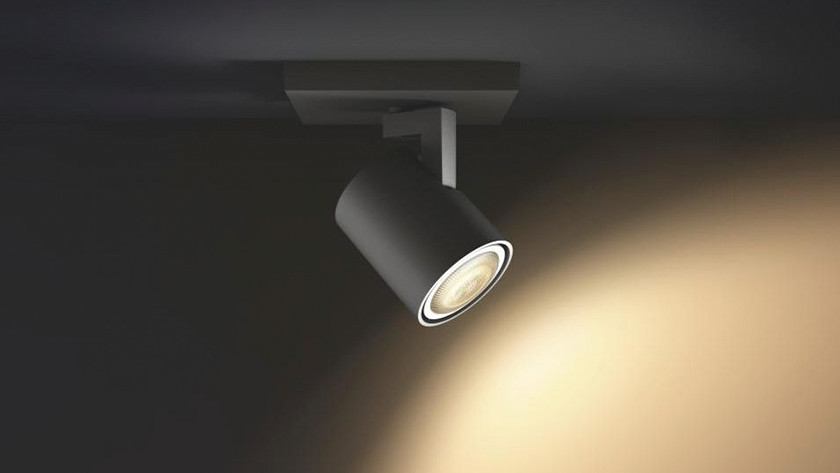 Do you want to know how powerful your light source is? Then you look at the brightness of your lamp. You do not want a bright light box above your head during dinner, but you want to see what is on your plate. We express luminous intensity in number of lumens. Lumen is the light intensity per wattage. The more lumens you have, the higher the wattage and vice versa. However, this differs per type of lamp. For the same light output with an incandescent lamp, you need much more power than with a LED lamp.
What extra options should your lamp have?
Linking with smart products
Connect your lamps to other smart products at home. Many smart lamps are compatible with IFTTT. With IFTTT you create so-called recipes with which you connect your smart lamps to other channels or products. IFTTT stands for 'If this, then that'. What do you have? Well, you couple the lights to your smart smoke detector, for example. When the smoke alarm goes off, the light also flashes red as an additional signal.
Timer and alarm function
Smart lamps are useful for every room in the house, including in your bedroom. So you use some lamps as wake up light with the wake-up function. You are quietly awakened by a slowly increasing light. Do you want to turn your smart lights on and off at certain times? Then the timer function is very useful.
Set light scenes
With smart lights, you can sometimes have the choice of hundreds of different shades of white. Don't feel like playing with the dimmer yourself? Simply choose 1 of the preset light scenes with 1 push of a button. Each scene gives a totally different atmosphere. For example, think of light scenes to concentrate or to relax.