How do I expand my Philips Hue system?
Do you already have one or more Philips Hue lamps in your home, but do you think it's time for more smart lighting? Philips Hue offers you the possibility to add up to 50 additional lamps, luminaires, switches and other accessories. As long as you have a Philips Hue bridge in your possession, adding an extra lamp or accessory is a piece of cake.
Expand with additional lamps
Philips Hue has several separate light sources to expand your smart lighting system. Through the steps below, we explain how best to approach the expansion of the Philips Hue family.
1. Where does the lamp hang or stand?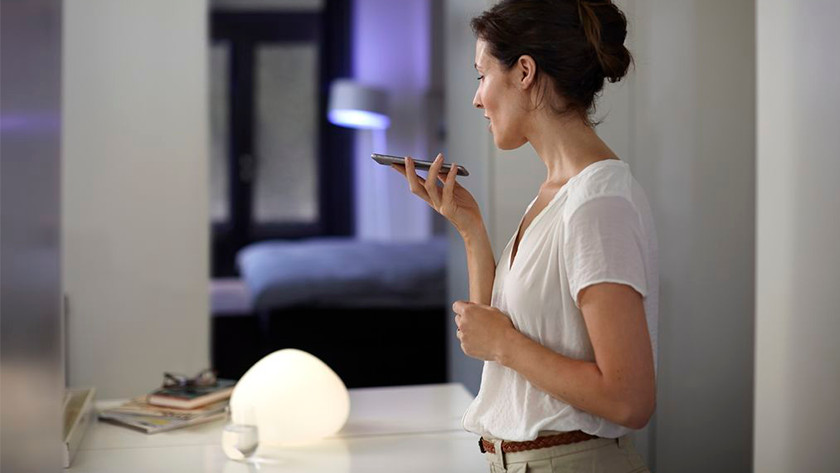 Consider before you want to expand your system where you want to place the lamps. Do you want to place or replace lights above the dining table, for example? Then you most likely need a light source with an E27 fitting. When it comes to functional lighting in the kitchen, a GU10 spot is the most suitable. Or would you prefer to light a piece of furniture or television with indirect light? The Hue Lightstrip is the atmosphere maker.
2. What type of light do you need at that location?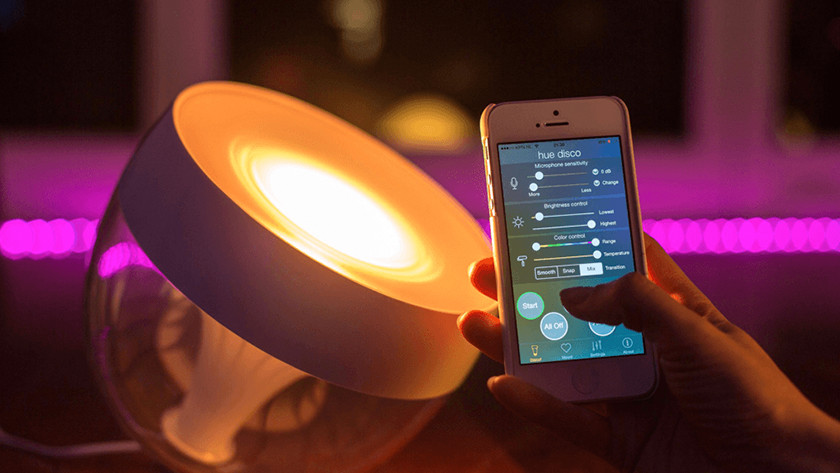 Does not the light above the dining table have to be colored, but do you want to be able to dim it atmospherically? Then choose Philips Hue Ambiance lamps. These give all shades of white light. When you dim the lights, the light color becomes warmer. Lighting a piece of furniture or television is also fun with colored light. A Philips Hue Lightstrip provides both white and colored light. You can even synchronize the lighting with your TV for an extra experience of films and games.
3. How do I add an extra lamp to my system?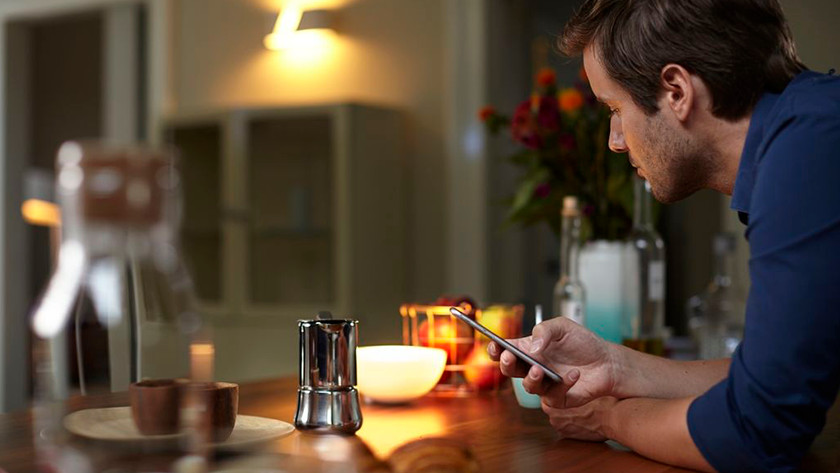 Turn the lamp in a fitting or in the case of another lamp: supply the lamp with power.
Turn the switch over, the light must be on to be found.
Make sure your smartphone or tablet is connected to the same Wi-Fi network as the bridge.
Open the Philips Hue app on your smartphone or tablet.
Go to "Settings" and click on "Find new lamps"
When the app has found the lamps, click on "Done"
Rename the lamps if necessary.
Expand with accessories
In addition to light sources and other lamps, Philips Hue also offers a number of accessories such as switches and a loose bridge. Operating your Philips Hue lamps does not only have to be done with the Philips Hue app. If you do not always have your smartphone or tablet around, an extra switch will come in handy.
Philips Hue Tap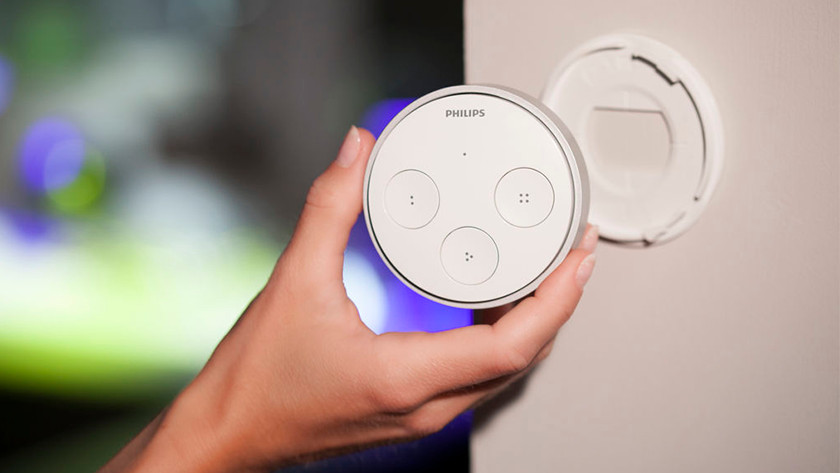 The Philips Hue Tap is a wireless switch that works on the body temperature of your finger. You do not need batteries for this. With 3 buttons you control all the lights in the house from 30 meters away. You set which scene is switched on with each button. Adding to the Hue system is simple. You simply search for it in the Hue app and add it.
Philips Hue dimmer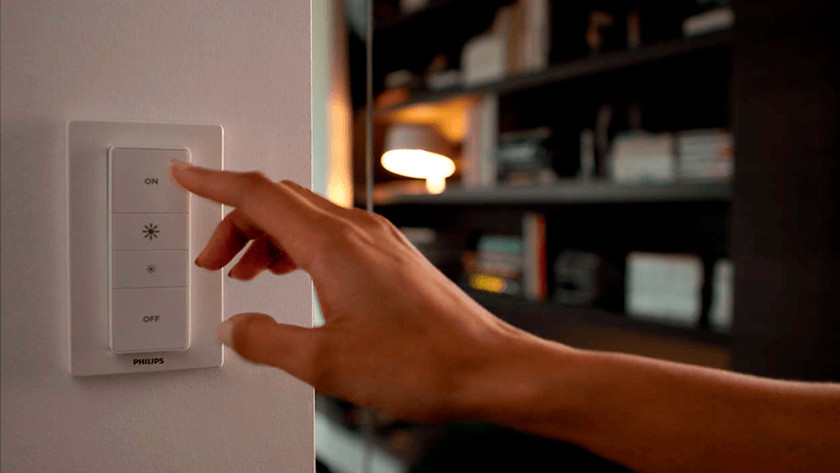 The Hue dimmer is a wireless switch that lets you switch your lights on and off and dims. You use this switch as a remote control or as a wall switch. Because mounting hardware is supplied, you can easily attach the dimmer to the wall. You also add this switch to your Philips Hue system via the Hue app.
Philips Hue bridge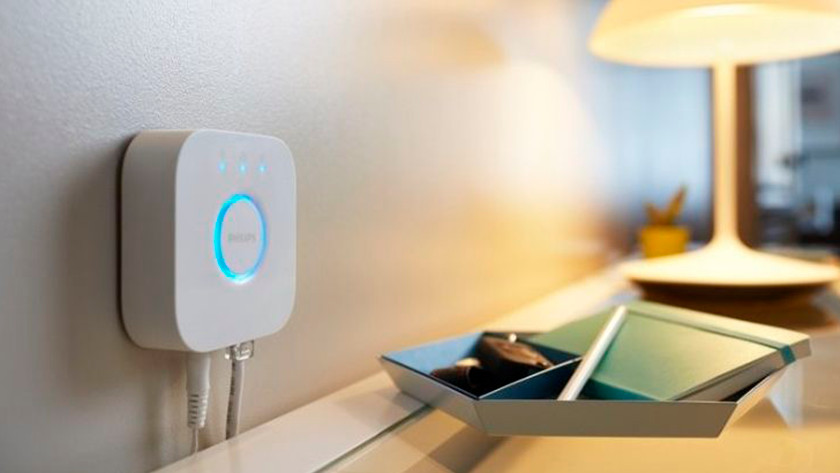 To use all the functionalities of Philips Hue you need a Philips Hue bridge. Without bridge you can not add extra lamps to your Philips Hue system. The bridge is actually the heart of all Philips Hue lamps. He ensures that you can control the lights via your smartphone and tablet.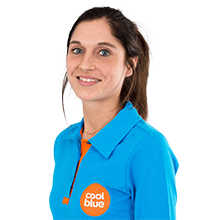 Article by: