Advice on scanners
The type of scanner that best suits your use depends on the work that the scanner will have to perform. Below you can determine on the basis of a number of statements what kind of scanner you need. Then read on the specific pages for detailed advice on document scanners and flatbed scanners.
---
Types of scanners
There are different types of scanners that all have their own function. Consider, for example, a document scanner, with which you scan many documents in succession, or a compact mobile scanner on the go.
1. Do you want to be able to scan documents on a daily basis?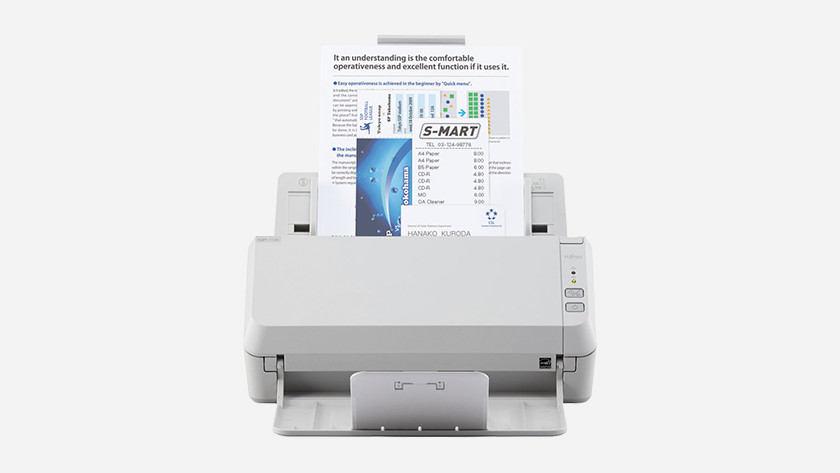 Then you are looking for a document scanner. A document scanner is capable of making large amounts of scans at a time. To make this possible, it is equipped with an automatic document feeder (ADF).
** What? ** Flat documents Some examples: Printed A4 paper, photos, invoices and business cards.
** Where ? ** (Home) office or office department. Some examples: Municipalities, authorities, transport companies, schools, freelancers, administrative offices, marketing agencies, law firms and pharmacies.
** Price? ** +/- € 200, - up to +/- € 5000, -
** Volume? ** 0 to 5000 scans per day.
2. Do you sometimes scan a document, photo or passport?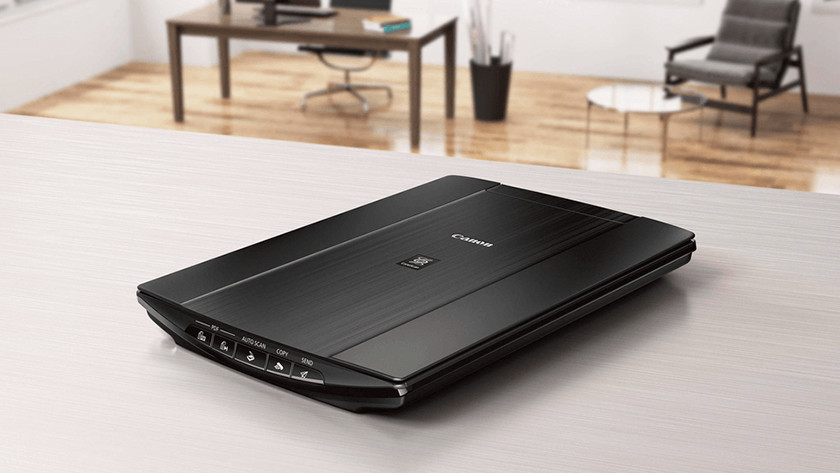 Then you are looking for a flatbed scanner. A flatbed scanner can scan many different types of documents, ranging up to scans with very high resolution. The speed of scanning is not very high because you can only process one document at a time.
** What? ** Flat and slightly thicker documents Some examples: Passports, ID cards, photos (also in high resolution ), slides, books, magazines, receipts, invoices and printed A4 paper.
** Where? ** Home, (home) office or office department \ nSome examples: Municipalities, authorities, schools, self-employed persons, consulting firms , schools, pharmacies, general practitioners, dentists, shops, bank branches, administration offices, students.
** Price? ** +/- € 50, - to +/- € 1500, -
** Volume? ** 0 to 50 scans per day
3. Do you want to be able to use your scanner on the road?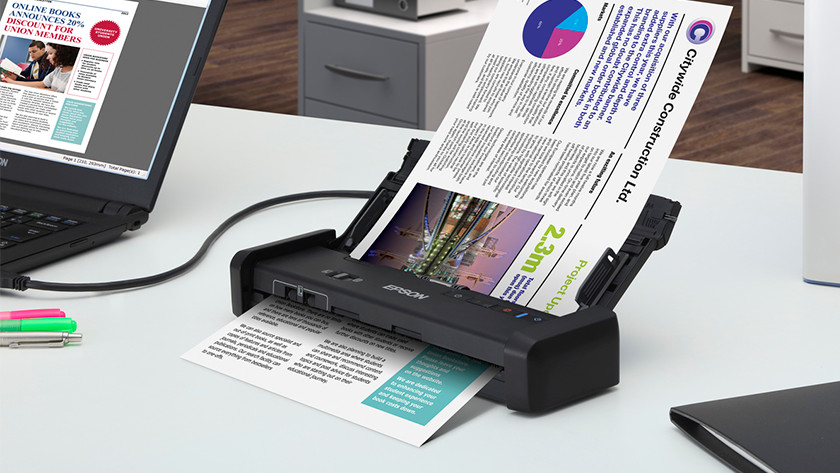 Then you are looking for a mobile scanner. Take it with you and use it easily on the go for small documents such as a bank card or larger documents such as a sheet of A4 paper.
** What? ** Flat documents Some examples: Invoices, receipts, ID cards, bank cards, printed A4 paper, handwritten notes and business cards.
** Where? ** Business use, on the road Some examples: transport companies, account management, trading companies.
** Price? ** +/- 75 to +/- € 400
** Volume? ** 0 to 50 scans per day
4. Do you want to put your old slides and negatives on the computer?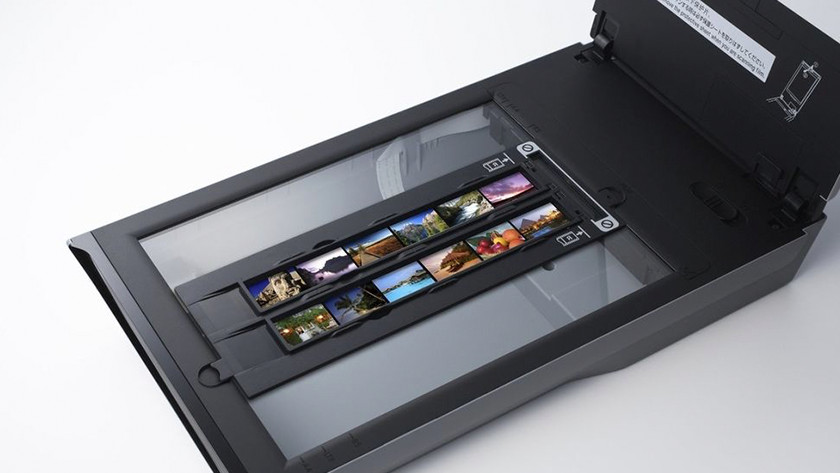 Then you are looking for a slide scanner. A slide scanner can scan slides and negatives. There are also slide scanners for special formats slides. Moreover, there are also diascanners with extremely high resolution.
** What? ** Slides and negatives Some examples: 35mm film roll, normal window, cardboard window.
** Where? ** In the attic or in the (professional) photo studio Some examples: Cleaning up the old shoebox, hobby photographers with photo rolls, use of photo negatives as a profession.
** Price? ** +/- € 50, - to +/- € 750.-
** Volume? ** 0 to 500 scans per day
5. Do I need a driver or software for my scanner?
After unpacking and setting up the scanner, it must be installed on a computer, laptop or Mac. This requires drivers. A standard driver is always included with your scanner. A driver is nothing more than a part of the computer that communicates with the scanner. You have to see it so that a computer and a scanner speak two different languages. As a result, the computer can not explain to the scanner what the scanner should do without an interpreter translating what the computer means. The driver is the interpreter. You install the drivers once, and then the computer and scanner can talk to each other forever. The most famous drivers are TWAIN and ISIS. Both drivers communicate with most scanners.
6. What do you need with a scanner?
** Do you want to save your scans directly and take them with you anywhere? **
Some scanners have the option to store the scans directly on a USB stick or SD card. Handy when you want to have access to your scans at any time. After scanning, remove the SD card or the USB stick from the scanner and you always have your scanned files at hand.
** Do you want to be assured of crystal-clear scans? **
The glass plate of a flatbed scanner can become dirty after a while. Clean the scanning surface regularly with a suitable cleaning agent, so that you can continue to make pure scans.
7. Frequently asked questions
** What is OCR? **
OCR software, also called "OCR", is an abbreviation for Optical Character Recognition software. Freely translated means text recognition software. When you have made a scan, the software recognizes the text in a very large number of fonts. OCR software is included with many scanners in the standard software. Note: In the budget scanners this is often a cheap package and it does not always work flawlessly. There is also OCR software that recognizes handwritten text.
** What is ADF? **
ADF is an abbreviation for Auto Document Feeder and this is an automatic document feeder. It is a kind of tray in which you put the sheets of paper ready for scanning. Scanners with an ADF therefore have space for several sheets of paper. This means that you can prepare multiple documents in the scanner, which then picks up and scans the scanner one by one one by one. View all scanners with ADF
** In what format can I scan? **
"Can I scan A4 with every scanner?" seems like a stupid question, but it is certainly not. It is even the most frequently asked question at our customer service. You can scan A4 size with most scanners. But beware: if you want to know for sure, always check the specifications. You can of course also select the format in our selection aid. This works exactly the same for A3 or any other format. View all A4 scanners
** How does scanning to PDF work? **
.PDF and .JPG are the most common document formats where the scanner enters a document scans. View the specifications of the intended scanner to see what type of files the scanner can scan even more. Do you want to scan multiple scans into a single PDF file? Most document scanners do this automatically. Do you also want this with a flatbed scanner that can not do this? Go to pdfsamenvoegen.be and merge the documents here for free or 'Google' on "Merge PDF".
** I know PDF, but I also saw PDF / A, PDF / E and PDF / X is, what is that? **
PDF is PDF, at least that is what you would say. PDF is a universal file format that preserves the fonts, images and layout, regardless of which program it is opened to (for example .doc and html). In addition to the general PDF, there are PDF formats that comply with an ISO standard (these are the same worldwide and, for example, standardized in color, font, encryption and so on). These are PDF / X (exchange: conceived for printing companies), PDF / A (archival: conceived for archiving) and PDF / E (engineering: conceived for companies in the construction industry). There are no scanners that scan for these file extensions. You will need to purchase Acrobat Pro XL and convert the scan after scanning.
8. Questions?
Do you have additional questions or would you like more advice about scanners? Our customer service is available 7 days a week.
Can you consider a purchase by company name? At Coolblue Zakelijk you benefit from three advantages: discount options, your own account manager and purchase on account. For tailor-made advice, call our business specialists on 010 - 798 89 69 or email us at bedrijfs@coolblue.nl.
Did this help you?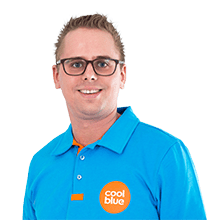 Article by: