How do you solve an error code from your Canon printer?
An error is never pleasant, but in the case of a printer it does provide clarity. The display of the printer always shows an error code, so you can easily look up where the problem lies. Thanks to the specific code, you'll also know how to fix the error. Canon printers indicate error codes with number/letter combinations or number sequences. We'll explain the most common error codes and how to solve them.
---
Types of error codes
Your Canon printer stops working and displays an error code. Don't worry. Simply look at what the display says so that you can solve it. Your Canon printer can show 2 types of error codes:
Number/letter combinations
Number sequences
Number/letter combinations
Most error codes begin with a letter, followed by 1, 2, or 3 numbers.
E13/E16: The printer is out of ink or there isn't enough ink to print. Replace the cartridges.
U162/U163: A cartridge problem. Hold down the Stop/cancel or Reset button for about 10-15 seconds. If this doesn't solve the error, the cartridges are empty.
E5/E05: The printhead isn't (correctly) installed or it's broken. Open the cover of your printer and check whether the printhead is installed correctly.
E7/E07: The cartridges haven't been properly installed. Reinsert the cartridges and restart the printer.
B200: The printhead or the printer itself is broken. Please contact our Customer Service or that of Canon.
Number sequences
Other codes from Canon only consist of 4 numbers. See below which error codes exist and how to solve them.
5011: This is a general error message. Turn off your printer, wait a minute, and restart your printer. If this doesn't work, go through the process in the next paragraph to reset your printer.
5100/5200/5400/5700/6000: It's possible that there is still packaging or protection material in your printer. Check whether you removed all the foam and various pieces of tape from the printer.
1682: Your cartridges aren't recognized by the printer. Check if the cartridges are properly in place and if all of the protective material has been removed. Re-insert the cartridges and restart your printer.
Reset the Canon printer
If the above solutions don't help, you can reset the printer as follows:
Switch on the printer.
Press and hold the Stop/reset button.
Press the button that you use to make a color copy and hold it down.
Wait 5 seconds. Release the color copy button first and the reset button second.
The printer now reboots and sets itself up.
Does the printer indicate that the device needs to be calibrated? Press OK and let the printer do its job.
You've reset your printer. Still no success? Please contact the Customer Service.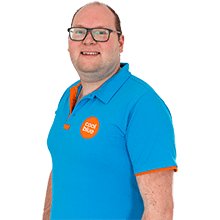 Article by: