SONOS One White
---
Product information
Key specs
Integrated WiFi

Yes
Power supply type

Grid current
Bluetooth

No
AirPlay

Yes
Sound quality according to customers

Very good
---
Pros and cons
According to our WiFi speaker expert
Thanks to the very good/excellent quality assessment, you can be sure you'll have high sound quality.

Trueplay adjusts the sound of your speaker to the acoustics of your room.

With the integrated Google Assistant, you can operate the speaker with voice commands.

The speakers don't support Bluetooth.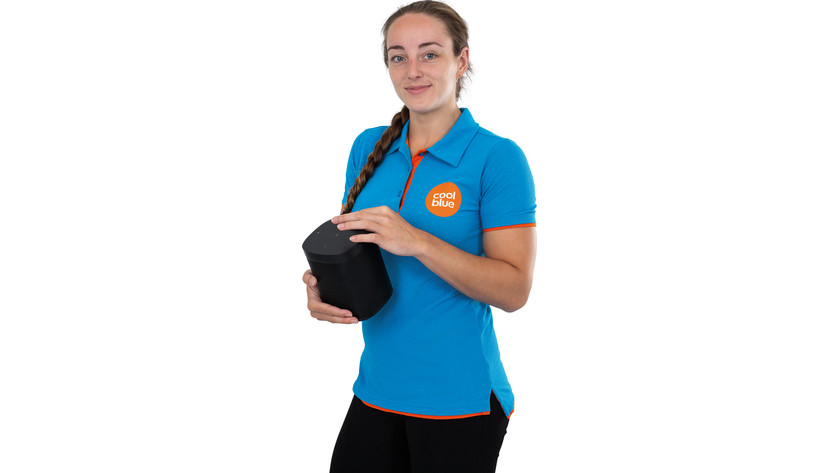 ---
Product description
Listen to your favorite music wirelessly with the Sonos One Gen2. Connect the speaker to the power grid and use WiFi to connect the speaker to your smartphone or tablet. Connect multiple Sonos speakers to each other via the WiFi connection, distribute them around your house, and operate them with the integrated voice assistant or the Sonos app, allowing you to listen to the same or a different song in every room. You can also use the Google Assistant to ask about the weather, your own calendar, or current traffic jams. The app gives you access to your saved music, internet radio, or playlists from streaming services. Do you prefer to leave your smartphone in your pocket? You can use touch controls, allowing you to pause the music, skip a song, or adjust the volume.
Note: Sonos products use a 2.4GHz WiFi network. With a 5GHz network, Sonos can only be used in a surround setup. Make sure your WiFi is installed on the right network before getting started with your speaker(s).
---
---
Included by default
Power cable
Quick start guide
Key specs
Integrated WiFi

Yes
Power supply type

Grid current
Bluetooth

No
AirPlay

Yes
Sound quality according to customers

Very good
Included by default
Power cable
Quick start guide
---
Rating
| | | | |
| --- | --- | --- | --- |
| 5 stars | | | |
| 4 stars | | | |
| 3 stars | | | |
| 2 stars | | | |
| 1 star | | | |
| | | | |
| --- | --- | --- | --- |
| 5 stars | | | |
| 4 stars | | | |
| 3 stars | | | |
| 2 stars | | | |
| 1 star | | | |
Rating per section
Sound quality
Review score 4.4 out of 5 stars
8,8
File Support
Review score 4.1 out of 5 stars
8,2
Installation & user friendliness
Review score 4.45 out of 5 stars
8,9
Build quality
Review score 4.7 out of 5 stars
9,4
Design
Review score 4.7 out of 5 stars
9,4
Options
Review score 4.1 out of 5 stars
8,2
Most helpful reviews
Most helpful reviews
"A great little speaker and the best feature is voice control"
bart | 14 August 2019 | In the version: Single Black
voice control to play music

hey google, please let us select a name to not have to say "google"

some trials and patience to install google assistant
The Sonos one has great design, good sound and the google assistant voice control to me is the best feature: no need to browse for music, just say 'hey google, play cool jazz' and it plays cool jazz from your streaming music subscription (note that voice commands do not work for free Spotify). Other favourites are asking for the news, the weather and anything that you would otherwise look up on for instance wikipedia.

While connecting the Sonos speaker to the Wifi was easy, the google assistant installation was not so smooth and took some trials and patience - e.g. I use a google phone with build-in google assistant but it required me to also install the google assistant app on the phone to link it to the Sonos.
Once installed it works great though there are some limitations - for instance voice control does not work for playing Audible audiobooks, you can play them but only by using the the Sonos app.
---
"Wi-fi connectivity makes you crazy, however sound is good."
Emre Kucukoglu | 8 March 2020 | In the version: Single Black
Comparably good sound quality for a smart speaker

Support for many services like storytel, podcasts etc..

Can't play local media files
If you're not gonna use ethernet cable on your Sonos device, then be aware of that Sonos doesn't have a good wifi module, that's why 1 of a 3 casting/streaming requests via Spotify will fail. That's main drawback of Sonos devices.
---