How do I clean my range hood's filter?
The dirt and grease in the grease filter of your hood makes your hood less efficient. To prevent this you will have to clean the filters once every 2 months. The best way to approach this is to read below.
---
In short
What do we do? Clean the filter of a hood.

For which types of filters is this explanation suitable? Metal and aluminum grease filters.

How long does it take? A quarter of an hour, excluding the possible running of a dishwasher program.

What do we need? Dishwashing liquid, fume hood filter degreaser, washing-up brush and possibly a dishwasher.
What kind of filter is in your cooker hood?
There are 2 types of grease filters: metal grease filters and replaceable filters. Most cooker hoods now have metal grease filters. These filters are washable. There are also hoods that have fabric filter. A fabric filter can not be cleaned and will have to be replaced regularly. A month or two is a good guideline for this. The metal filters of many hoods can be cleaned in the dishwasher, but you have to be careful if the filters of your hood are suitable for this. This can be found in the manual. It is important that you check this, because if your hood has an aluminum filter, it can not be put in the dishwasher. If you have a filter that can be put in the dishwasher, you have to take into account that there is a chance that the filter will be discolored. However, this has no effect on the operation of the filter.
Clean the filter in the dishwasher
If you want to clean your filters in the dishwasher, keep in mind the following points:
Place them flat in the dishwasher with the fat side down. They must also not be trapped.
Use a dishwasher tablet or loose detergent.
Do not put the dishwasher too hot, about 40 degrees is fine
Clean the filter by hand
For filters that need to be cleaned by hand, I have the following tips:
Use a good degreaser such as a special hood filter or degreaser or undiluted detergent.
Lubricate the filter with the detergent and let it work for a few minutes. Then clean the filter with the help of the washing-up brush and hot water.
For a filter that you can also clean in the dishwasher, a bath of hot water with a few scoops of soda really does wonders. Please note that you certainly do not use this with aluminum filters. Soda affects the aluminum.
Fume hood filter degreaser
Did this help you?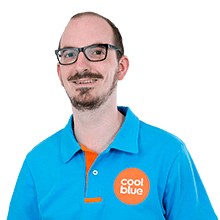 Article by: