The AEG 8000 vs AEG 9000 washing machine
You are looking for an AEG washing machine with multiple technologies, suitable for washing even more laundry in an energy-efficient way. You'll end up at the AEG Lavamat from the 8000 or 9000 series. Do you want the most energy-efficient and extensive washing machine? Choose the 9000 series. In this article you can read about the differences between the two series.
---
Most important differences between all AEG series
| | AEG 6000 | AEG 7000 | AEG 8000 | AEG 9000 |
| --- | --- | --- | --- | --- |
| SoftWater (color retention) | No | No | No | Yes |
| ÖKOMix (cleaner laundry) | No | No | Yes | Yes |
| ProSteam (less creases) | No | Yes | Yes | Yes |
| ProSense (small load of laundry) | Yes | Yes | Yes | Yes |
| Energy label front-loading model | C or D | C | B | A |
| Load capacity | 7 - 10kg | 8 - 10kg | 8 - 9kg | 9kg |
Technology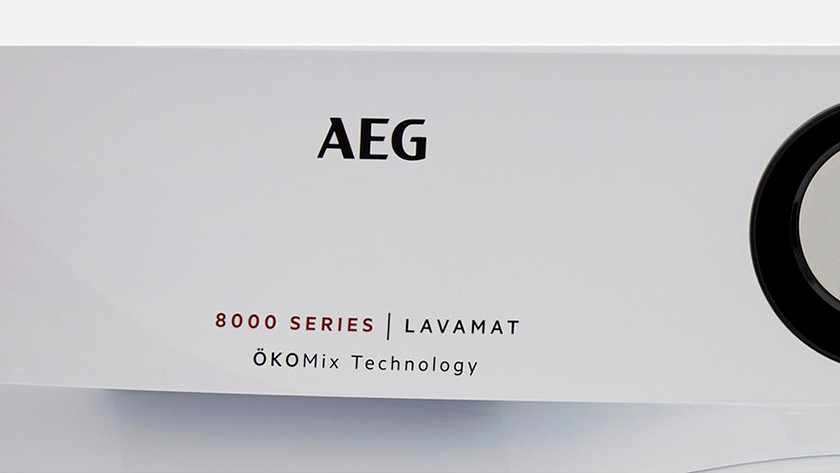 AEG 8000: cleaner laundry
With a washing machine from the 8000 series, you have ÖKOMix at your disposal. This technology ensures an even cleaner laundry, because the detergent is dissolved in water beforehand and spread over your laundry evenly. This way, you can also wash thoroughly at a low temperature and your clothes look beautiful for longer. What this series doesn't have is SoftWater technology for color retention. The 9000 series does have this technology.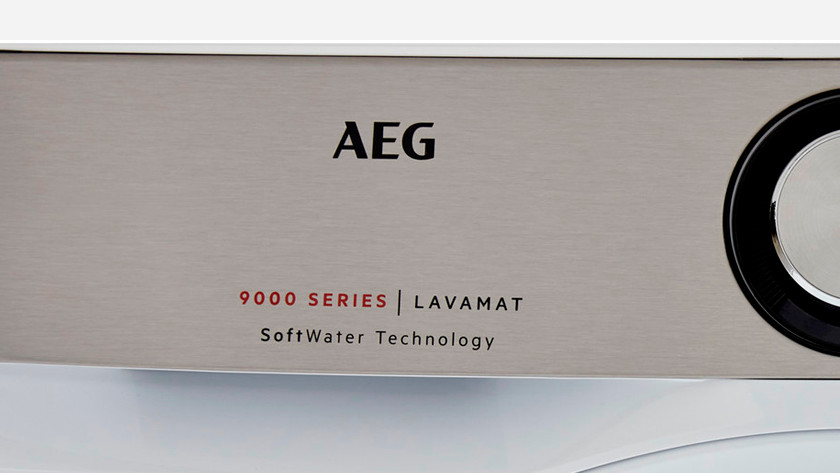 AEG 9000: color retention and cleaner laundry
In addition to ÖKOMix for cleaner laundry, the 9000 series also has SoftWater technology. The washing machine has a salt compartment for special salt that softens the water. By filtering harmful substances from the tap water, your laundry stays soft and retains its color better. As a result, you don't have to worry that your black dress becomes rough or washed-out. The 9000 series ensures that your laundry remains beautiful even longer.
Energy label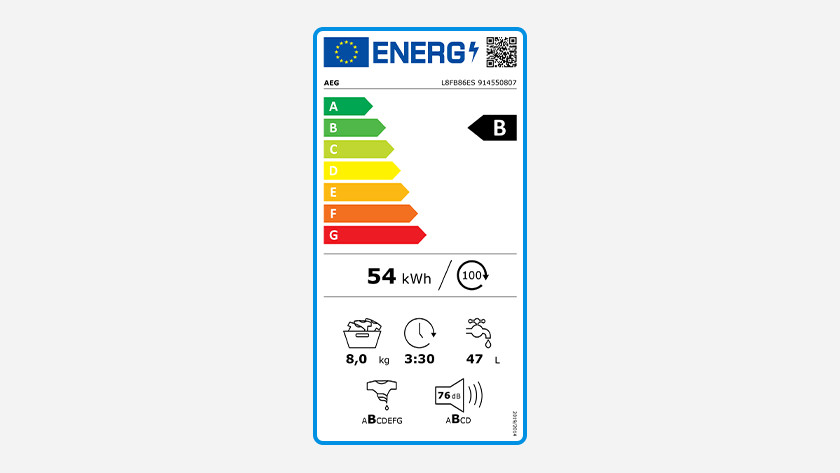 AEG 8000: B (front-loading) or D (top-loading) energy label
A front-loading washing machine from the 8000 series has a B energy label. You'll pay about € 27 on energy costs each year, based on 220 cycles at 40 and 60°C (cotton cycle). If you buy a top-loading model, your washing machine will have a D energy label. This washing machine uses slightly more energy. On average, you'll pay at least € 34 on annual energy costs. That makes a front-loading model the most energy-efficient model in the 8000 series.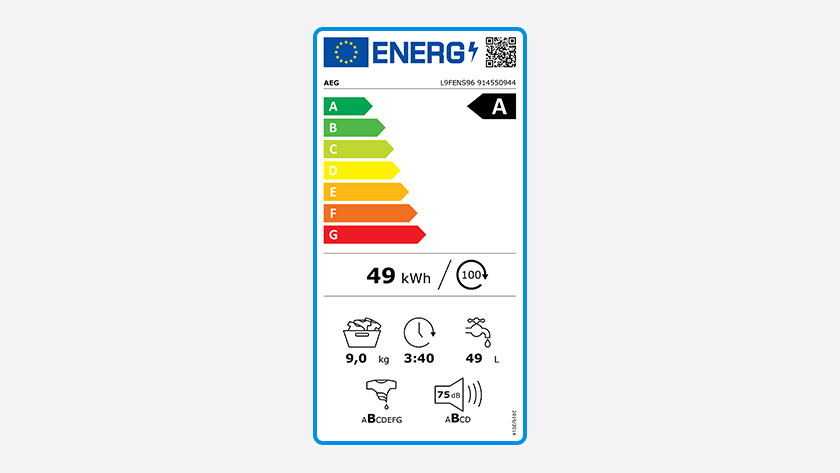 AEG 9000: A energy label (front-loading)
If you're looking for the most energy-efficient washing machine of all the series, you'll end up with the 9000 series. This front-loading washing machine only uses € 24 on annual energy costs. The combination of energy-saving technologies such as SoftWater, ÖKOMix, ProSteam, and ProSense will save you money. You also contribute to saving the environment, because you'll use less water and energy.
Load capacity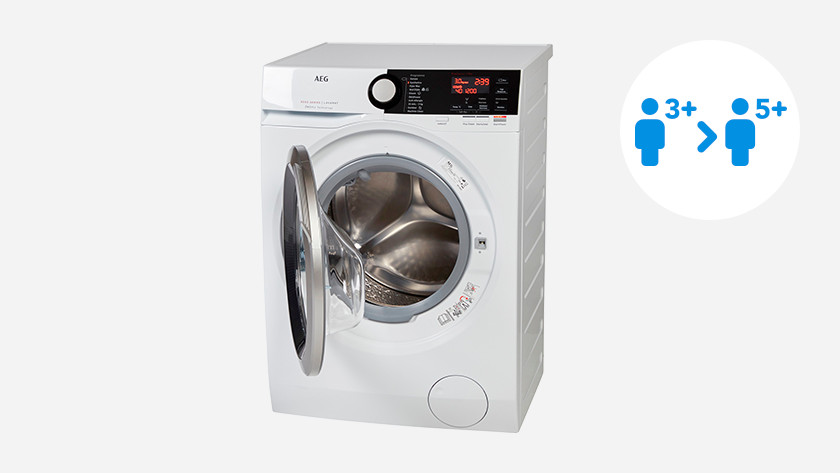 AEG 8000: choose between 8 or 9kg
A washing machine from the 8000 series is available with a load capacity of 8 or 9 kilos. With a 8-kilo load capacity, you can do the laundry of a household of 3 or 4 people. A washing machine with a 9-kilo drum is suitable for a household of 5 people or more.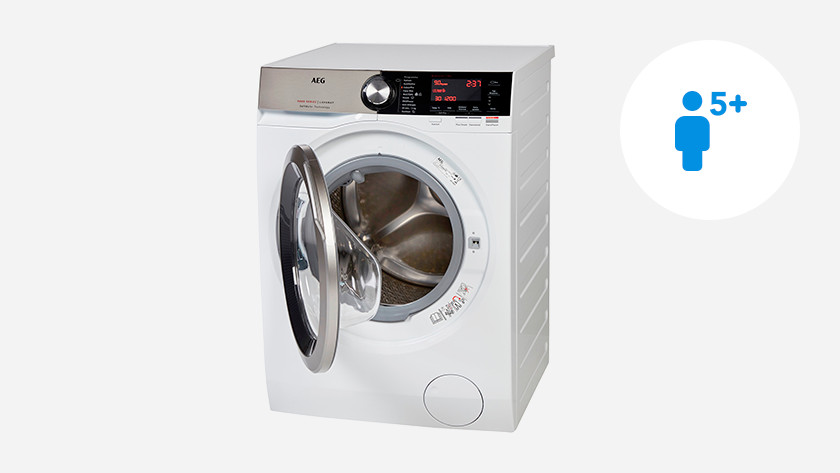 AEG 9000: only 9kg
If you buy a washing machine from the 9000 series, you can wash even more clothes. With a load capacity of 9 kilos, the washing machine is suitable for a household of 5 people or more. Don't have as much laundry? Then the ProSense adjusts the cycle duration to the amount of clothing.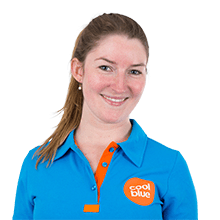 Article by:
Rowan
Washing Machine Expert.