How do I register a separate handset?
Got a DECT phone with a base station and want to know how to add an extra stand-alone headset? Read how it's done in this article.
---
Pair your stand-alone handset to the base station
Are your base station and handset GAP compatible? That means you'll be able to connect the base station and the handset to each other regardless of their brand or type. Follow the steps below to pair the extra handset:
On the base station
Press and hold the 'pair' button on the base station for 5 seconds. You'll find this button at the top or back of the base station. You'll recognize the button by an icon that looks like the WiFi symbol.
On the handset
Press the 'OK' button.
Use the arrow keys to navigate to 'pair' and press 'OK' again.
Enter the PIN code 0000 (unless you changed the code) and press 'OK' again.
Done! The handset has now been paired.
Note: the steps may differ between brands. That's why you should always follow the manual when pairing your standalone handset.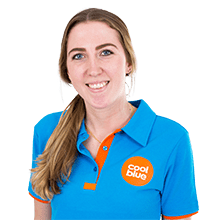 Article by:
Amber
Landline Phone Expert.