Advice on Philips Hue light fixtures
There are all kinds of Philips Hue light fixtures. A fixture is the casing of a lamp combined with a light source holder (fitting) and a shade. There's a suitable design for everyone. The Philips Hue Bridge is the heart of your Hue system. You can use the Hue Bridge to control all your products via the Hue app. If you pick a smart light, you'd probably enjoy controlling your lighting with your smartphone or tablet.
The various Philips Hue light fixtures
You've chosen Philips Hue lighting. Cool, but you'll still need to choose from countless different light fixtures. Whether it's a hanging lamp or a table lamp, you can control them all with the Philips Hue app. Assuming you have the Philips Hue Bridge, that is. A light source alone will get you nowhere, you'll definitely need a fixture. A light source will create an atmosphere, but your fixture's design also exudes a certain ambience. The main advantage of Philips Hue fixtures? There's always a suitable one for you. Do you like the Philips Hue Phoenix hanging lamp, but prefer a table lamp? No problem. Most series include every type of fixture. For instance, the Phoenix collection includes a table lamp, a wall lamp, a ceiling lamp, a hanging lamp and a spotlight. In short, there's always a lamp for you.
Standing lamps and table lamps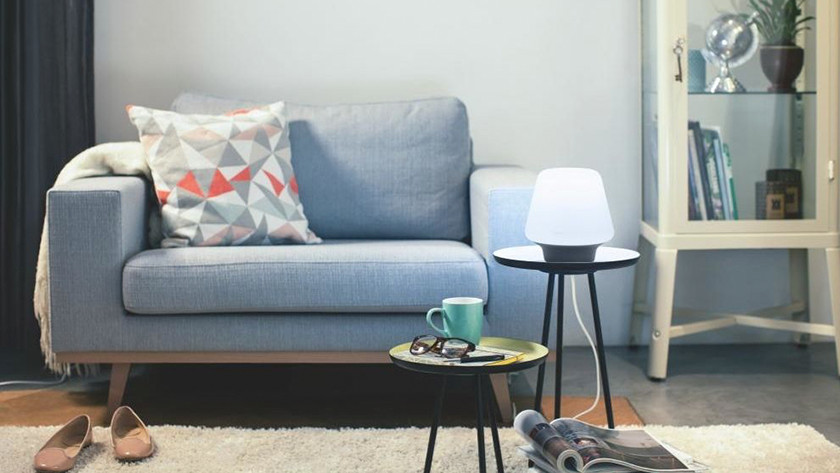 Of course, all Philips Hue light fixtures can be controlled wirelessly, but unlike ceiling or wall lamps, you don't attach table lamps. This makes table lamps more flexible. Except the Philips Hue Wellner, which isn't wireless. Most table lamps have an integrated LED that you can't replace. You can use a table lamp for any room in the house, including the bedroom. You can also use the Philips Hue Go and Hue Clear as a light alarm clock. An ideal addition to your night stand. Do you want some color in addition to shades of white? Check out the Philips Hue Clear, Hue Bloom and Hue Beyond.
Ceiling lamps
As the name suggests, ceiling lamps are attached to the ceiling. They often hang in a central place in your home, so that the light source can distribute the light equally across the room. That's why you often use a Philips Hue as general lighting. Ceiling lamps come in 2 varieties. Does your lamp have a flat casing directly attached to your ceiling? That's a ceiling lamp. Is your lamp hanging slightly below the ceiling? That's a hanging lamp.
Hanging lamp vs ceiling lamp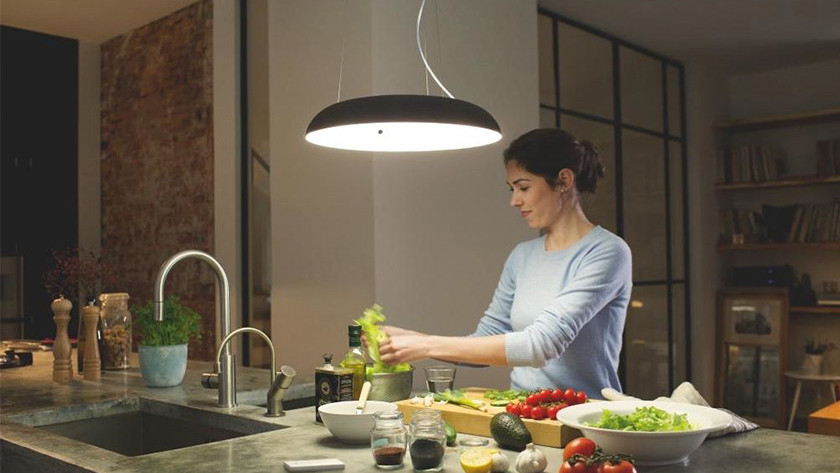 Hanging lamps
You usually hang a Philips Hue hanging lamp in the middle of your room, above the dining or coffee table in your living room, for example. Or above your bed in the bedroom, or in the middle of the hallway. A hanging lamp has a prominent place in your home, so the design is made to be seen. Take the Philips Hue Phoenix, for example. Its special 3D structure reflects the light, making it sparkle subtly. You can play around with your lamp's light intensity, ranging from cool white light to warm white light. Maybe you prefer picking colors, like with the Philips Hue Beyond.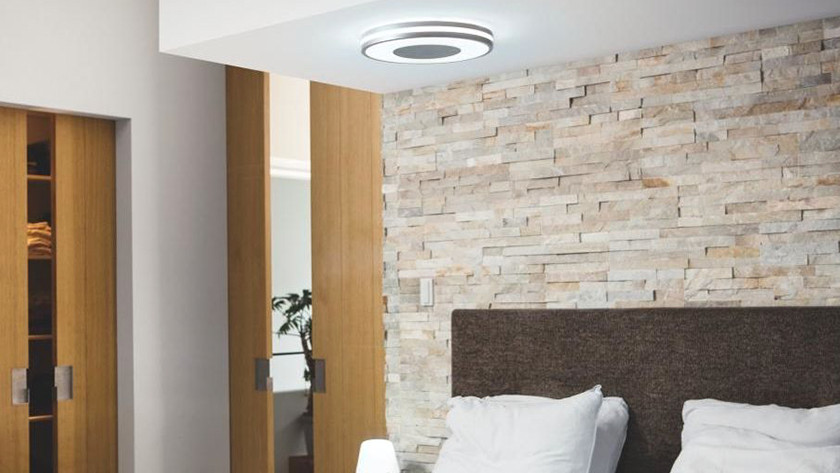 Ceiling lamp
Ceiling vents are often used because they are practical, not necessarily because they are beautiful. Philips Hue ceiling lights, on the other hand, may be seen. We often see this kind of lamps in the bathroom, toilet or bedroom. Because the housing is completely sealed, they are often well protected against splashing water. All our Philips Hue ceiling lights, except the Phoenix, have an integrated light source. Philips Hue ceiling lights have a diffused light because you do not see the light source directly. The light is filtered through a hood, like the Philips Hue Being, giving you an even light.
Spotlights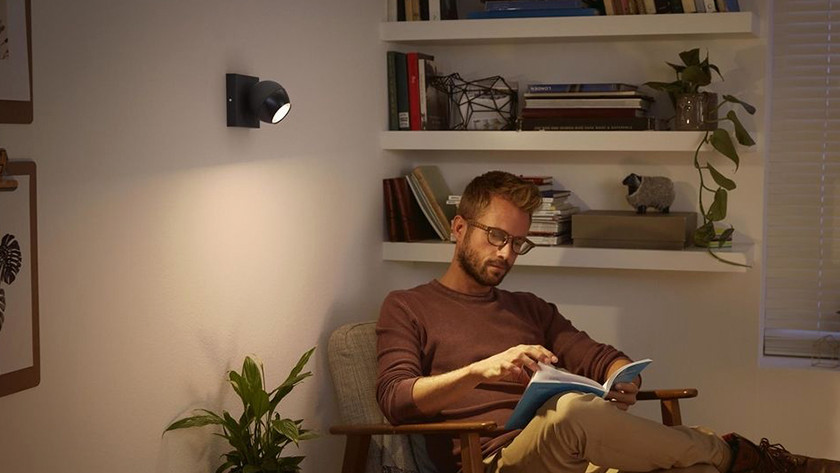 Although we often use ceiling lamps for general lighting, a Philips Hue spotlight is more focused. The light beam is strong and aimed at 1 specific point. You can pivot the Single spots, such as the Philips Hue Runner Spot. By aiming the light beam at a specific point, you're putting something in the spotlight, as it were, such as your favorite painting. Besides objects, you can also light a corner, for example the one where you like to read. There are also recessed spotlights that serve as accent lighting, such as the Phoenix Spot. You often find these Hue spotlights under kitchen cabinets to illuminate the countertop.
Combining your lamps
Do you have a different fixture in every room of the house and want to control them all from a single point? No problem. What you need is the Philips Hue Bridge. The Hue Bridge is the central point. You connect the Bridge to a WiFi router with the included network cable. You then download the app and connect it to your smartphone or tablet. You can link up to 50 Philips Hue lamps to a Bridge. That way, you can control all the lighting in your home from a single point: the Philips Hue app.
Controlling your Philips light fixture
Have you bought the Philips Hue Bridge and installed the app? You'll be controlling all your lights with your smartphone or tablet, then. You can use the app to dim your lights or choose 1 of the preset lighting scenes, such as a light color for concentration, reading, or relaxing. Don't want to control your lights with the app? No problem. Consider buying the Philips Hue wireless dimmer. This dimmer runs on batteries. You can attach the wall plate to the wall or keep it in your hand. That way, you'll have a remote to control all your smart lights from the comfort of your couch.