How do I solve an error code on my HP printer?
Your HP printer isn't working and shows an error message. Annoying, but useful at the same time. The error code indicates what's wrong with the printer. I've figured out what the most important error codes mean and how you can resolve the malfunction.
Numeric codes
There are many different error codes for HP printers. Some of these codes are numeric codes that start with the following numbers:
02 - A problem with the printer cable. Remove the printer cable and restart the printer. Does the printer now indicate ready? Update the driver via the "(firmware) updates" menu. Then reconnect the printer cable. If the problem persists, replace the printer cable.
12 - Cover open / problem with toner. Check if the toner cartridges of your printer are properly installed and if the cover is closed.
13 - Paper jam. The paper is jammed. This can happen during input, output, or during printing. Open the cover of your printer on the front or back, depending on where the paper is jammed. Always grab the jammed paper with both hands and gently pull it out of the printer in a straight motion.
41/49 - Printer error. Press cancel to delete the print and try again. Check if all covers are closed and if the printer is connected.
Text codes
0XB80AFA20: Problem with the WiFi connection. Restart your router and printer, or try if you can print using a printer cable.
0XC19A0023: Print head error. Turn off the printer, wait at least 30 seconds, and then turn the printer back on. Didn't solve the problem? Perform the method below.
0xc19a0020: Problem with the ink. Use the method below to reset your printer and cartridges.
B81565BC: General error on a blue screen. First try the method below. Can't solve the problem with this? Then contact customer service.
Resetting the HP printer
If the above solutions don't help, you can also reset your HP printer. Follow the steps below and try printing again.
Turn on the printer.
Wait until the printer has finished booting.
Is your printer connected with a USB cable? Then remove it from the printer. Does your printer have WiFi? You don't have to disconnect a network connection.
Remove the cartridges or toners from your printer.
Remove the power cord from the power outlet and the printer while the printer is on.
Wait at least 1 minute.
Reconnect the printer to the power outlet and turn the printer on.
Reinsert the cartridges or toners into the printer and close the cover.
Does the printer indicate that the device needs to calibrate? Press OK and let the printer do its thing.
Reconnect the printer with the USB cable.
You've now reset your printer. This resolves most error messages.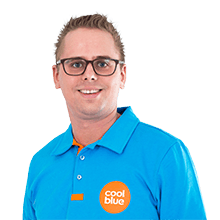 Article by:
Tim
Product Expert Printers.