The AEG 7000 vs AEG 8000 washing machine
Unsure whether you need an AEG 7000 or 8000 series? The load capacity is virtually identical for both models, but the main difference is in their technologies. The AEG Lavamat 8000 series mixes your detergent and fabric softener with the water beforehand for better distribution. This series is also more energy efficient. In this article, you can read all the differences between the series.
---
Most important differences between all AEG series
| | AEG 6000 | AEG 7000 | AEG 8000 | AEG 9000 |
| --- | --- | --- | --- | --- |
| SoftWater (color retention) | No | No | No | Yes |
| ÖKOMix (cleaner laundry) | No | No | Yes | Yes |
| ProSteam (less creases) | No | Yes | Yes | Yes |
| ProSense (small load of laundry) | Yes | Yes | Yes | Yes |
| Energy label | C or D | C | B | A |
| Load capacity | 7 - 10kg | 8 - 10kg | 8 - 9kg | 9kg |
Technology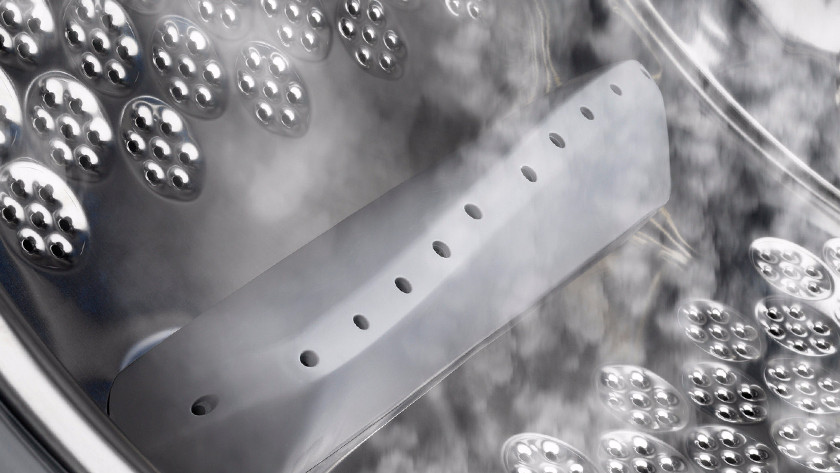 AEG 7000: reduces creases
An AEG washing machine of the 7000 series has ProSteam. This function steams your clothes in the drum to smoothen them out, so they won't have as many creases when the laundry is done. The cycle takes a little longer when you use the steaming function, but it'll save you time on ironing. You can also use the separate steaming cycle when you freshen up clothes you wore for 1 day. If you're freshening up, the load can't be more than 2.5kg.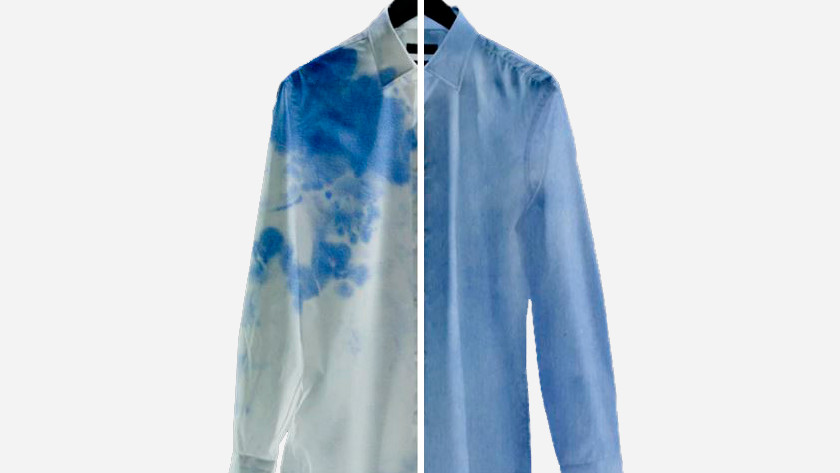 AEG 8000: reduces wrinkles and provides cleaner laundry
The AEG 8000 series uses ÖKOMix technology. The detergent or fabric softener is dissolved in the water beforehand. As a result, the detergent is better distributed and you'll have a softer, cleaner laundry. With this technology, you can also wash at lower temperatures with the same result. That way, your clothes look good for longer. Besides ÖKOMix, the washing machine also has ProSteam for nearly iron-free laundry. You can tell that the 8000 series does a little more than the 7000 series.
Energy label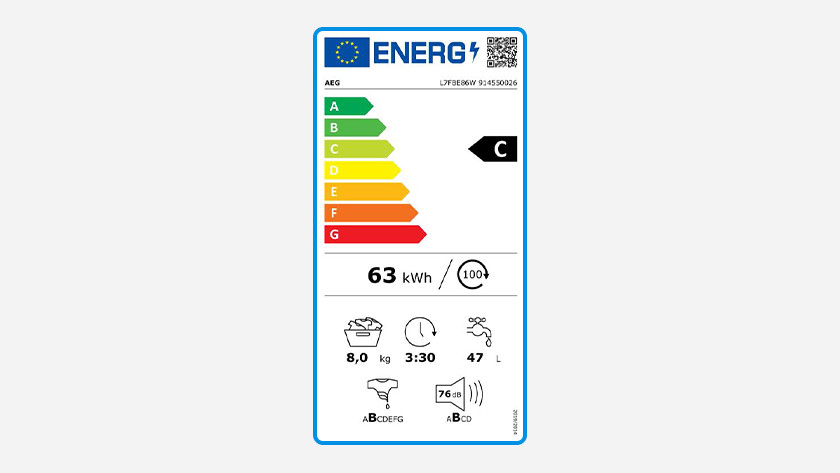 AEG 7000: C energy label
A washing machine from the 7000 series has a C energy label by default. With this energy label, you'll pay about € 31 on annual energy costs. That makes the 7000 series an energy-efficient choice.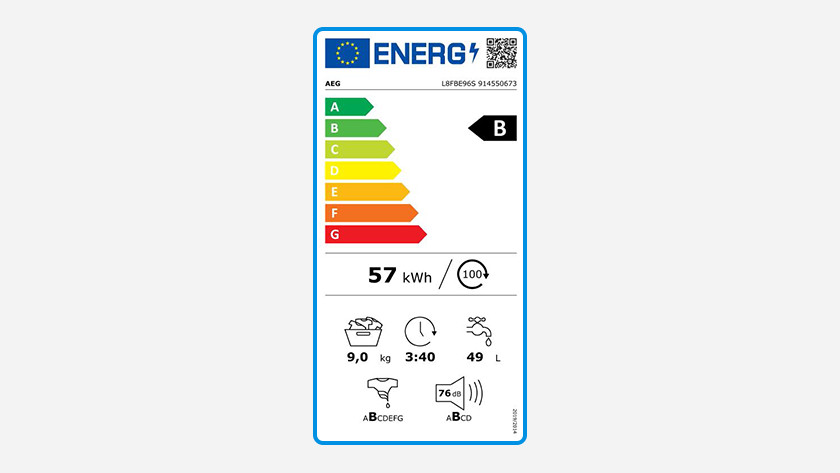 AEG 8000: B energy label
A washing machine from the 8000 series has a B energy label, which makes it more energy-efficient than a 7000 model. With this energy label, you only pay an average of € 28 on energy costs per year. That means the AEG 8000-series washing machines are very energy-efficient and they save you even more on your annual energy bill.
Load capacity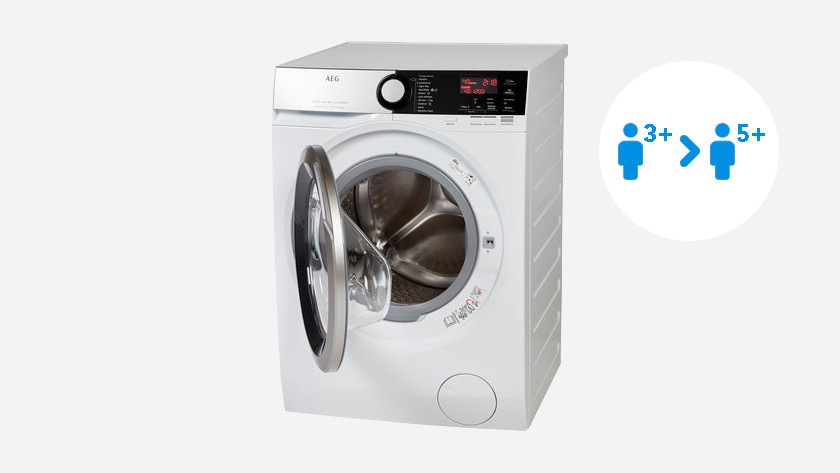 AEG 7000: ranges from 8 to 10kg
The 7000 series washing machine is available with at least an 8kg load capacity. This is suitable for a household of 3 to 4 people. If you have a bigger household, the 7000 series also has a load capacity of 9 or even 10kg. The larger load capacities are also useful when you wash a lot of bedding.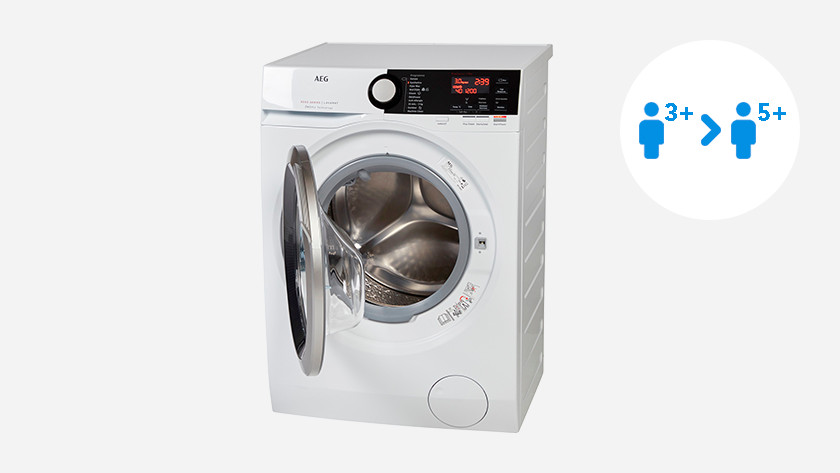 AEG 8000: choose between 8 or 9kg
With an 8000 series washing machine, you can choose either an 8 or a 9kg load capacity. With an 8kg load capacity, you can do the laundry of a 3-to-4-person household. Is your household a little bigger or do you often save up your laundry for a long time? Choose a washing machine with a 9kg capacity. It's suitable for a household of 5 or more people.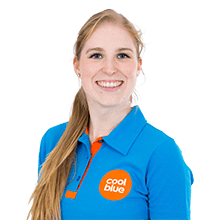 Article by:
Caitlin
Washing Machine Expert.