What connectors does a projector have?
Beamers have connections for various devices, from your laptop to your game console. This may make it difficult to find the right entry or exit. In this case, the overview on this page is a useful tool.
---
HDMI, DVI-D & VGA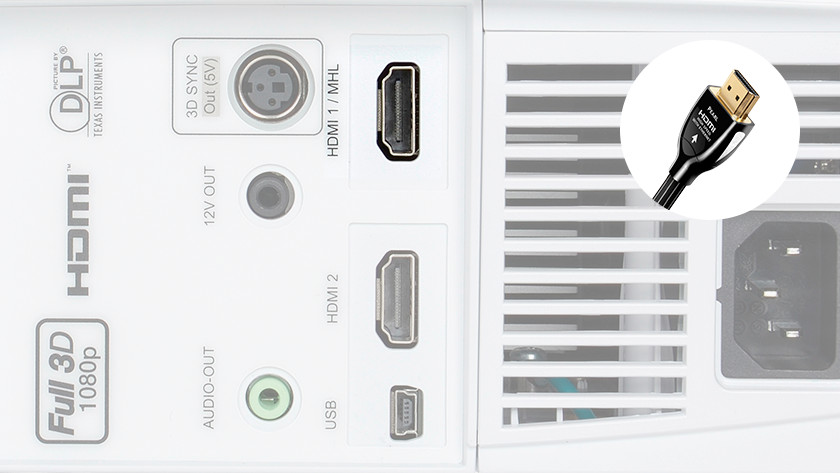 HDMI
The HDMI input is the most used connection of a projector. With an HDMI connection you send digital image and sound signals from a laptop, Blu-ray or game computer to the projector. To save space, mini beamers often have a micro HDMI input. This means that you need an HDMI to micro HDMI cable.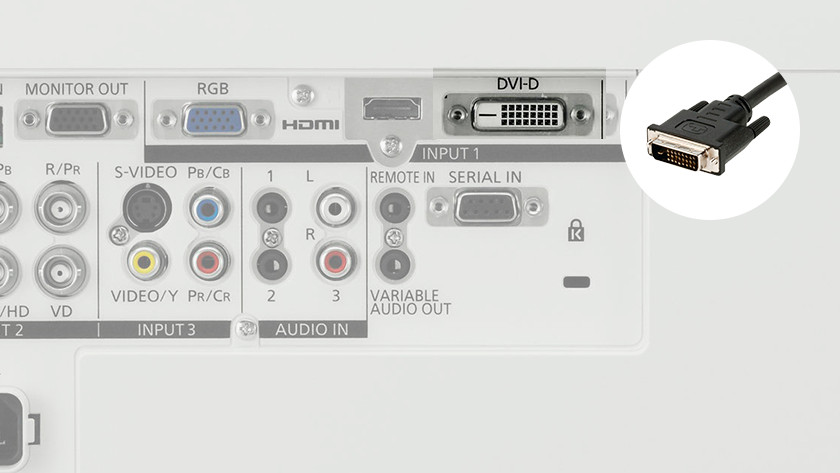 DVI-D
A projector with a DVI-D input receives digital video signals from computers. The connector has small screws for secure attachment. This allows you to tighten the cable in the projector.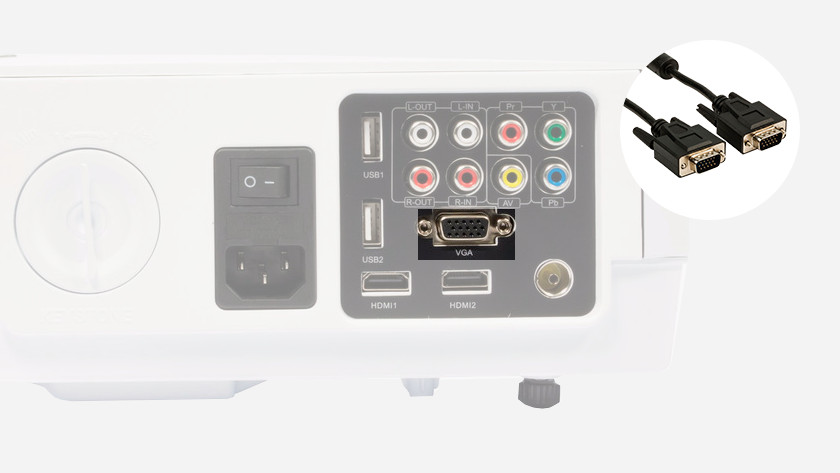 VGA
With a VGA connection you send analog image signals to a projector. The connection has 15 pins and is on most laptops or computers. You screw the connector with screws into the projector, so that the cable is firmly attached.
Component, composite & S-video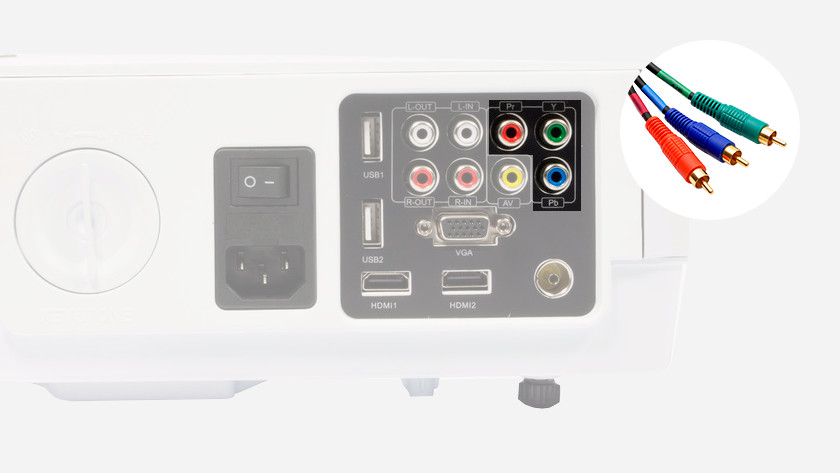 Component video
You need this input to connect, for example, a Nintendo Wii. The cable transmits analog video signals and consists of a red, green and blue connector. If the green connector is partially or completely yellow, it also works as a composite connection.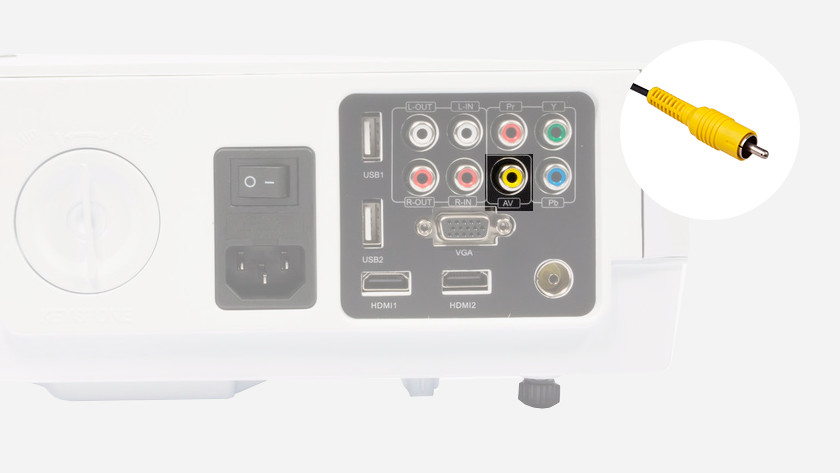 Composite video
This input is especially important if you want to connect older video cameras. You recognize the input by the yellow connector. Because all image information such as image and clarity runs via 1 cable, this connection delivers a lower quality than a component connection.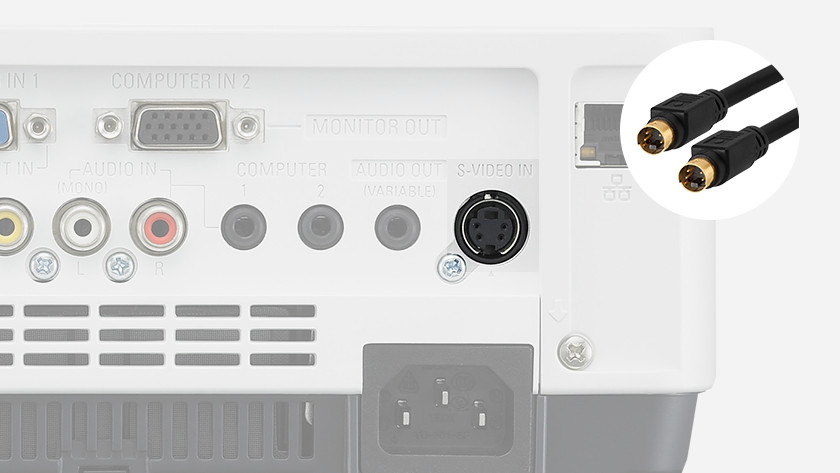 S-video
Just like with a component or composite connection, you send analog video signals with an S-video connection. An S-video cable is sensitive to noise. As a result, the connection is only on older computers.
RCA, 3.5mm input & optical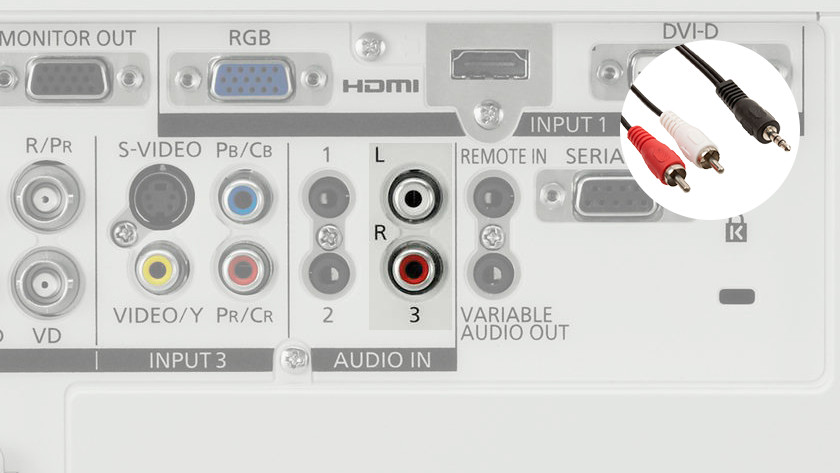 RCA
With most connections, the projector only receives image signals. If you also want to listen to sound, you need a separate audio connection. In addition to a component or composite input, there is always an RCA connection. This input has a red and white connector.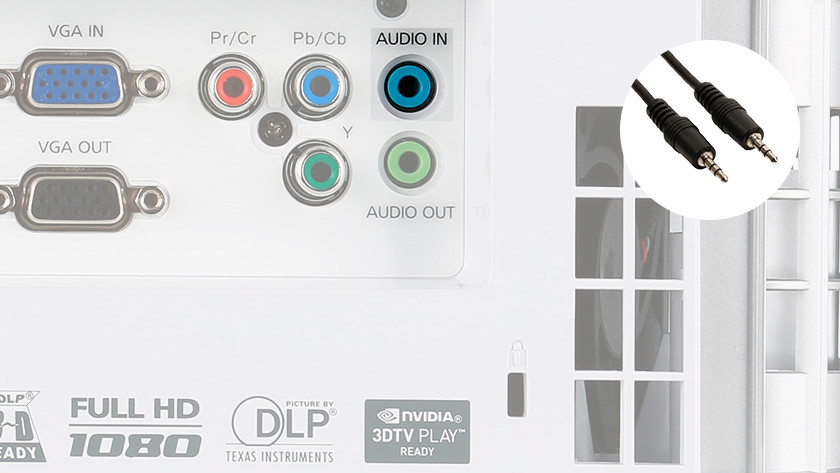 3.5mm input
This connection is also called the aux input. You send the sound from a device like a laptop to the projector via a 3.5 cable. Regarding the sound quality, you hear little difference between an RCA and 3.5 mm connection.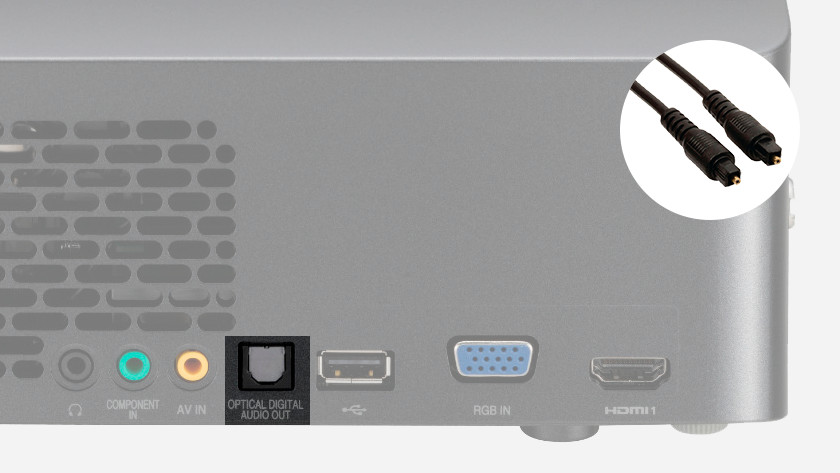 Optical
Compared to RCA or 3.5mm, an optical connection does not provide analog, but digital sound transmission. This makes the sound of a higher quality. Most receivers and some laptops have this connection.
3.5mm output, RS-232 & network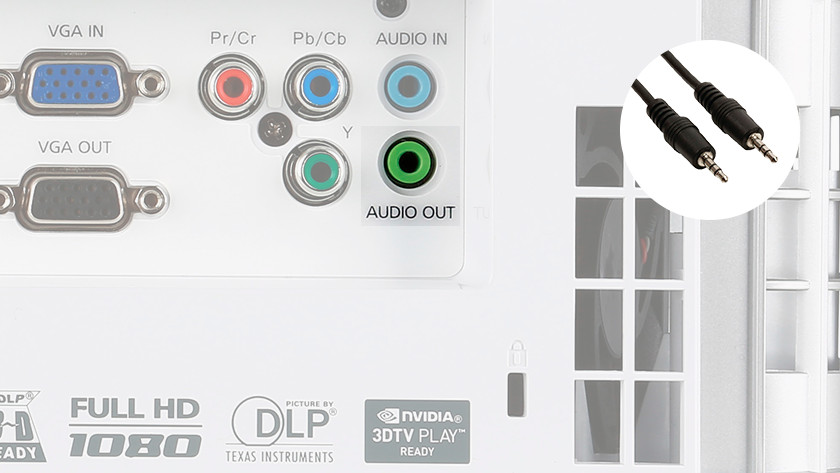 3.5mm output
A projector usually has no, or moderate speakers. In this case, a 3.5mm output is a useful connector. This connects the projector to the external speakers.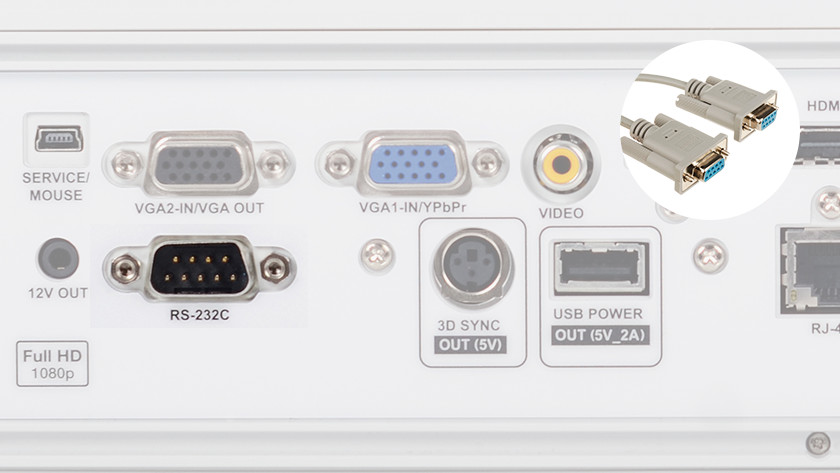 RS-232
With an RS-232 connection you send control signals from a computer to the projector. In this way you switch the device on or off remotely. This connection also exists in a round version, called RS-232C.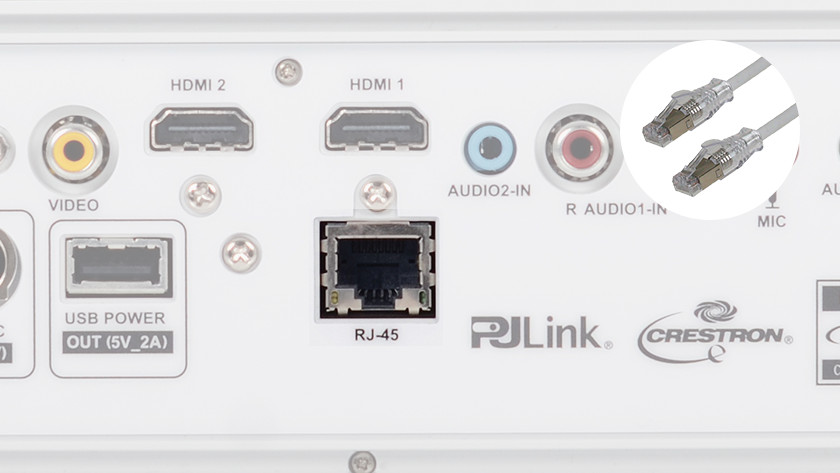 Network
You connect this input to a computer via a UTP cable. In this way you send control signals to the projector. Sometimes the projector also receives image and sound via this input, but the quality is higher when you use an HDMI or VGA cable.
12V trigger & usb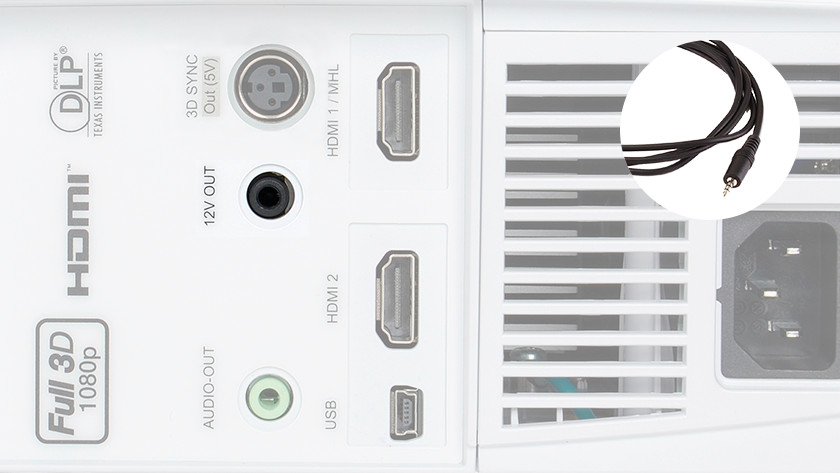 12V trigger
The 12V trigger is suitable for projection screens with the same connection. Thanks to this connection, the screen receives a signal as soon as you switch the projector on or off. Then the screen automatically goes up or down.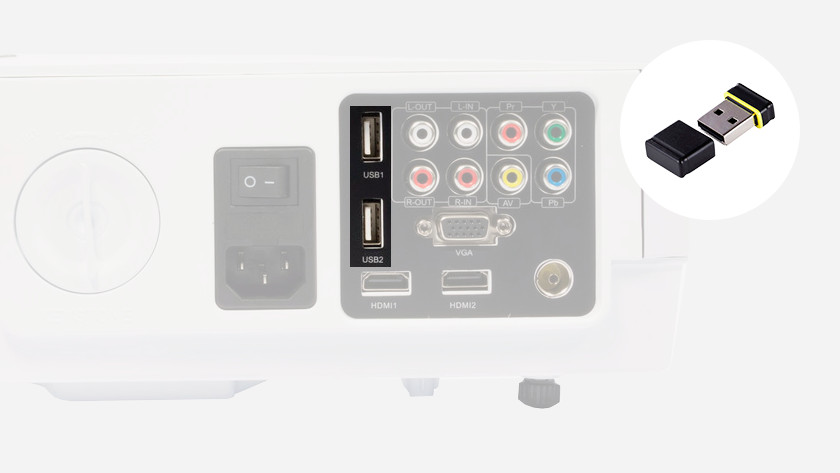 USB
A USB connector can have various functions. A lot of projectors can play stored files from a USB flash drive or an external hard drive. In other cases, the USB input provides a smartphone or WiFi adapter with power.
Did this help you?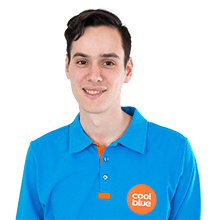 Article by:
Laurence
Projector Expert.