What sports watch do I need for swimming?
You're looking for a sports watch to wear while swimming. In that case, it's important that the sports watch is fully waterproof. Many sports watches can be submerged down to a few meters. That doesn't mean however that the sports watch would really be functional for use during swimming. For that, you need a watch that tracks your swimming activities. In this article, I'll discuss the different options to track your swimming activities.
1. Does the sports watch have a pool function?
The Garmin Swim, Garmin Forerunner 910XT and 920XT, Garmin Fenix, and Suunto Ambit are all sports watches with a pool function. This means that they allow you to set the length of the pool, which enables them to measure the number of strokes you take for each lap and your turning points in the water. These sports watches will also recognize your specific stroke, such as backstroke, breaststroke, or butterfly stroke. In addition, you can also view your distance traveled, time, rest time, tempo, and calories burned. Your tempo and distance measurements are based on the length of the pool using the pool function.
2. Will the watch calculate your SWOLF score?
Do you like to swim laps? In that case, you've probably heard of the SWOLF score. It's a score that trains the effectiveness of your strokes after training. SWOLF is the number of strokes per pool length + the number of seconds you need to complete one pool length. The lower your SWOLF score, the better your performance. That way, you can quickly see how your training is progressing. Do you swim in open water? In that case you can't measure a SWOLF score, unfortunately.
3. Will the sports watch measure your heart rate under water?
Some sports watches can measure your heart rate under water. Examples are the Suunto Ambit 3, Garmin Fenix, and the Polar V800. These sports watches use an analogue signal to measure your heart rate. Unlike a digital signal (Bluetooth or ANT+), it will work under water. You can also opt for the Garmin HRM Swim chest strap with heart rate sensor. This chest strap has an anti-slip coating on it, so it stays in place around your chest.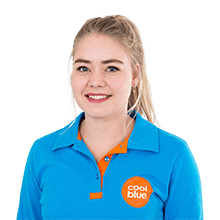 Article by:
Jonna
Sports Watch Expert.