Advice on built-in cooktops
Are you looking for a built-in cooktop, but unsure what you're need to keep in mind? We'd love to help you out with making the right decision. For starters, it's important you select a cooktop that fits in the niche of your countertop. You'll also have to choose between cooking on gas, induction, or ceramic heating.
Deciding on niche dimensions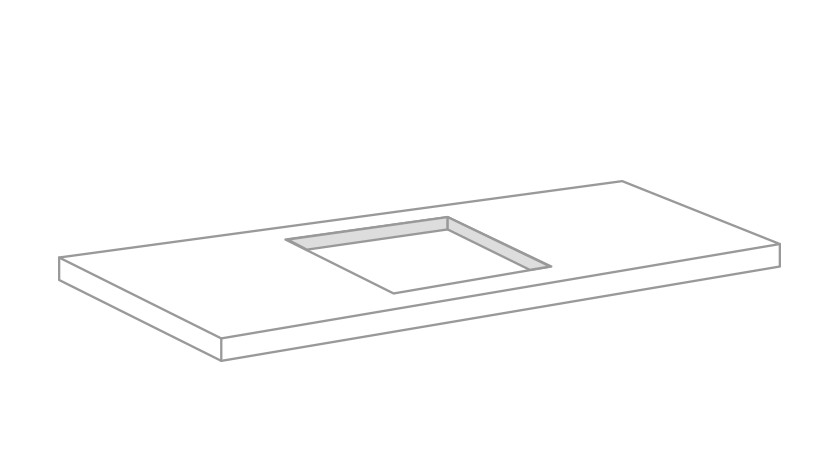 When you're looking for a new built-in cooktop, you first need to measure the niche in which you're going to install the cooktop. In order to do this, you first need to remove the old cooktop. The most important dimensions is the width of the niche in your countertop, as this is the most important factor with built-in cooktops. You also need to measure the depth of the niche. Usually, this measures about 49 centimeters, but small variations are possible. Finally, you need to check how much space you have available in the space above the niche.
Reading installation drawings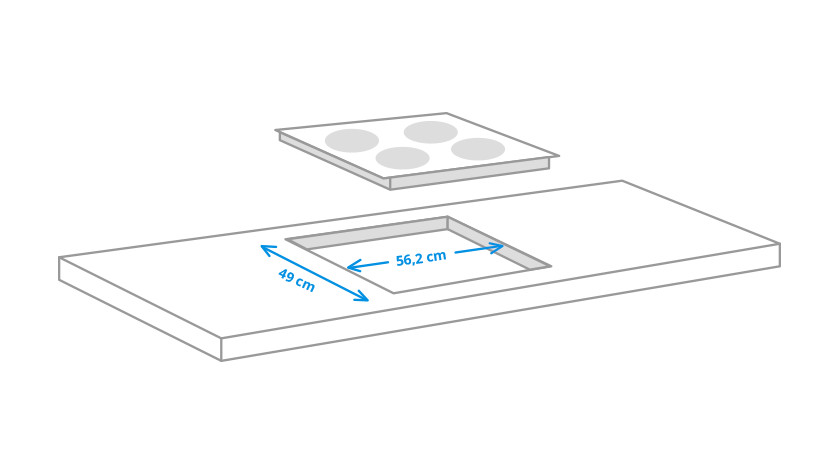 Now that you know the dimensions of the niche in your countertop, and have made a first selection, it's time to see which cooktops will actually fit. For this, you'll need to take a look at the cooktops' installation drawings Take the installation drawing that's displayed on this page, for example. It shows you that the corresponding cooktop is suitable for a niche that measures:
Between 56 en 56.2 centimeters wide
Between 49 en 50.2 dentimeters deep
You can also see that the cooktop needs to be removed at least 7 centimeters away from the side of the niche, and that the countertop has to be at least 60 centimeters deep. You also need to have 5 centimeters of space available at the front and the back of the cooktop. Finally, the drawings show you that the countertop has to be at least 2 centimeters thick. The drawing doesn't mention the minimum amount of space that's needed above the cooktop. Sometimes, this can also be mentioned in a different drawing. That's why you should make sure to carefully check all of the photos on the product page.
Gas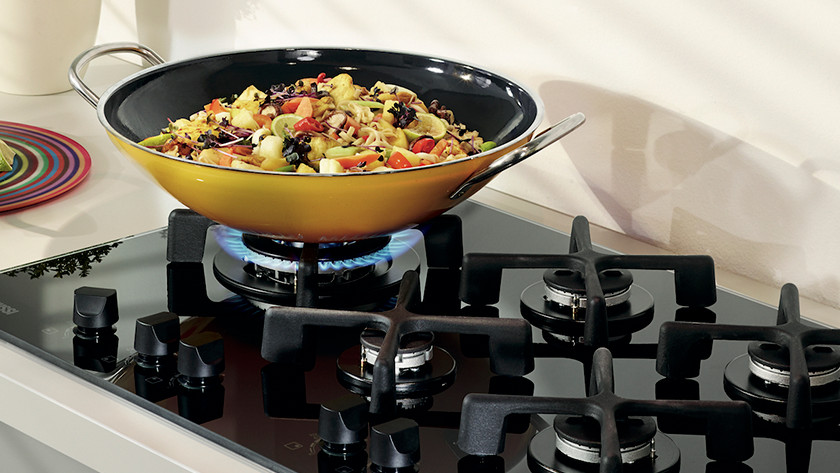 Cooking on gas, the classic way of cooking, delivers a direct transfer of heat that can easily be adjusted. In addition to the traditional stainless steel cooktops, there now also are gas-on-glas cooktops. Instead of a stainless steel top, these cooktops feature a glass panel. This glass surface is much easier to clean. Additionally, there are also gas cooktops that are equipped with a wok burner. This is an extra powerful burner that's suitable for stir frying on higher temperatures. All gas cooktops are equipped with a fire suppressor. This feature turns of the gas when the flame is extinguished by a boiling pot or gust of wind.
Pros
It's easy to adjust the amount of heat.
Heat is directly transferred onto the pan.
Cons
Difficult to clean in case it isn't a gas-on-glas cooktop.
Less child friendly due to the open fire burners.
Ceramic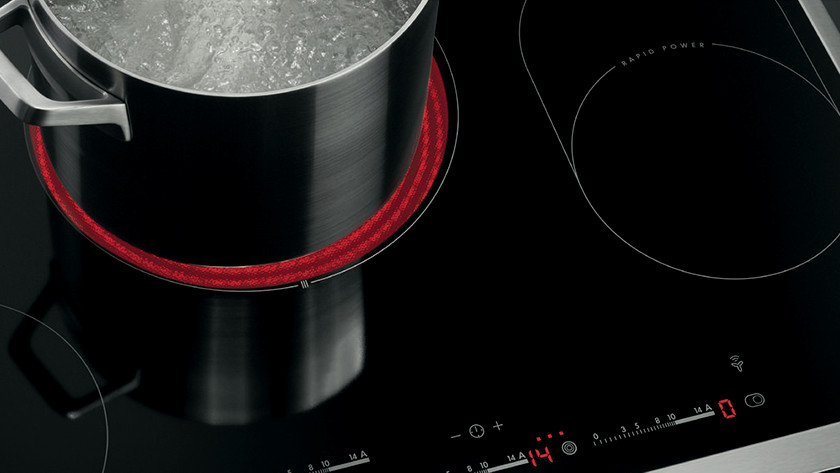 A ceramic cooktop is equipped with an electric heating element that's located underneath the glas pane. A ceramic cooktop requires much more power, so you'll need a two-phase or three-phase power supply with a 5-pin Perilex connector.
Pros
Child friendy thanks to the lack of open flames.
Most ceramic cooktops feature an integrated timer function that automatically turns off the cooktop.
Cons
Thanks to the smooth surface, it's easier to clean than a gas cooktop. Yet, if you spill something on 1 of the hot burner zones it can still be tricky to clean after the stain has burnt in.
Requires more power than cooking on induction.
Induction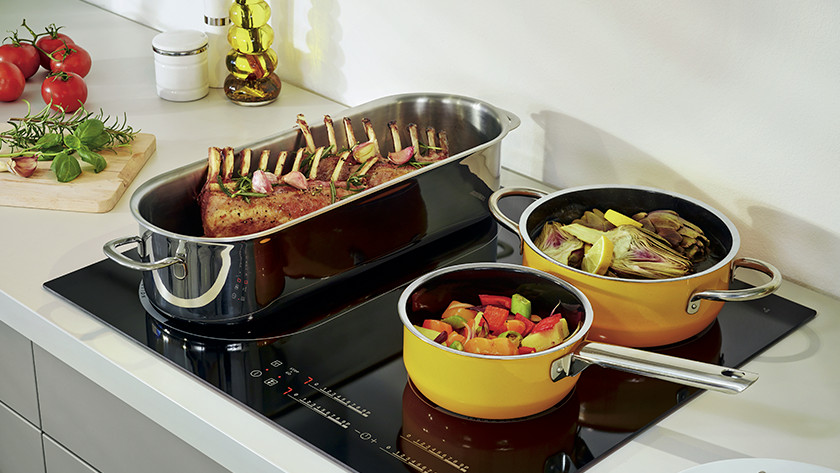 An induction cooktop heats the pan by means of a magnetic field. As a result, only the bottom of the pan heats up, without the cooktop heating up as well. An induction cooktop only works if there's a pan placed on one of its burners.
Most induction cooktops are outfitted with a boost mode that lets you get cooking extra quickly. In addition, there are also models that feature a flexible cooking zone. This is a large surface area that lets you place multiple pans on it simultaneously.
Just like a ceramic cooktop, induction cooktop require a lot of power. This means you'll need a two-phase or three-phase power supply with a 5-pin perilex connector. There are also a number of induction cooktops that only require a regular, single-phase connector. There's a trade-off, though. As there's less power, the output of your cooktop will be significantly lower.
Pro
Heats up faster than gas or ceramic
Very child friendly because the cooktop only heats up if a pan is placed on top of it.
Easy to clean. Because the cooktop doesn't become hot, dirt and grease will stick less and cooking is safer.
Cons
You need pans that are suitable for use with induction cooktops, and which haven't been bent out of shape after use on cooktops.
Countertop finish
When it comes to cooktops, you can choose from several finishes for the edges. Below, you'll find an overview.
Open edge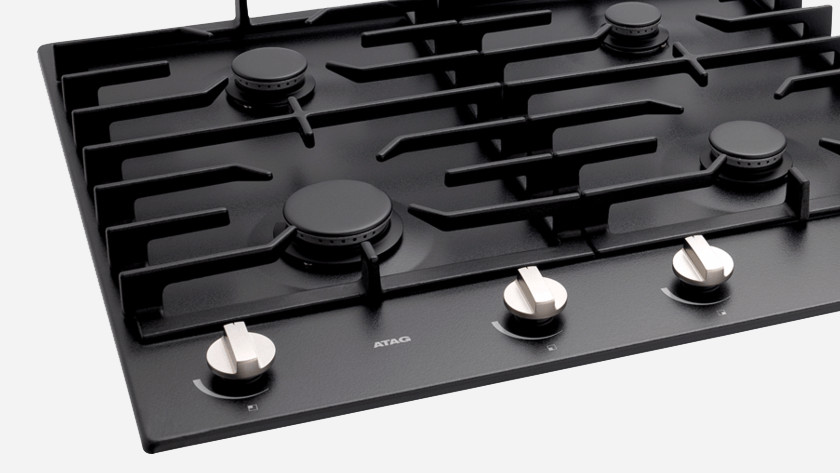 Cooktops with an open edge are finished with a stainless steel edge that surrounds the entire cooktop.
Fully recessed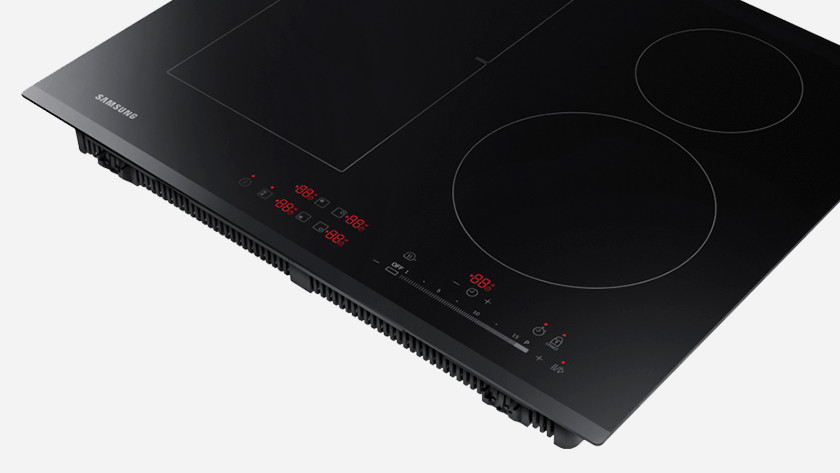 Fully recessed cooktops aren't installed on top of the countertop, but are placed in a recess in the countertop, to ensure a completely smooth finish.
Beveled glass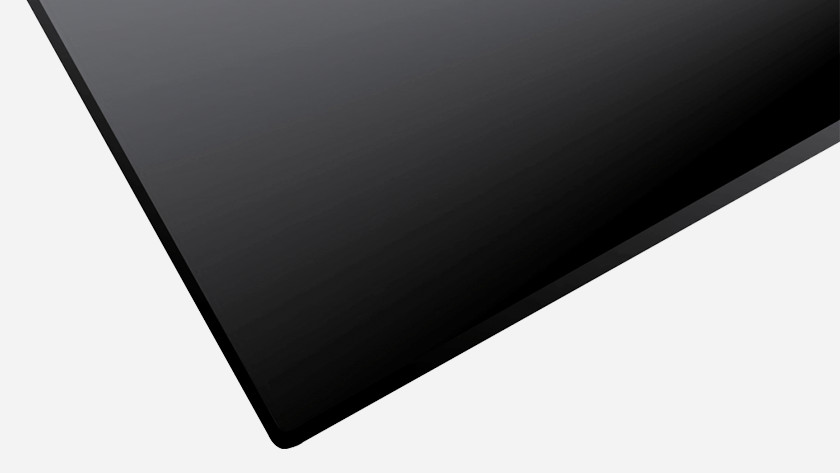 The edges of a beveled glass cooktop has been cut diagonally, to ensure a smooth finish.
Beveled glass edge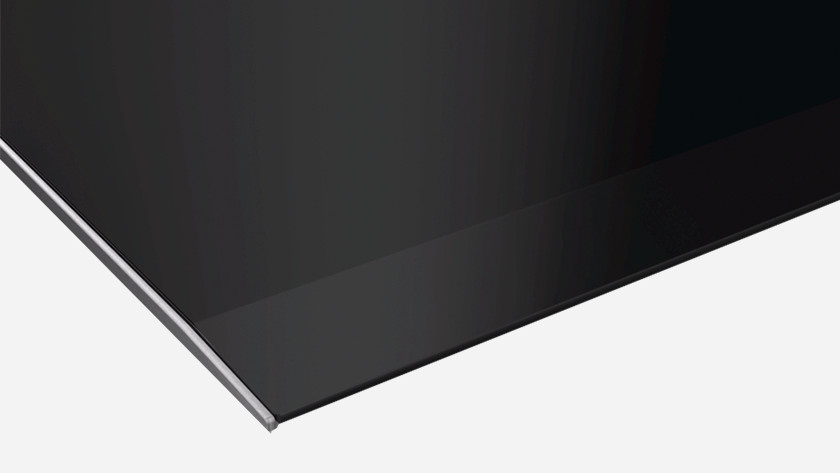 There are also cooktops that feature a frontside and backside that have diagonally cut, while the sides feature stainless steel edges.
Rounded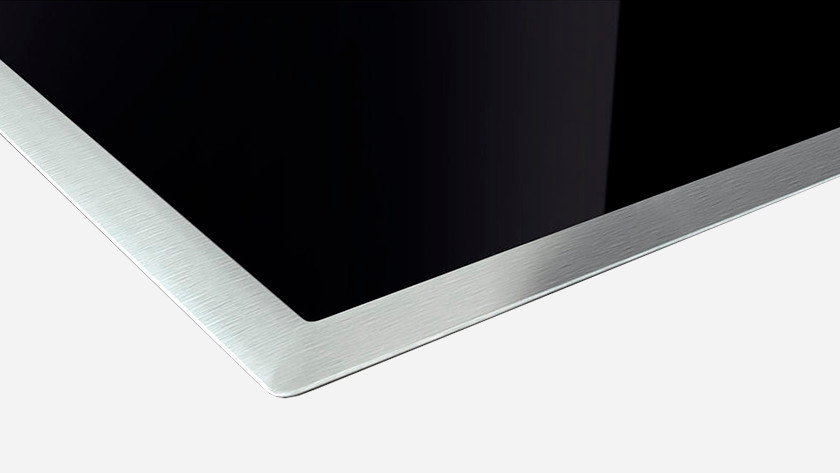 Cooktops with rounded edges feature a glass edge that's bound rounded off all across the cooktop.
Gas hoses
When you want to install a gas cooktop, you'll need a gas hose. For built-in gas cooktops, it's important that you select a stainless steel gas hose. You're not allowed to use a regular, rubber gas hose in combination with a built-in gas cooktop due to safety concerns. Additionally, you'll special gas tape in order to prevent the screw connections from leaking gas.
Connection cables
You can't use a regular electricity cord with most ceramic and induction cooktops. A ceramic or induction cooktop requires much power than the amount a regular connector can provide. That's why they're connected to a one-phase (12 or 32 ampere) or a three-phase (25 ampere) connector. We suggest to let a certified electrician install your cooktop, in order to prevent damage or a short circuit.