What are the differences between the Lenovo product series?
Lenovo laptops are known for their sturdy build quality. To help you find the best laptop for you, their notebooks have been divided into various product series. On this page, you can read about the differences between all Lenovo product series.
---
Lenovo IdeaPad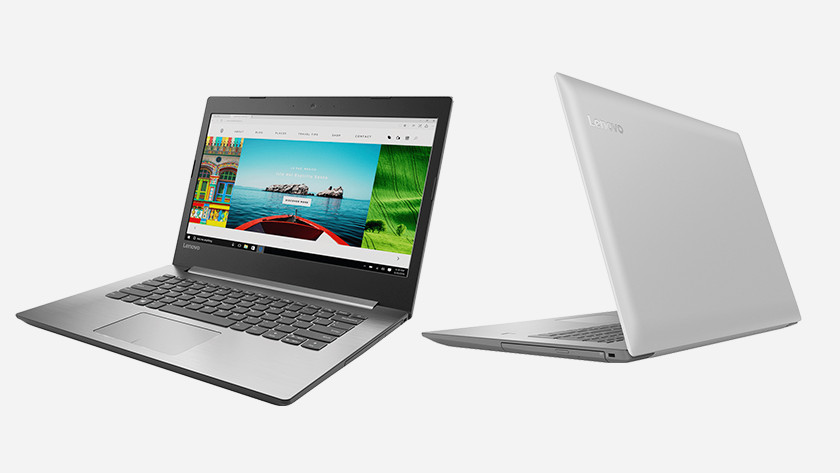 The Lenovo IdeaPad series has something for everyone. Whether you want to game or just use your laptop for simple activities like email and text processing, you can see which IdeaPad suits you below.
Lenovo IdeaPad 100, 300, and 500 series
These laptops have a relatively modest price tag. Are you looking for a laptop to use for activities like browsing the Internet, sending emails, or text processing? The IdeaPad 100, 300, and 500 are very suitable for this.
Lenovo IdeaPad 700 series
Lenovo IdeaPad 700 laptops are real all-rounders. These notebooks have enough processing power to edit photos and videos, but also to run games that aren't too demanding.
Lenovo Y series
Lenovo Y series laptops are there for hardcore gamers. If you choose for 1 of these laptops with an NVIDIA GeForce GTX960M video card, you'll be able to play most games, though not on the highest settings. You can also go for a GTX1070 video card, so you can always play on ultra settings.
Lenovo Yoga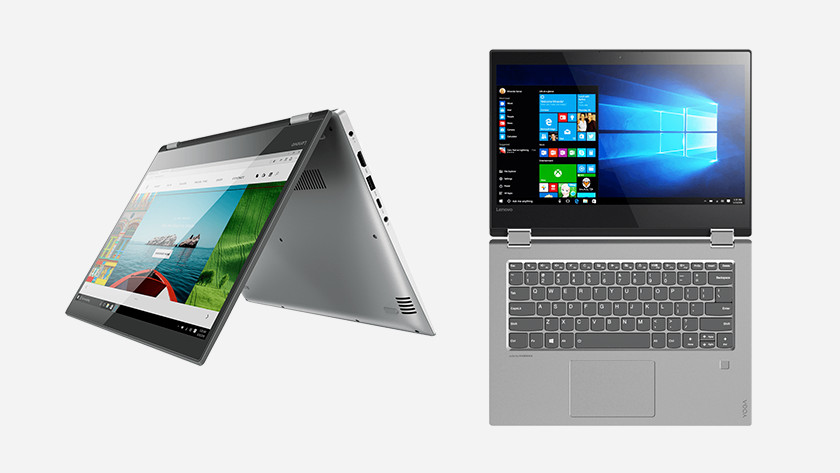 As its name suggests, the Lenovo Yoga is very flexible. You can flip the keyboards of these laptops 360 degrees around the touchscreen, so you can also use them as tablets.
Lenovo Yoga 500 series
This is the starter category for Lenovo's 2-in-1 laptops. The Yoga 500 series is especially suitable for everyday tasks like browsing the internet, sending emails, and text processing. You can choose between the laptop mode, the tablet mode, the presentation mode, and the tent mode to get to work.
Lenovo Yoga 700 series
With the Lenovo Yoga 700 series, you're ready to multitask and work with more demanding software. You can open 20 tabs, stream music, and edit some pictures in the meantime. On top of this, the Yoga 720 has a faster hard drive for faster boot times, and a 4K touchscreen.
Lenovo Yoga 900 series
Very powerful, incredibly compact, and a stylish design: those are the terms that define the Lenovo Yoga 900 series. With these 2-in-1 laptops, you can edit videos wherever you are. Thanks to their low weight and slim design, you can bring these Yoga laptops anywhere. The watchband hinge gives them a luxury appearance.
Lenovo Yoga Book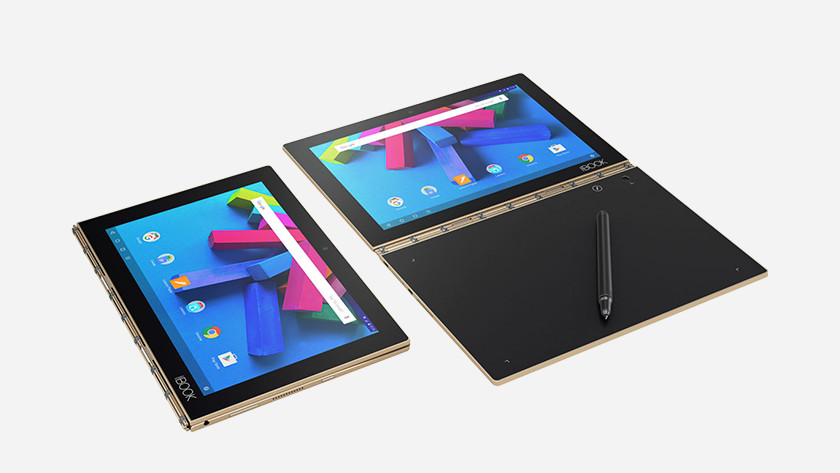 This is a special mix of a laptop, a tablet, and a notepad. That's because the Lenovo Yoga Book has an innovative and multi-functional keyboard that you can adjust to various usage situations.
Typing
If you want to type an essay or make some quick notes, you can use the keyboard you're used to on a laptop. The keyboard of the Yoga Book doesn't have physical keys, though. It's a touchscreen that displays the layout of a keyboard.
Drawing
If you minimize the keyboard layout, you're left with a large surface you can draw on with a stylus, just like on a drawing tablet. Useful if you want to digitize a sketch or design right away.
Writing
Put a piece of paper on the keyboard and use the included stylus like a normal pen. All your notes will be registered and can be seen on the screen of the Yoga Book right away.
Lenovo ThinkPad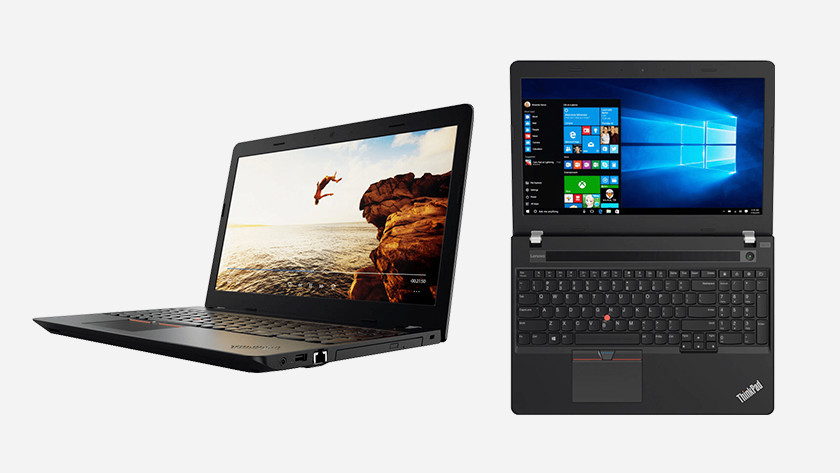 The Lenovo ThinkPad offers extra security options for saving files. These laptops have the Pro version of Windows for their operating system. Thanks to their sturdy build quality, they can handle a bump. That's why the Lenovo ThinkPad is an interesting option for use at the office.
Security
Thanks to a TPM chip, saved files on the ThinkPad are encoded, so others can't access them. With the optional fingerprint sensor, you'll only need your fingerprint to log in. That way, you won't have to remember a password anymore.
Windows Pro
Place your laptop in a business domain with Windows 10 Pro. That's useful for the administrator when they're updating software simultaneously. If you work from home for a day, you can make a remote connection to your office computer and access all your files.
Build quality
The ThinkPad is sturdy, so it can handle a small fall or a bump. If you choose a spill-proof keyboard, a spilled cup of coffee won't be a problem either.
Lenovo Legion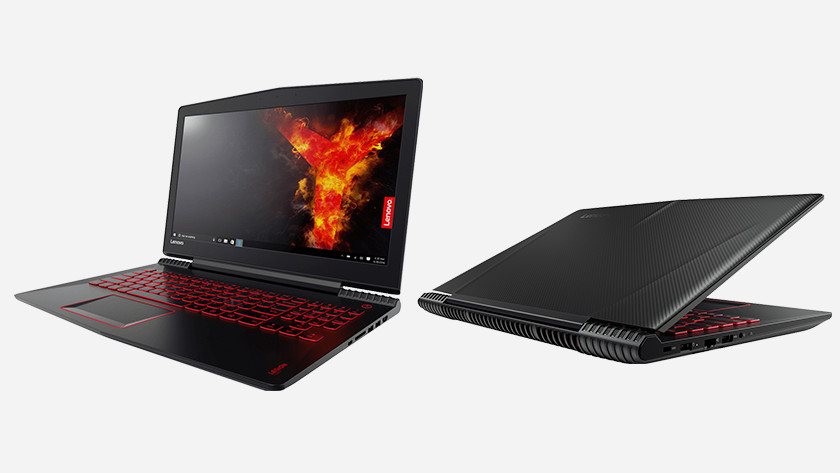 Are you an experienced gamer or an amateur? Either way, you'll be able to use a Lenovo Legion gaming laptop. These laptops are equipped with a 7th Gen Intel Core processor and a PCIe SSD, so you can effortlessly load games.
Lenovo Legion Y520
The Lenovo Legion Y520 is the starter model of the Lenovo Legion series. With the NVIDIA GeForce GTX 1050 video card, you can play games like Overwatch and FIFA 18 on ultra settings. The optional GTX 1060 allows you to work with virtual reality, and the keyboard's red backlight helps you hit the right keys in the dark.
Lenovo Legion Y720
The Lenovo Legion Y720 takes it up a notch. This laptop comes with an NVIDIA GeForce GTX 1060 video card by default. This is the entry-level video card for virtual reality, and it lets you play the latest games on high settings. The RGB-backlit keyboard is programmable, so you can set your favorite key combinations yourself.
Lenovo Legion Y920
Play all your games on ultra settings and visit virtual worlds with the Lenovo Legion Y920. The NVIDIA GeForce GTX 1070 ensures powerful graphical performance. Own your opponents with the mechanical keyboard, which is RGB backlit and programmable. Want more power? You can even overclock this laptop's processor and video card.