What is Bluetooth 5?
Tegenwoordig beschikken veel smartphones over bluetooth 5. Ten opzichte van de vorige versie, bluetooth 4.2, heeft bluetooth 5 enkele interessante verbeteringen. Maar wat is het voordeel voor jou als gebruiker? We zetten het op een rijtje.
What is Bluetooth?
Via Bluetooth, you can connect to other Bluetooth devices, such as speakers or smartphones. Once you're connected, you can play music or send photos. In short: Bluetooth is a way of making a wireless connection with other Bluetooth devices and transferring files between them. But what is the advantage of Bluetooth 5?
Bluetooth 5 is faster
Bluetooth 5 is 2 keer zo snel als zijn voorganger, bluetooth 4.2. Hierdoor maakt een toestel met bluetooth 5 sneller verbinding met andere bluetooth apparaten. Ook is de overdracht van gegevens sneller. Verstuur je een foto via bluetooth 5, dan is dit 2 keer zo snel als met een oudere bluetooth versie. Speel je muziek af via een bluetooth speaker? Dan merk je het vooral in het feit dat je nauwelijks vertraging hebt.
Bluetooth 5 has a larger range
With the older Bluetooth versions, you have a range of about 10 meters. If you play music from your phone via a Bluetooth speaker, you'll notice your music will start to stutter if you walk to another room. If you walk even further, the connection will be lost. With Bluetooth 5, you'll have a far larger range: about 40 meters. Is your phone indoors and is your speaker far away in the garden? That's not a problem with Bluetooth 5.
Bluetooth 5 supports 'dual audio'
If Bluetooth 4.2 is a 2-lane highway with a speed limit of 65km/h, Bluetooth 5 is a 4-lane highway with a speed limit of 130km/h. Bluetooth 5 is faster and has a higher capacity. The main advantage is that you'll be able to play music via 2 Bluetooth speakers instead of 1, which was the limit for older Bluetooth versions. This way, you can play your music in multiple rooms.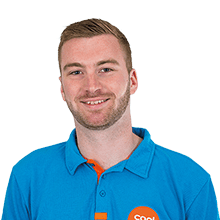 Article by: