Order pickup
Prefer to pick up your package in the store? Reserve your product online and we'll reserve it for you in the store of your choice.
Reserve product
Place your order online or via Customer Service, and indicate that you want to pick up your product in store. After placing your order, you'll receive a confirmation with all the information via email.
If we have the product in stock in the store, we'll reserve it for you and you can pick it up right away. When the product is not in stock, it'll be ready for you the next day after your reservation.
You can check on the product page of the product and in your shopping cart if the product you want to order is in stock in store. First, select the store you want to pick up your product in, then reserve the product.
You can reserve and pick up almost all of our products in store, except white goods and XL products. We'll deliver those to your house, so you don't have to transport it yourself.
Payment
You won't have to pay until you get to the store. Your order will be reserved for you for 5 days. You can pay using PIN, Bancontact, Visa card, or MasterCard in all our stores. Coolblue vouchers, gift vouchers, and EcoCheques (Belgium only) can also be redeemed in our stores.
In-store service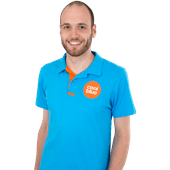 In-store service